The Archive.
---
Last modified June 2021 . Best view at minimum 1900 x 1000 resolution or suffer the consequences - you have been warned !

---
Tim Buckley.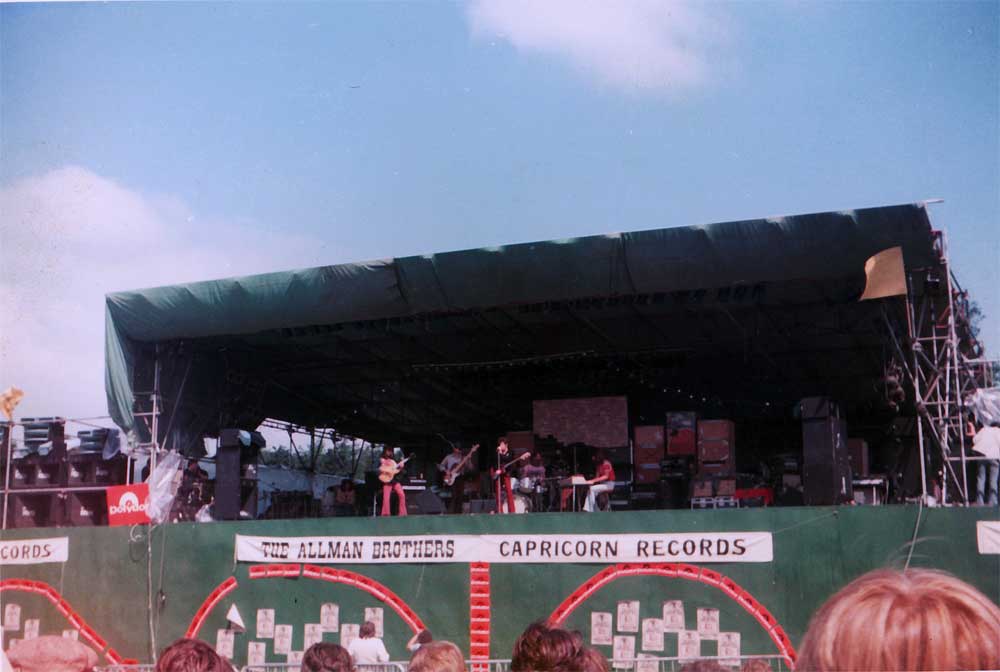 Tim Buckley opens the procedings © Nigel Barton

This show was apparently released as a bootleg called Return of the Starsailor . which is very good indeed , surprisingly it is mostly free of audience chatter. Why surprisingly ? well , unfortunately, hardly anyone was taking much notice of the band on-stage.
At this time Buckley was attempting to resurrect his career, with an new electric band but this performance was largely received with some indifference by the audience who were busy settling themselves in for the day or entering the arena .As the first act Buckley was perceived as a warm up artist rather than a major league act. A great pity, as he once was a force to be reckoned with and very well known in the UK.
However, since this was his first UK show since 1968, it is perhaps not surprising that he was greeted as an unknown entity. This was also his last UK performance, within a year he was dead of a heroin overdose - another casualty to add to the Rock industry's prestigious and still growing list of OD's


The photograph opposite is of Buckley at Knebworth in 1974 and was kindly supplied by Rob Grout .
Set list. Taken from the boot
Return of the Starsailor

Intro/vocal warm-up (2'02")
Nighthawkin' (6'17")
Dolphins (4'16")
Get on top (4'26")
Devil eyes (6'34")
Buzzin' fly (5'43")
Sweet surrender (7'38")
Honey man (12'17")

Improvisation.
Photo courtesy of Henry Cobbold, Knebworth House.
Buckley was on good form, the Impro track is particularly interesting, its part of a track, mostly scat singing and this portion of the song lasts four minutes or so. The tape- like most of the ones from Knebworth- is of good quality, but marred by the wind , which causes mic noise or fluctuations in sound levels.

Most of the songs played were from the Greetings from LA album.

Personnel

Tim Buckley : Vocal , guitar.

Art Johnson : Guitar

Jim Fielder : Bass

Mark Tiernan : Keyboards

Buddy Helm : Drums
Just picked up on the site...an amazing performance by Tim at an unearthly hour. We were aware of Tim as a 60s folk artist, so it came asa big suprise when Tim arrived with this eletric band to play some white hot sexed-up soul music!! Certainly blew most of us away...I can remember the rest of the acts were pale in comparison. About 5 years ago
I finally picked up a boot of the gig...not a bad recording, but to be there was the thing!
Pete Creekelly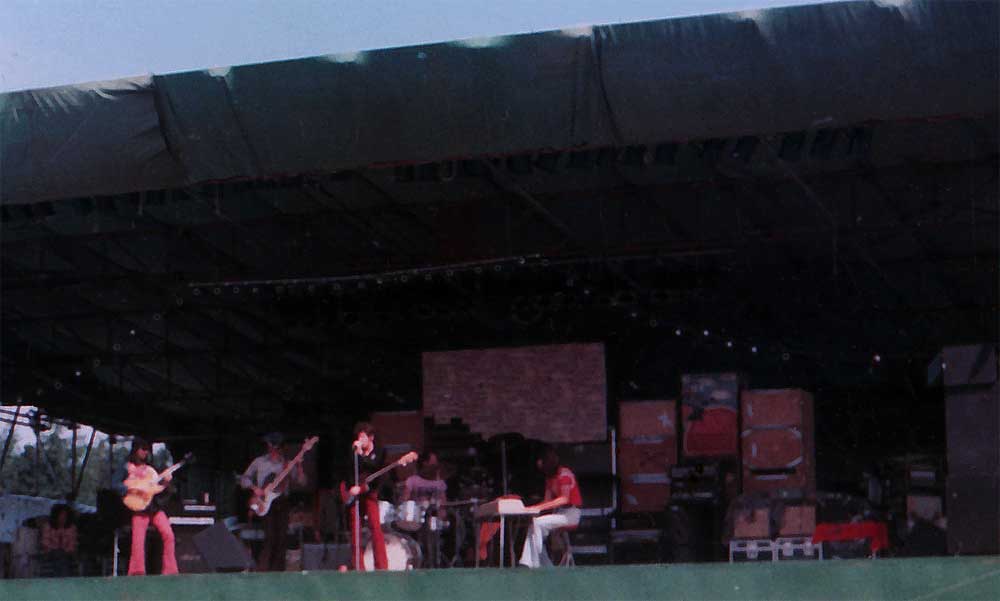 © Nigel Barton
There is some 8mm footage of part of Tim's set but unfortunately it has no sound and is also of very variable quality. I've included a few stills here , these are the best images I could get from around 10 minutes of footage. Thanks to Geoff Clout for the chance to view the footage.
---
If you can contribute in any way, with reviews from the Music press, photos or personal histories of this performance- Contact us
---
Contents .
or you can read the individual
Band reviews which also contain recording details, set list and band line up info as well as links to each artist where available..
---
Can we get a witness ?

We have been endeavouring to collect as many recordings of the artists that featured at these concerts as possible, so we can effectively review the performances, provide set lists and band line-ups. Any info displayed on these pages or which is sent to us for review remains the copyright of the contributor and the Archive makes NO PROFIT from its use. The intention is to also display as many personal histories of the festival as possible for the benefit of readers of the site and we welcome all written contributions, no matter how long or short.

If you can contribute in any way, with tapes, reviews , photos or personal histories, please Contact us.

Knebworth Concerts 1974-86
Knebworth links
---