The Archive.
Updated Jan 2016
Formatted at 1280 X 1024 res, lower res will result in some formatting errors in page display .
---
Heavy Metal Holocaust,

Port Vale Football
Stadium, Stoke on Trent.

8-1-81.

Motorhead.

Ozzy Osbourne

Mahogany Rush

Triumph

Riot

Vardis
---
HEAVY METAL HOLOCAUST,
Port Vale Football Stadium, Stoke on Trent. August lst 1981
FIELD WORKER'S REPORT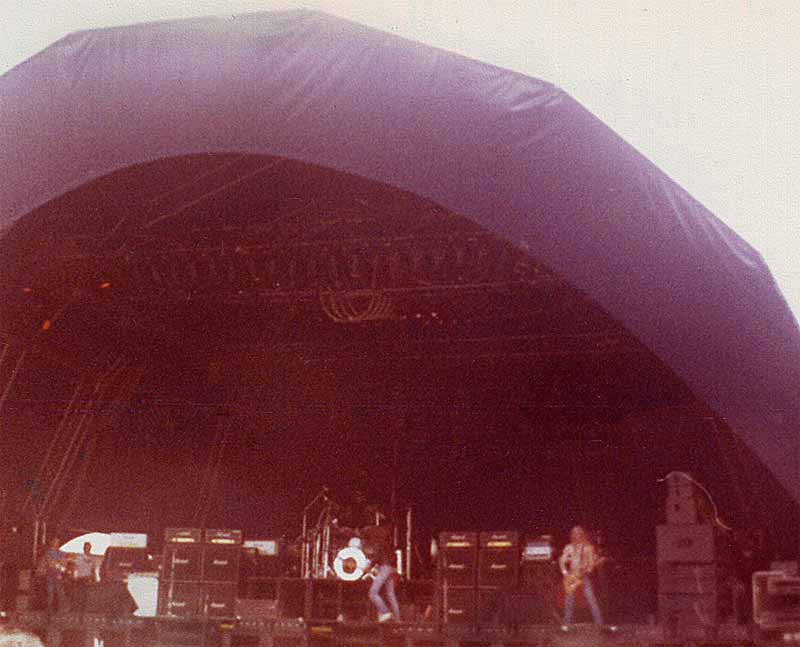 Vardis onstage at the Holocaust © Mark Hill
FWS was involved in this festival in the early stages. I wrote to the promoter when I heard rumours of the festival and I was invited to visit the site with 2 of the festival organisers to discuss site facilities and welfare provisions. FWS agreed to provide a mixed welfare tent to run the information service and the Samaritans to provide a "quiet" counseling tent.
The site was at the Port Vale Football Club and had many ready made facilities, such as toilets, although these were mainly Gents units which had not been used for some time. The organisers had to get these in working order, add standpipes for drinking water and provide portable Ladies units. The proportion of women attending was very small compared to men. On the day, the toilets worked very well and there were plenty of conveniences for the crowd, which was smaller than expected.
The stage was constructed at one end of the site I next to the main grandstand and offices, which were used by the promoter's staff and the bands as their dressing rooms. There were 2 other covered stands on the terraces and the pitch itself was covered with tarpaulins for protection. 1 of the open stands was used for most of the concessions, whilst food was served in marquees above the pitch near the entrance. There was a good, if basic, selection of hot foods at reasonable prices. The only complaint was the long queues waiting to be served; a result of a not quick enough serving system. Hot drinks were available in 1 marquee and "pop" was sold in plastic bottles from vendors around the pitch, again with queues. No alcohol was on sale on site, and bottles and cans were prohibited from the site Selling drinks in plastic containers was a very good idea, as the bottles were thrown amongst the crowd. This didn't seem to be a malicious sport, but more a result of restlessness in the audience and was soon calmed by the promoter.

The atmosphere at the festival was otherwise very quiet, although not in the literal sense. This was reputedly the biggest PA system ever used in Britain 120kw. It certainly made our job of trying to give out information very difficult. All our volunteers suffered from hoarse voices and ringing in the ears for several days after¬wards. The information point was situated at the top of one of the terraces nearest the entrance, in a tea hut with a counter where we could talk to people and had some shelter from the sounds. FWS had 4 regular volunteers from London, including a volunteer from Release.

Mahogany Rush at Port Vale © Allan Perry
I had made contact before the festival with the Hanley Youth Project, based in the area, to ask if they could provide 4 young volunteers to help with local information. The Hanley Youth Project were extremely helpful and provided large maps of the area and a comprehensive sheet of information on the local services, for which we are extremely grateful. We also had details of special trains and local buses and were busy consulting our full British Rail. timetable. It was amazing how many people had come from Darlington and hadn't checked their return train times before leaving. Most kids had come by coach and hadn't checked with coach drivers to find out where they were being picked up afterwards. There were a few people who ended up sleeping rough because they couldn't get home. About a dozen people had come prepared with tents and camped out on a piece of waste ground next to the stadium.
| | |
| --- | --- |
| Triumph at the Heavy Metal Holocaust 1981 © Mark Hill | |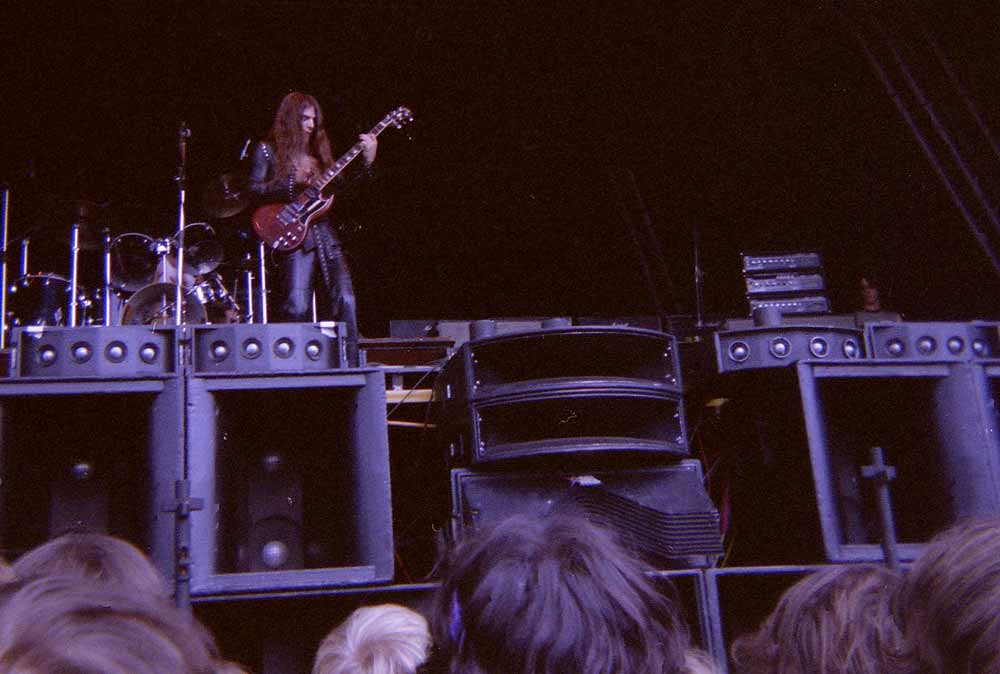 Mahogany Rush at Port Vale- what a bleeding BIG PA © Jules MC
| | |
| --- | --- |
| Triumph at Port Vale © Allan Perry | The Samaritans "quiet" tent was rather unfortunately situated on flat hardcore above the terraces. Although it was as far away as possible from the stage, it was still extremely loud. Samaritan volunteers had difficulty making themselves heard, but not half as much trouble as people trying to use the public telephones situated next to their tent. It was almost impossible to hear anything and the telephones should definitely have been placed somewhere less noisy. The Sounds tent was in the same area, but they were dealing mainly with written messages and didn't have too much difficulty communicating. The Samaritans saw few clients; partially attributable to the very un conducive atmosphere for counseling. |
The Red Cross provided first aid cover, but had few casualties to deal with. All the welfare groups agreed that the atmosphere was very good at the festival and there were few problems. There were a lot of young kids in the audience which was very well behaved.
FWS groups had a good relationship with the promoter and all his staff and the security people on site. Hopefully there will be more festivals at this site as it was organised so well.
Penny Mellor, Field Worker.
Photogalleries and links
---
Setlists and recordings
Vardis

August 1st 1981

Silver Machine
If I were King

incomplete

Riot

August 1st 1981

Swords and Tequila
Fire Down Under
Overdrive
Alter Of The King
Hot For Love
Outlaw
Rock City.
Triumph

August 1st 1981

American Girls
I Live For The Weekend
Hot Time In The City Tonite
Allied Forces
Mahogany Rush

August 1st 1981

You Got Livin
Down,down,down
Rock N Roll Hall Of Fame
Johnny B.Goode
Electric Reflections Of War (inc. drum solo)
Something's Comin' Our Way
Roadhouse Blues

56 mins

Frank Marino
Vince Marino
Paul Harwood
Timm Biery

Setlist courtesy Denis Goldring.
---
Motorhead

August 1st 1981

Ace Of Spades
Stay Clean
Live To Win
Over The Top
No Class
The Hammer
Metropolis
Leaving Here
Jailbait
Iron Horse
Fire Fire
Too Late Too Late
Fast And Loose
Dead Men Tell No Tales (Dead Men Smell Toe Nails)
We Are The Road Crew
Capricorn
Train Kept A Rollin'
Bite The Bullet
Overkill
White Line Fever

thanks to Nigel Butterworth for set lists.

Ozzy Osbourne Band

August 1st 1981

intro by Lemmy of Motorhead
I Don't Know
Crazy Train
Believer
Mr. Crowley
Flying High Again
Revelation (Mother Earth)
Steal Away (The Night) + drum solo
Suicide Solution
Iron man
Children Of the Grave
Paranoid

70 mins aud
This bootleg, kindly sent to us Thomas Exner , was a six disc set purportedly taken from the festival.However, we have some doubts. Although some of it might be from the gig, it can't be all kosher as half the bands on it weren't performing at the festival ! Sabbath cancelled and Iron Maiden, Saxon and the Scorpions were never on the bill to our knowledge.
---
If you have photos, recollections, set lists, newspaper reports or tapes of this event Contact us if you can help.