The Archive.
---
Big thanks to our sponsor Neil !

For information on today's festivals see eFestivals.co.uk
Last update Feb 2014
Goodbye Summer .

Concert for Bangladesh .

The Oval , Kennington .

9-18-71.

The Who, The Faces,Atomic Rooster, Eugene Wallace, America, Mott The Hoople ,Quintessence ,Lindisfarne, Grease Band ,Cochise .
---
Mott The Hoople Oval 1971

As for the Oval, The Who came on very late after Atomic Rooster and Rod Stewart and the Faces. They were using a minimalist stage set with two gigantic PA monitors either side of the stage, usual mayhem at the end with a Townsend guitar destruction and Keith running into his drum kit. As they went off he was piggy backed by Daltrey. I think the compere was DJ Jeff Dexter who came on dressed for cricket, pads and bat and all.

John Lane
---
I went to this one , a one day outdoor charity event held at the famous cricket ground in London, in aid of famine stricken Bangladesh. I'd gone up to the smoke to see my mate Mick Ryan who I'd recently met in Cornwall that year. It seemed natural to go along to this event as although the rest of the bill was only of average quality I was keen to see The Who again after being knocked out by their stellar performance at the Isle of Wight the previous summer ( previous exposure had been the jaw droppingly good show at the Albert Hall in 69, same day as the Stones free concert in Hyde park. ).

We arrived late having to collect a number of people in a blue Volkswagen van ,including Mick's Indian friends Dani and Push and a couple of Americans who had just wasted 20 pounds in scoring an ounce of parsley , which they had mistaken for grass. They ( understandably ) were not too pleased about this , but they soon cheered up when they sampled the wares that were available.

The other bands were good to average. I have no memories of Cochise , but the soon to be defunct Grease band were ( as usual ) fun . No idea what they played , but I always loved them when they played with Cocker and without him they were still a potent outfit . Quintessence were perfect fodder for a sunny Indian summer day , their lengthy jams were just the right thing if you were in a suitably relaxed mood . Mott the Hoople were more ballsy and glitzy than the bands that had preceded them and paved the way for the heavier acts to come later on .

The pace then dropped markedly as the somewhat somnambulant America took to the stage , although our US friends were rooting for them heavily , we were less impressed . No memories at all of Eugene Wallace I'm afraid , but overall I enjoyed Atomic Rooster , although the sound for them was pretty naff. Vincent Crane was a great keyboard player , in whatever band he was part of but I did feel that after a while the three piece environment became a bit restricting. This expanded five piece Rooster was short lived, Pete French on vocals soon left to join Cactus, Steve Bolton on guitar had left by 1972, replacements Chris Farlowe , Josh Goodsall and remaining member Ric Parnell lelt in 1975 , Crane split up the band after gigging with Sam Apple Pie for a few months .

The Faces certainly delivered a far better set than I had seen them do before . For a start (and for a change ) they were relatively sober . For all that Rod has declined over the years, in those days , on a good night , he was a force to be reckoned with . The band played some great songs , especially the sequence of Stay With Me, It's All Over Now,The Plynth and Maggie May. However , there was no way that they could compete with The Who.

© Colin Lourie
Stone me , The Who were a brilliant band in those days ,words are totally inadequate to describe the energy , dynamism and bloody sheer magical aura that they projected from that 20 ft high stage . I can still see in my minds eye the heads of the vast audience lit up by the steely blue arc lights from the stage . Although the whole band cooked that night ,messr's Moon and Townshend were absolutely on top form . The Tommy medley, which I must admit for me had worn a bit thin on record , was just superb on stage . At the end of this set we were just completely blitzed , almost as worn out as the band themselves, they were that emotionally draining . One of the best shows I saw by The Who- almost as good as the Isle Of Wight 1970- except that we only had to wait eight hours to see them , not two days , which was bit of an improvement .
The Shark.
---
This event had two things really going for it from my perspective. Firstly, topping the bill were the WHO.
The WHO are a religion for me. I've had most of the records and read many of the biographies and much assorted literature and this was the second and last time I saw them perform.
I saw them first on television, on ITV's Ready Steady Go, in the mid sixties and that was it; I was hooked. The first time I saw them live was at Eel Pie Island, Twickenham in Sep/1968 and I had bought WHO'S NEXT prior to this performance.
The second thing was that it was in central London and I merely had to take the tube to the Oval underground station to get there. I lived out in the suburb of Hampton and it was an easy trip.
I was just two months shy of twenty-one and felt I had been missing out on things a bit regarding rock festivals. The phenomena of nudity had appeared at a Hyde Park Pink Floyd concert and the last two Isle of Wight festivals and the whole issue of Drugs, Sex and Rock & Roll had become something not to be missed. Festivals pushed the limits of personal freedom and were a threat to established values.
One downer was an incident I had experienced with a girl I was lusting after at Art College. She was three years older than me and I had once asked her if she would like to come and see Led Zeppelin. She exploded in frustration at me and said that if she were only seventeen "then" perhaps she might want to see Led Zeppelin. I did go to see Led Zeppelin, without her, (at the Lyceum on Sun/Oct19/1969) but whilst travelling to the Oval I was nurturing the feeling that maybe she had a point and I should have outgrown Rock & Roll. In the event I never have. The girl involved achieved fame by making it to the centre pages of Penthouse magazine.
The day itself was a nice sunny one and cricket grounds are designed to enjoy the weather. My main memory of the event was the lounge bar in the pavilion, which had large windows and commodious seating. The walls were adorned with old team pictures and cricketing mementos but the whole place was a mass of longhaired, outlandish types. There was a definite air of substance intake and I encountered one down heartened individual who recounted how he had just been fleeced of £60 in a dope deal. £60 was a lot of money in 1971. I wish I had a photograph of this scene now; it was superb.
The first band I vaguely remember were the Grease Band and then there was Quintessence who were a sort of Indian mystical band who centred their music around Hindu religious ideas. Mott the Hoople I had seen once before and were a great live act. Ian Hunter had grown his golden locks into a great mane. However, I was now becoming aware of one of the great limitations of festivals and that was the inability of any amplification system to cope with vast open spaces. We were not experiencing great head-banging sound. The high stage gave a good clear view of things however.
| | |
| --- | --- |
| The compere was officially Jeff Dexter who was attired in cricketing gear complete with cap and pads. He was supported by an individual who I now understand to be Rikki "Isle of Wight" Farr. He made a couple of times the same mistake he had apparently made at East Afton Farm (I wasn't there) and got angry on stage. Quite simply people who are out to have a good time were not interested in his problems. He appeared on stage to introduce Eugene Wallace and expressed disgust at how much money some top bands had wanted in order to appear. You have to remember that this was a charity concert for the victims of the Bangladesh flood. He said he had crossed the Irish Sea into the heart of the "Emerald Isle" to find Eugene Wallace. In the event I wish he had left him there. I had wandered around to the extreme stage left and the cacophony of wild guitar strumming and hysterical screams might have got something off Eugene Wallace's chest but it was no form of music or performing art. I was reminded once again of what my Art College friend had said and began to think she was right. Absolutely awful! | © N Hewitt |

However, this was the low point of the proceedings and things dramatically improved. I can't remember the exact sequence of performers but Atomic Rooster appeared at around this point. They were still appearing in daylight and I noticed many people taking a free view of the proceedings from the flats opposite. Vincent Crane got very histrionic at one point and hurled a drink across the stage.
I have no recall whatsoever of Cochise or America.
Despite all I have said regarding my veneration of the WHO it was Rod Stewart and the Faces who almost stole the show for me. It was the only time I ever saw them. Rod appeared in a tiger skin suit that was subsequently auctioned for £500 to put towards the victims of the floods in Bangladesh. Their music was a mellower affair than the WHO (by a bit) and did not depend so much on volume. As they appeared in daylight it blended in with the summer afternoon mood rather well. They did most of their hits, "Stay with Me", "Maggie May" etc.
As I remember it only the WHO appeared after night had fallen. At this point Rikki Farr made another appearance. He turned to all the multitudes of hangers-on that had accumulated on stage and holding the microphone stated that if they did not all clear off the WHO would not appear; a real wind-up. Nice one Rikki. Running the concert was your problem, not the audiences.
And so they eventually appeared. Jeff Dexter did the standard WHO introduction, "Here they are, all the way from Shepherds Bush, THE WHO !!! " and Entwhistle, Townshend, Daltrey and Moon ran on stage. The first number I can now remember was "Can't Explain". They were by now using the synthesizer for some of the "Who's Next" numbers. Townshend actually fell over during one of his stage width leaps in the middle of "Won't get fooled Again". Moon borrowed Jeff Dexter's cricket bat to provide cymbal wash at one point. What more can I say? They steamed their way through masses of now classic material and had the whole place rocking. Moon, who almost alone transformed rock drumming, was always the one to watch. He had that fantastic persona. His movements and even facial expressions, with those huge dark eyes and massive eyebrows, drove the whole thing along. I had met him earlier in the year at the Castle Hotel at Windsor and was amazed to discover that his eyeballs were a bright pink!
And that was it. On the way out a couple of incidents now spring to mind. The organisers handed out polythene rubbish bags to clear the pitch of rubbish and many of the crowd complied, including myself. On a more sinister note I got stuck in an unpleasant crush at a bottleneck on the way out. Police started to shout for the crowd to move back but I found myself being just carried along pinned in this surge feeling completely helpless. It was a real scare!
So, how did I fare when it came to Drugs, Sex and Rock & Roll? The Rock & Roll I had got in abundance. The drugs? I was tempted but was never really interested and never have been. And Sex? Well, not me personally. I didn't see any naked chicks either although it was for the main part a nice warm day. All in all though, a great piece of British social history.
Guy Legge
---
Geoff Hutchinson
The Who at the Oval was a great show and I remember America and a dude called Magic Michael who played acoustic guitar at all the local fests at the time, also performed. I recall he was awful.
Geoff
---
| | |
| --- | --- |
| Note presence of early video camera © Colin Lourie | |
I was at the Oval when the Who and Rod Stewart played, right in the front row too.
We'd hitched up from Wales and spent the night before freezing our butts off on Trafalgar square with a dozen or so other hopeful gatecrashers (I don't think I ever bought a ticket to any concert or festival, money wasn't my strong suit).
At about 5am the local council came along with fire hoses and washed the square leaving us nowhere dry to lie down or even sit, so we dragged ourselves along to the Oval well before time. Gave us plenty of time to suss out the possible entries.
Somehow, I've no idea how, we got in and landed right in front of the stage. It was a beautiful day with lots of weird London type folk around. I remember a beautiful Swiss girl falling in with us, Natasha, never saw her again, but she was an angel of the first degree.
The Who were loud and Rod Stewart was pissed. No idea who else played, but it was a good outing.
Michael McGrath
---
The Oval – 18th September, 1971
Was it really a beautiful, hot late-summer's day; or is memory playing me false over the passing of the years? Looking back it seems to be too perfect to be true. So I am glad to have found this site which seems to give confirmation to some of those memories.
The day did not start off too well for me as I was required to do 'a morning' at the printers where I worked in North London, starting at 7.30am and knocking off at 12.30pm. (You tell the kids today, and they don't believe you! Half of 'em don't know they've been born, I'm tellin' yer!) Anyway, I travelled up on the Underground, finally getting on the Northern Line. The excitement started to build up as the carriages began to fill with beards, long hair and colourful clothes. The women dressed in everything between jeans and t-shirts to full length frocks and skirts. (Gentlemen, is it my imagination or were women so much more attractive then?) And finally we were disgorged, a wave of hippies and freaks, out of the tube station and so we entered The Oval.
A group of friends were also going to the concert, but were driving up earlier; so I said to them 'Okay, I'll meet you there', with all the blithe certainty and sureness of youth. I was now faced with the sight of a vast crowd of thousands of people sitting, standing and lying on the grass. So I just started walking forward, in a vaguely diagonal direction, and not really trying too hard; and, of course, within ten minutes I fell over them. Inevitable, really.
I must admit that I don't remember Cochise, but the Grease Band were good. Lindisfarne were as much fun as usual, creating an easy going, good feel to the day. (They had just returned from their crowd-storming gig at Weeley. But that is a whole 'nother story.) Then Quintessence perfumed the air with their combination of mellow, spiritual vibes and great rocking guitar. (Does anyone remember that at their gigs they had what looked like a huge floor-standing fan, which blew incense from some industrial size joss-sticks out over the crowd? It almost, but not quite, covered the smell of the patchouli oil!) They mostly did tracks from their second album, if I remember correctly. Then one of the hardest working rock'n'roll bands took the stage: Mott the Hoople. They belted out their best tracks like 'Walkin' With a Mountain'; 'Rock and Roll Queen'; 'Ohio'; 'Long Red' (that excellent Lesley West track. Anyone know if they ever put it down on vinyl?); 'Thunderbuck Ram'; 'Keep a Knocking'; and etc. At least that is what I think they played, but only based on the knowledge that is what they always played! And why not? All of them are brilliant tracks!
Those of you who were there will recall that while the roadies were setting up, between bands, various music was played from the stage. It was whilst this interval was going on that I noticed a guy wandering through the crowd shouting, "Spam! Spam! Spam! "(Yes, we couldn't get away from Monty Python sketches, even in those days.) And, in a slightly lower voice "Acciiid! Acciiid! Anyone want acid?" You must have seen him! Had a beard and long hair; looked like a bit of a hippy. Couldn't miss the bloke(!) Anyway, I thought the time had come to find out what all the fuss was about. So for the princely sum of 50p, I "turned on, tuned in and dropped out". It was Purple Haze, and from its strength and purity it might well have been from a shipment of Owsley's acid from the States.
So then came America, and I must be honest, apart from 'Horse With No Name' I can't remember too much of their set. By the time Eugene Wallace made an appearance I was flying high, and I have absolutely no memory of him at all. Unless he was part of a 3D circus in the sky with intense coloured sky rockets, flashing and pulsating, and emitting backwards hurdy-gurdy music. My friends who were there, assure me he wasn't, and from what I have heard about his set, I think I got the better deal. So then came Atomic Rooster. The organ was a billowing, smoky red cloud, the drums a thunderstorm of brilliant silver flashes and the lead guitar formed a sentence of words made up of fat, rounded letters (they look like they had been inflated) just out of sight behind my left ear. Not much of a music review I'll admit, but it makes more sense to me than some of the rubbish I have read in today's music papers!
Anyway, normality started to return with The Faces (and I bet that's the first time anyone has ever said that about them). Which was just as well as they were on form that night. I had seen them at a few gigs before and sometimes the only thing they could seem to agree on was when to start the song, what key it was in, and when to finish it. (And sometimes not even that!) But they were always good old rock'n'roll, and the songs are so great they almost play themselves. And then . . . and then . . . The Who. Alright, I admit it; my most absolute favourite band. I first saw them live when I was 13, and they have remained the most consistently brilliant live band of all time. How a six string guitar, a bass guitar, drums and a vocalist can produce such a full, complete sound I still don't understand. If you were there then you don't need me to describe it. For those who weren't try the film 'The Kids Are Allright'. The version of 'Won't Get Fooled Again' gets close to what they were like live. Close, but not close enough. It is at this moment that words fail me as to how brilliant they were. (Thank God for that, I hear some of you say.)
And then, far, far too soon, it was all over. I, and my friends stayed and picked up the rubbish, and popped it in the plastic bags provided. The promoter promised us all free tickets to his next concert if we helped. I feel strongly that the flying pig I saw passing by at that moment was not an acid flash back!! And so we returned to the car. (An Austin 1100. Don't ask! Suffice it to say that with the accelerator pushed to the floor, going down hill, and with the wind behind, it could get up to 70-75mph! Well, that's all we could afford at the time.) And we managed to crush all eight of us into it. I was sitting in the passenger seat with my favourite (best friend's) girl friend on my lap, with the seat belt wrapped around us both. Our arms around each other, talking about the day, and exchanging the occasional kiss until she fell asleep on my shoulder. (I really should have followed that one up. Ah well, too late now.) And so we drove through the night back home.
A perfect day? I'm not sure if it was a perfect day. But it was close, by God, it was damn close.

Al Hynes
---
The promoters were the Foulk brothers who collaborated with a Bangla Desh charity named Kastur ( a bunch of 'heads' ) operating out of an old shop in Penge. There were the famous giant chess pieces and during the concert blue plastic moneyboxes were hurled into the crowd - to be filled with money. Quite a few of the money boxes never made it back to us.
Rod Stewart, in a leopardskin suit, turned up with a tall blonde who seemed about seven feet tall at the time (but then everyone was tripping or more). The Faces were magnificent. During the afternoon there was a huge panic as the p.a.control system went down and there was a rush to fix it before the Who played their set. The Who arrived a while before their set and all the band members except one (you can probably guess who) spent time with us on the almost empty reserved area -the concrete steps at the side of the stage, where we all did what heads do best with certain substances and great music on a great day. This was the first concert to have a proper tent and support for those unfortunate enough to have a bad trip.There was a place to fall down and a supply of Valium to help get people down a little. Release were invited along and were on hand for busts and also gave out 'Bust' cards informing you of your rights etc. This was in the days when Release lawyers would represent the busted pro bono. There was some rancour when it all ended as the £15000 was some way short of that agreed and/or expected from Harvey.
The reason this was such a f****ing great gig was because not only were the bands better then but so were the drugs. My now husband and I were part of a group of 'heads' who started a charity for the children Bangla Desh -who were involved in the organisation of the concert - called Kastur (in Penge,Bromley, Kent, England). The concert was produced by Harvey Goldsmith and was really far out, I and Jim sat on the right hand of the stage throughout the concert. We also had a joint or two with Keith Moon and other members of the Who. During the Faces set Rod auctioned his leopard skin print suit and it would be interesting to find out who won the auction.
I do remember that part of my responsiblity was to make sure that the silver giant chess pieces were returned to the theatrical rental company, it was really funny loading these giant chess pieces into the van at 3 in the morning. As you can probably tell I am not anti-drug taking just anti those who restrict other adults because of their own fears and inability to cope with mind altering substances. There was never any violence involved at these events even though many people were stoned. It has only been in the last twenty or so years that violence has been linked with drugs and that as far as I am concerned is due in large part to prohibition and total lack regulation of drugs and our borders. I have always turned on and it has never stopped me working , gaining a degree, postgraduate qualifications and working for blue chip companies. - I am now a 55 year grandmother and I just hope that my grandchildren have a day as good as that in their life.
We also built a sea going craft out of a secondhand wardrobe that was rowed across the channel by Dick Lejeune and a French millionaires son (whose name I cannot remember) to raise money (the test of the craft at Kelsey park was televised on BBC news at six). America also did a really brilliant set. If only we could achieve something as great for our own youth and nation that would be fabulous! Were you there ? and does anyone know the whereabouts of Dick Lejeune ?

Jo L.
London
---
Hi there

Other than:

I was there and remember The Who vividly and your web-article about the day made me realise why I dont have much of an impression of the other bands possibly through lack of good sound. Or lack of a sound memory; whichever!

My enduring memory:
Townshend was wearing a white multi coloured boiler suit and I remember the idea of COSMIC WORKMAN came to me. I hope I have been just that all my life. The rest of the show just wasnt cosmic enough but The Who gave us that awesome power.

I was 15 years old and it might have been my first gig.

Still love the same bands I did then.

Todays favourite is I KNOW YOU RIDER by the GD. Could be Baba OReilly tomorrow!

Rock on

Richard
---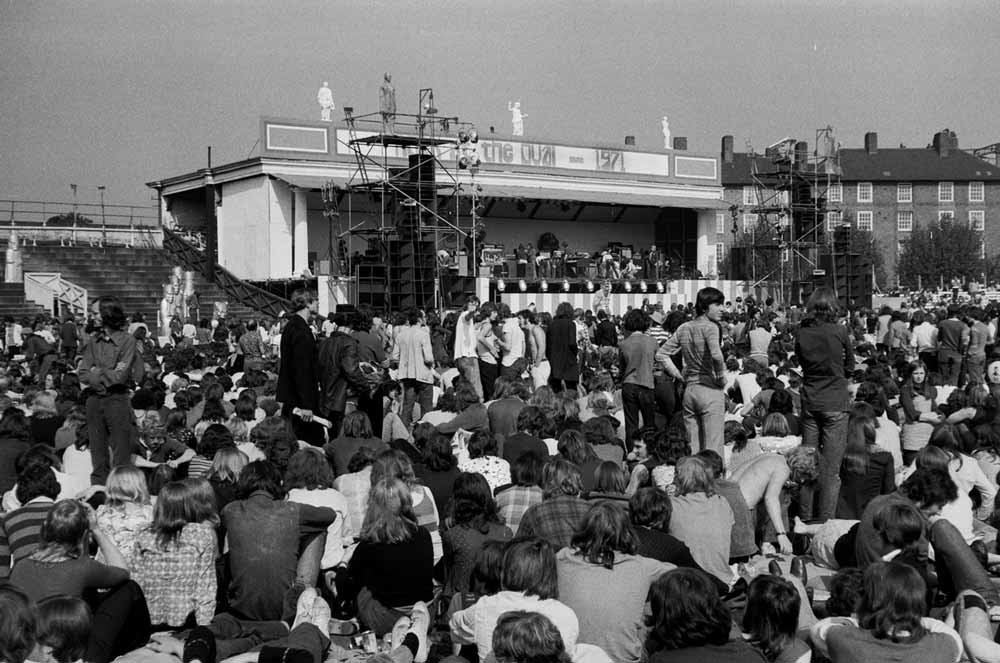 The crew set up for the next act © Colin Lourie
I thought I would comment on the Concert for Bangladesh at the Oval but along different lines to the other contributors -

I attended this concert primarily to see The Who (yet again). I was in a group of about 10 friends from Essex. After queuing and passing through the turnstiles we found ourselves about halfway down the field. By the time the concert started the crowd was too dense for us all to move elsewhere. Unfortunately, much of the concert was marred by poor sound, In particular, because the PA was set up facing directly towards the large pavilion, there was a substantial echo from the back of the field. I doubt whether this would have been noticeable at the front, near the stage and PA and at the very back it would probably have been perceived as a slight reverberation. But from our position in the centre, there was a very distinct echo.

After playing their first number (and to their credit in my opinion) Rod Stewart complained about the sound and left the stage with the Faces, refusing to return until the problem had been resolved. The sound was indeed much better when they returned to continue with their set and at last we were able to really enjoy the proceedings. There were further adjustments to the PA before The Who went on.

The Who were brilliant. They were also very loud with a very clear sound. In fact I forgot about the earlier problems until a certain passage from the Tommy finale which came across as:

See Me ........ see me
Feel Me ........ feel me etc.

I would have attributed this to the psychedelic substances except that those around me were experiencing the same effect.

Warwick Conway
---
---
Can YOU help flesh out the festival with reviews , information, recordings and photographs ?
Contact us if you can help.
---
Back to the main Archive.
---