The Archive.
Created Jan 2012
updated June 2020
view at 1920 x 1024 for optimal results
---
Documents courtesy Stuart Fell.

Fife Aid 2

David Bellamy's Festival For The Future

23rd-24th July 1988

Craigtoun Country park

St Andrews

Scotland.

Marillion , Go West, Rick Wakeman, Sugarcubes , Van Morrison, Jack Bruce, Runrig, Phil Mazanera, John Martyn, Davy Spillane , Michelle Shocked, Rose Royce, Captain Sensible, Champion Jack Dupree, Osibisa, Michael Chapman and many more .......
---
---
Recollections setlists and Recordings.
The final show was to be a remarkable disaster called Fife Aid near St Andrews. A Scottish Live Aid it was not and the promise of World Wide TV coverage disappeared as fast as the Mixing towers in the sea fog that rushed in when the rain stopped pouring. The bill was wonderful and I've met so many musicians who were there and remember the shambles on the day. Bjork was there with the Sugar Cubes, Van Morrison, John Martyn, Steve Hackett, Tam White, Phil Manzanera with John Wetton and many more respected musos. Our gig was tired and angry and the hotel apres show was a cauldron of hate as everyone blamed me for the decision to play.
Fish
---
David Bellamy

Courtesy Stuart Fell

© Graham Taylor
Craigtoun Calling
That was the message on the back of the T-shirts for the ill fated (well financially anyway) Fife Aid Festival of 1988. The idea was to raise money and awareness of touchy feely green issues by gathering together a big load of energy wasting sound and light equipment and running it all for the best part of two days. Add in a load of cars, vans and gas guzzling trucks and there was no doubt that we could save the planet..maaaaan.

Big George and The Business were invited, via the Pictish Embassy, to perform on one of the secondary stages and we reached the park on the outside of St Andrew's without undue hassle. Mother Nature, ungrateful biatch that she was, had other ideas though. Performances had been stopped on Stage B due to large concentration of water gathered in the tarpaulin directly above the monitor desk. It looked like it was going to burst any second, and a team of stagehands were trying to coax it off the front of the stage with long brushes.

Eventually the all clear was given, the gear was set up and George and co began the set. I had been instructed to go out front for a bit to check out the sound, and to prod the engineer if necessary. All was fine, so I stood for a bit marvelling at the antics of the mud sliding maniacs in the crowd. I was then asked by a fella in a suit ( A suit? In this weather?) who the guy playing guitar was. "That's Big George" says I. "He's bloody good eh?" replied the suit. "Sure is" I agreed.I never thought any more about it….

After the well received performance, we all proceeded to enter the festival spirit and head for the Main Stage. Jack Bruce was great, Runrig were Runrig and (though no one knew this at the time) Marillion were doing their last show with Fish. After a night in the van listening to more rain, we emerged to the news that the organisers wanted us to hang around, as they needed a stand by band for Day 2. There were rumours that John Martyn may not be showing up to do his slot between Rick Wakeman and Van Morrison. A good few hours of hanging about ensued.

I wandered for a while and saw sets by Steve Hackett, Davy Spillane, and Phil Manzanera and his all star band. "That looks like Scott Gorham of Lizzy," I thought at one point, and on moving closer to the stage it was! Eventually band, crew and hangers on were ushered to the back stage area to set up in case we had to take the stage in a hurry. Alas it was not to be as a car rolled up, and John Martyn rolled out. We were consoled with a bottle if whisky and loitered in the stage side tent for a while.

I spotted Mr Fish outside, and I asked him in for a drink. He politely declined as he was off to see John Martyn play.After a while we decided to head out front to watch Van Morrison close the show, which he did in classic fashion with a pick up band that he had only met a few days before.After the last notes, George and I found ourselves backstage and this is when it got weird. I was approached yet again by that same man in the suit. "Big George?" he said "I'd like to introduce…" "You don't need to introduce him!" said George "Awright Fish? How ya doin?" A brief meeting of kindred spirits ensued, until Fish remarked that the wife was giving him the "we're leaving" look.We left for home knackered but happy.

more from A Roadies Tale here
---
Fife Aid, a huge two day ecological festival, was where Colin Blakey of the Waterboys encountered Van Morrison. How did that come about?

"I was talking to Robbie The Pict, one of the organisers, and sorting out the details about Andy White's slot. I mentioned to him that if Van needed a whistle player, I was available. You see, I was kinda jealous 'cos Mark, my flatmate, who plays with Hue And Cry, was going to play drums in Van's band. Then minutes later, Robbie phoned back and said yes, Van needed a whistle player. No, I don't think he had heard of me before!"
" Van? I suppose he could smile a bit more. He's a quiet man but he knows exactly what he wants from the musicians he's playing with. I had one rehearsal before the gig and spent ages driving around Fife looking for the practice venue. I eventually found it: a Girl Guides Hall in Logie, a small village near Fife!"

---

Hi,
love your site. I see Fife Aid was mentioned in upcoming articles.

To give you some background this was 1988 and with Live Aid reasonably fresh in the memory, charity gigs ending in 'aid' were pretty popular.
I remember Oil-Aid (in Aberdeen Capitol Theatre) which was headlined by RunRig. I was one of an audience of, I think about thirty people who were asked to sit in seats spaced around the theatre, to make the place look less empty (?). I remember a pre-charting Wet Wet Wet were somewhere on the bill. Anyway Fife Aid was set up, a huge field near RAF Leuchars was rented, several bands were booked and international TV companies were interested in broadcasting it live on the, as yet unconfirmed, understanding that David Bowie would headline. Then Bowie pulled out, international TV legged it and ticket sales tanked.

Myself and three friends got the bus up from Edinburgh to find that the haar (sea-mist) had rolled in to create a bigger dry-ice effect than any I've seen at the heights of Prog-Rock. Speaking of Prog, Rick Wakeman did a fine solo set with a bank of keyboards. I was disappointed that he wasn't be-caped, but it was 1988, so you can let him off.

Around six-ish it became obvious that for the promoters the whole thing was a total disaster. They'd geared it up for a massive audience and international TV sales. The attendance was a fraction of what they planned for and there wasn't even Scottish TV coverage. One of the unforeseen advantages of this situation was that they had a mountain of surplus beer cans which they started flogging off very cheap. My friends and I pulled our money together, and with this excellent new exchange rate, bought gallons of the stuff. From then on it all gets a bit vague, I'm told the Sugarcubes and Marillion played but I'm buggered if I can remember them.

Despite that, I do remember John Martyn played (to the best of my knowledge) with just his effects and a drum machine. Whatever it was, I remember his performance blew everyone away. I especially remember killer extended versions of 'Dealer' and 'Looking On' - he was in phenomenal voice and his playing was mesmerising. Great chuntering waves of echoplex rolling out across the misty Fife landscape.

Then the headliner Van Morrison (or 'Van Mental' as John Martyn referred to him) who did a terrific set. Lots of uptempo stuff like 'Star of the County Down' 'Cleaning Windows' 'Bright Side Of The Road' and good dancey-type stuff which was just the ticket at that late hour.

Having spent all our money on beer, my friends and I found some highly-affordable accommodation on a traffic island just outside the town, and we woke to the dawn chorus of commuter traffic roaring away several feet from where we slept. We persuaded the bus driver to take us to Edinburgh on the agreement that we'd go straight to the ATM to get the retrospective bus fare. We left the youngest member of our group with him as collateral in case we did a runner.

It might have been a disaster for the promoters but I had a whale of a time. These days I prefer to know to know where I'm sleeping beforehand and at least have the return fare to get me home, but when you're young and daft it's all good fun.
Thanks for the great website, have spent many happy hours on it.
Mac.
---
After the success of the 86 festival Fife regional council had absolutely no objection to a second Fife Aid 2 years later. Plans for this were pretty shambolic to be fair. At one point there was a story that David Bowie's management had phoned the office to find out more and offer to put Bowie on the line up but whoever answered the phone shouted across the room "has anyone ever heard of David Bowie?" At the other end of the line the Bowie people hung up! End of story.
Another thing I found out today is that right up to the Friday before the show they had a pretty good Saturday line up with 2 big acts to headline but on the Sunday they were struggling. I remember that Simple Minds apparently sent their manager along to check the festival out on the Saturday, had a look and saw what a shambles it was and left without saying a word. Simple minds at that time had a studio at loch Earn which wasn't far away and they were there that weekend .
No wonder the organisers jumped at the chance of Van Morrisson when his management called. He rehearsed in a village hall in nearby Balmullo with Tam Whites band and on the eco rock dvd that is who his band are. Attendance for 88 was poor compared to 86 with a mere 10000 over the 2 days.
Other little treasures I have found out are things like the company who supplied all the t shirts, hats etc went bankrupt over the head of Fife Aid and a lot of the stage suppliers did not get paid hence nobody is willing to talk about it. Even the beer tent was a disaster. The organisers had struck a deal with Wm Low supermarkets and got half of their cans of beer on sale or return on the agreement they paid for the other half. The half they paid for was Kestrel lager or something like that and the sale or return half was McEwans. You are probably aware that Kestrel is crap so guess what happened. The staff manning the bars weren't told this and sold all the McEwans leaving something like 10,000 (guess) cases of Kestrel without a home. I remember in the dying hours of the Sunday a large Luton van was parked on the left hand side of the stage with the back door open and crates of this stuff being sold for very little just to get rid of it.
Stuart
---
We were there with Runrig because we had the same management ."Marlene Ross".I ended up at a hotel in St Andrews with Runrig and Marillion.The "artists" bar was packed,and I ended up in Marillions limousine with them en route to the gig.I watched them from the v.i.p. and press area and thought they were the bollocks ! Had a few beers with Fish and remember Phil Manzanera backstage dressed as a pirate ?After that it was another party back at the hotel..cant remember the name but it was opposite the 18th green ?and don't remember much after that..surprise surprise !!!!!!!
Let me know if theyre doing another one would love to play ?
Regards
Greg Yule ( Grey By The Gun )
---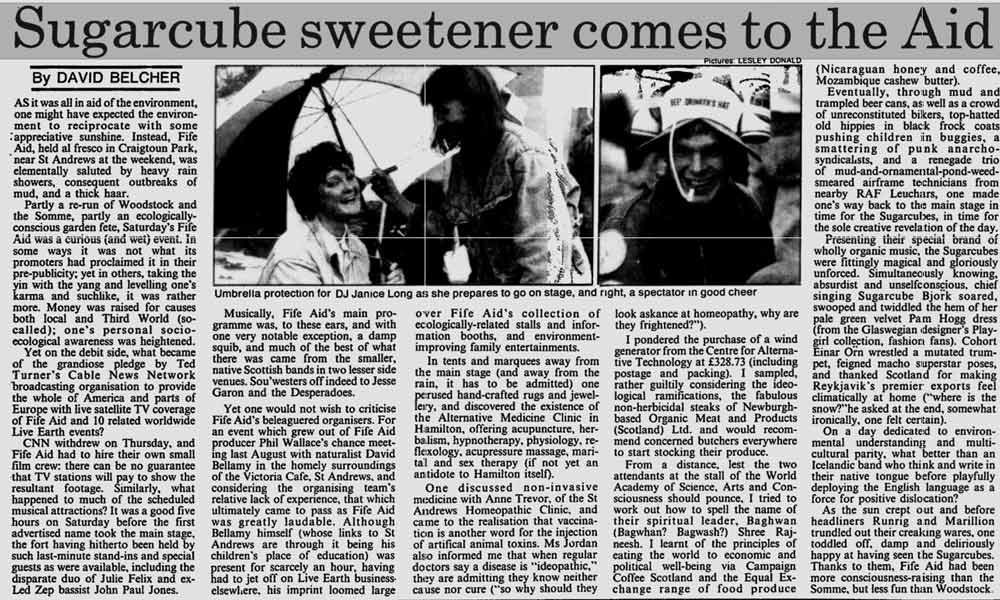 ---
| | |
| --- | --- |
| | |
It was solely down to Robbie the Pict and Van's accountant in Bath that got Van on the bill. It wasn't exactly a last-minute decision but the wrangling over conditions took it pretty much up to the wire. Robbie was tempted to throw in the towel more than once but I kept nagging him into persevering - as he'd promised me the gig backing Van! In fact, Robbie had kind of taken to helping me get my career back on track after the demise of the Dexters in 87 and set me up with quite a few backing gigs over the period 88-90. He set up a recorded live concert with Ali Farka Tour and a band I threw together earlier that day which turned out to have some amazing moments and which I still have on cassette.
Anyway, back to Van - Robbie finally managed to get him to agree if we were prepared to use Van's pianist, bassist and b/vocalist - this was arranged a couple of days before the FA w/e as we'd already arranged to have Foss Paterson (then with John Martyn Band) on keyboard and James Finnegan, bassist with Hue and Cry in the line-up. Still it was definitely for the best, as Neil, Clive and June all knew his stuff outside in and helped the rest of us through the rehearsals and the gig. The Weir Brothers (OMD) who played trombone and trumpet and Nick Robertson (Fat Sams Band) on alto, were all huge Van fans so they pretty much knew the horn parts already. Mark Forshaw (Hue & Cry) was one of the most solid drummers around Scotland then so he was an obvious choice for me. Actually Neil put the fear of death into him as he said Van will definitely pick on him at rehearsals for being too loud (which he did) but he said that once we were on stage, he wouldn't be able to hit the drums hard enough for Van (also true!). I personally hadn't listened to Van for years but had naively expected him to do all the old hits - be which I meant songs off Astral Weeks and Moondance mainly so I had about a week to get an hour's set learned from scratch. Luckily I'd surrounded myself with the right musicians!
Unfortunately I can't remember where we did the rehearsal on the Sunday afternoon - it was a village church hall somewhere not far from St Andrews and was the first time any of us had met 'the Man'. We had one rehearsal on the Friday with Foss and James then Neil etc came up from London on the Saturday and took us through the set instrumentally - that was at the old rehearsal studios in Abbeymount in Edinburgh.

It had, AFAIK, been agreed beforehand that payment for the band to rehearse, van and minibus hire, accommodation, instrument hire, flights etc would be forthcoming before he went on stage. As I understand it, Van took nothing for himself - in fact, I've a feeling he may have handed the money over to Robbie to deal with. Remember there were 14 of us, including 2 techs and Van wanted us to be paid for the rehearsals - he didn't expect his 3 sidemen to come up from London for nothing, so it was only fair that we all got the same (Considerably less than what he normally paid his guys, BTW!)
Jim Condie
---
Hi.. I was just reminiscing with a friend about this festival. I thought I would share my experience which was a moment in time.
I was in a band called G Spot Tornado and played a great set earlier in the day on the Saturday... I remember our sound pals of the time Pete and Sheila were doing the PA on that stage. Anyway we had a total blast and then a wee while after we had finished our set we heard our band name being announced over the main PA...G Spot Tornado were being asked to make their way to the main stage. Robbie the Pict, who knew us as a good time party band had suggested us to fill in a gap caused by the Sugar Cubes being late due to the weather! We all remember the weather that weekend. So we got to play a small set on the main stage which for us being very young folk was a dream come true. I also remember John Paul Jones standing at the side of the stage next to our sound engineer and he apparently liked us and asked what we were called ;) so thought you might like that memory. We all still have fond memories of the festival despite the weather and it was also a great memory for our pals that got to see us play the main stage.
It was such a shame that things went wrong for the festival but I know folk that still talk about it in a positive way.
Cheers and thanks for the memories.
Best Wishes
Lindsey Black
---
Setlists and Recordings
Apparently the idea was to link with other shows held simultaneously in the US via satellite for a world audience, but for reasons we are not aware of, this did not eventuate. so the festival was filmed, but the footage was shelved for a number of years.
When footage did emerge in 1990 , it was only of a few acts and all were filmed during good weather. A viewer who was watching would have assumed that the event was blessed with good conditions . What happened to the footage of the other acts is currently not known ( at least by us ) .As for unofficial remembrances of the weekend, there are audio recordings by Marillion , Sugarcubes, and Van Morrison in circulation. Umbrella Music released a remastered DVD festuring Rick Wakeman, Van, John martyn and others, but it was just a snippet of what could have been included.
Audio recordings .
Marillion .

Slàinte Mhath

Assassing

White Russian

Sugar Mice

Fugazi

Warm Wet Circles

Misplaced Childhood (Part 2)

Kayleigh

Lavender

Heart Of Lothian

Incommunicado

Garden Party

Market Square Heroes (incl. My Generation and Let´s Twist Again)
---
There WAS a recording of Runrig's set , but it was confiscated before it could get into circulation
Stuart Fell recalls.
"I did have a bootleg of Runrig which I confiscated from a bootleg seller on the sunday morning. I went up to his stall and asked if he had Marillion which he did and he told me he had 1 copy of Runrig but he hadn't copied it yet. I showed him my passes and he shat himself and handed them over ! Sadly I lent them to someone else and they probably got binned. Shame as we could've got runrigs setlist from that. All I remember was they started with the cutter and finished with Loch Lomond"
Wreckless But Sensible

July 23rd 1988

Captain Sensible ,Wreckless Eric and Paul Grey.

Smash it Up
I Get So Excited
Swimming Against The Tide Of Reason
A Sporting Life
Some Of Us
Whole Wide World
Glad It's All Over

Not known if a recording is in circulation ....

A review of Captain Sensible's and his chum Wreckless Eric's performance can be found here .

Looking for cover artwork or photos of this show
---
The Sugarcubes

July 23rd 1988

Recording exists , reportedly good quality .

Looking for cover artwork or photos of this show
---
RUNRIG
Fife Aid 2, Craigtoun Park, St Andrews 23.7.88
John Martyn

July 24th 1988

Recording exists , reportedly good quality .

Looking for cover artwork or photos of this show
Video recordings .
Video of the festival was released in 1990, re-relased on DVD in 2004 by Umbrella Entertainment.
Eco Rock Festival:

Davy Spillane

Jack Bruce

Mellow Down Easy
Politician

Rick Wakeman

John Martyn

Van Morrison

Sense Of Wonder
Marie's Wedding
Cleaning Windows
If you have photos, recollections, set lists, newspaper reports or tapes of this event then Contact us if you can help.
---
Return to main archive