we met up with two young Californians at London airport...
" are you going to Egypt for the shows?"
hot damn we were!...
that meeting kinda confirmed yes, this adventure really was a happening...
you see...we still were kinda acting on impulse, following a hunch...compelled to be there but not really knowing anything about
what was to happen (how could we?), and certainly without definite knowledge that yes, tickets would be available to the shows once we hit Cairo...
at Cairo airport we organise troupe (now comprising maybe 8 US folks and us) to take local bus into town.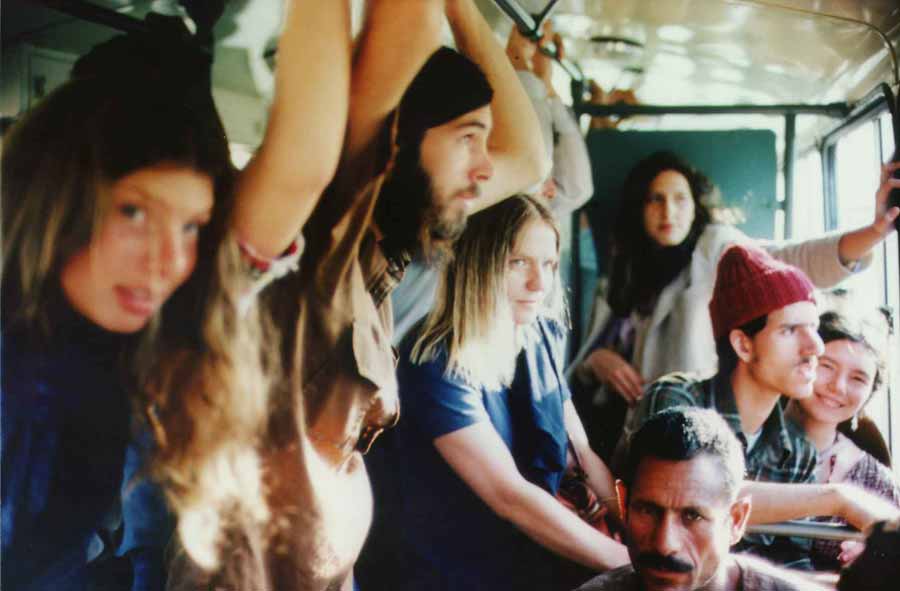 i have me a just wonderful color slide of that reality...Ken lookin' out at Cairo Third World slums as if to say:"Where the fuck are we?"
culture shock...culture fun!
me and Vera are just recently out of 18 month backpack trip across Pacific and South America...Cal coterie kinda latch on to us as seasoned travellers but...
what about a hotel?...
oh, one of the group says they know of somewhere...turns out to be the Windsor Hotel...plush establishment at turn of century... kinda delapidated now, but flight of stairs still grand...one of the young long haired US hippy chicks sure giggles alot...!

is nightime...

heavy tokin' in hotel room, and strange breakdown in communications due to accents...um, a little strange...

we crash, others party, next day explore the heat and grime, hustle, bustle and taste of Cairo...

but first...the tickets!

two or three of the group had gone exploring...intrepid trip across the crazy menagerie of honking cars and searing heat...and had found the ticket booth!

so there is a ticket booth!...

turns out to be a funky little tented kiosk at Tahrir Square adjacent to Egyptian Museum...wowza!, tickets!
i see the GD Egypt '78 poster for first time.
'twas pegged up at back of kiosk...

it immediately grabs my eye and soaks into my consciousness...
we pay our Egyptian pounds and get tickets for each of the three nights...i think 6 of us were there...the glee, the joy, the sense of
woo-hoo(not that that particular phrase was a part of anybody's
vocabulary back then)...
i took photos of the gleefully smiling group...each clutching the beautiful golden GD Egypt '78 program given out at ticket booth...

some kinda supreme happiness...radiant smiles!

order of events now is kinda unsure...god!, so wish i'd kept a diary...

a definitive account is going to be posted (maybe by Ken) in John Dworks' GD Tapers Compendium Volume 2...that will be out in '99...cool!
what i do remember are images and senses...heat and dust, trudging the bustling streets of cairo, checking out the bazaar, taking taxi ride to the concert site adjacent to the sphinx...exploring that incredible pyramid site...reaching a group concensus that Cairo was too far, too noisy and " too heavy" to use as a base...we needed to move closer...
The GD family was ensconced in The Mena House Hotel...so close to the pyramids but way too expensive for any of us, and probably full any way...

Ken gets back with the possibility of hotel Red Carpet...cool!...within something like a 40 minute walk to the site
and...a swimming pool, kinda clean, sense of space, quiet...mellow!

well alright!...we was set!

vivid memory of visiting the Mena House Hotel next morning...god, it was hot...our group...maybe 6 of us...sat on the classy so stylish seats immediately outside the restaurante area...we could glimpse inside and see members of The Dead family partaking of mid morning breakfast?...so cool!

was that Owsley?

i remember flashing on the small and just perfect lightning bolt pendants each of The Family wore on necklaces around their necks...

so cool!

one of our group chases after David Freiberg as he emerges from dining area to walk down the carpetted stairs...

" That's David Freiberg!" i remember him saying...and clutching a note pad he chased after him for a signature...

strange how some incidents just stick in your head...

and Hamza el Din, sweet man that he is, bought us all a Stella beer...so cool, as he went out of his way to befriend us...so cool...

little did we know he was to feature so prominently in the shows and shouted name " Hamza!" was going to be one of those indelible memories of this so incredible time...

' course we hadn't heard Ollin Arageed yet...

that magnificent, simple, just perfect refrain we heard at it's world premiere, the 2am soundcheck...

ha!, what fun that was!...

Soundchecking © Richard Arridge

i have a so distant memory of standing around knowin' (but not really knowin'!) there HAS to be a soundcheck...right!

and, of course, there was...with maybe 20 folks there plus band who just kinda happened along...Bill Graham turned up too and was met with open arms by band apparently surprised to see him there...

apologies for inaccuracies here...i'm spontaneous recording anecdotes...that as far as i know actually happened...!

i do have color slides of some of this stuff...maybe i should be referring to them as some sort of extra means of keeping
track...maintaining a chronology of what happened next but...does it matter?...we were there, it felt just wonderful, 2am air kinda cool
refreshing and refrain of

da da da da...etc...

Ollin Arrageed, egyptian jam so wonderful, so spiritually perfect, with beat of Abu Simbel youth orchestra kicking in...

was soundcheck the night we rubbed shoulders with Kesey as somebody held pre walkman recorder to his face and grabbed impromptu scoop
interview?(where was that published?)...

i think so...

by now we had encountered a number of folks out for the shows...together we anticipated the moment of the first concert...

oh glory!

the concert site was just perfect...immediately to the left of the sphinx, with incredible backdrop of pyramids...

plus a nearly full moon...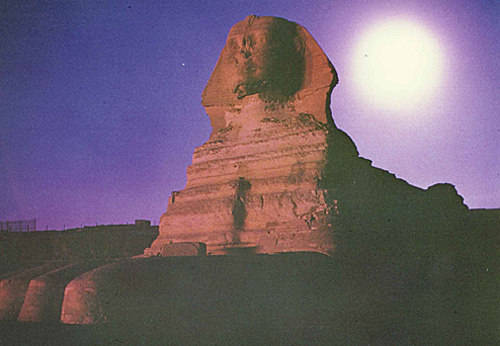 Sphinx illuminated by a blue light...stella blue?

i remember a good number of middle class Egyptians in jackets and shirts,and ladies in um...neat dresses...ha! that first night...and
god, to start with, we sat in the chairs that matched the numbers on the scrawled back of Sound and Light Theater tickets that were...our tickets to the shows!

i basically have no memories of sitting and watching...i have lots of memories of dancin' and walkin' back from the first show sated and so happy with a knowledge that heh...there was two more to come!

on the second night (i think) the band strolled to stage via the audience...Keith floated past...here was Jer!, in that sort of out of place basketball jacket thing he was into wearing...

and Alexandra encountering him, showing Jer her just incredibly fine small drawing design of GD at the Pyramids and...Jer expressing warm appreciation and shrugging his so friendly shoulders...the cool way he did...

after second show i remember just me and Vera strolling past the Great Pyramid at end of show...maybe 3am and sound of camel approaching from behind made me turn and look up to see Billy Kreutzmann, camel driver! struggling with reins whilst writhing hippy chick rode the camels hump immediately behind him...

what fun!

in the day time we explored the pyramid site...catching glimpses of Bobby then Phil in serious jogging mode!...

friends K&A came back from trip into Cairo and told us "heh, we met Jerry!"..." he was sitting on a wall immediately outside the Cairo Museum!"...

ha!

afternoon of 9.16 saw us back at the site...a guy who seemed to know...with some kind of extreme physical disability...who was that guy?...was telling everyone wanting to hear about a bucket of Owsley that was available...

is my memory serving me well?

the night of the third night was the special night...goddam, the final show and...the night of the lunar eclipse!

en route to shows we stumbled upon Donna in some tourist bazaar type shop trying on traditional egyptian garb...

the band was dressing up for the final night!

i had me my Nikon F Photomic camera too...finally getting my act together to record the experience...

thank god i did!...

so...with me in photographer mode...

ha!

oh, so many more people here that final night!...

people with US accents who looked as if, just maybe, they had just jetted in...people with camera bags...

there was extra excitement in the air...

the moon was full and beginning to

e c l i p s e !!