the moon so full...
ha!...i started taking long exposure shots of it...i mean...i only had slow Kodachrome film...
i'd know better now...the moon is one bright object...all those photos were over exposed but...
others aint...
the music was majestic!
listening to the audience tapes and...especially the pristine sbd's...there is a clarity of playin' and incredible quality to their
voices...
the bands playin' just awesome...sparse, incredibly defined, startlingly powerful...
Jer singing so incredibly strong, Donna so in tune and truly
deliverin'...
the most joyous time in my life...
incredible excitement in the air...
Bertha kicked off the show, into Good Lovin'...goddam such a dancin'
night!...
as Hamza wandered on stage I picked up the Nikon and started shooting...
Ollin Arageed was exquisite...what an amazing so incredible composition...the Abu Simbel Youth Association Orchestra, in Egyptian
robes,with smileful Mickie up front, laying down the so hypnotic beat...
until, eventually Jer segues in...that so exquisite so subtle melody rises up...just awesome...so subtle the playing, so perfect!

I danced down left aisle to stage area...

and float wandered casually down into the left side pit...a few folks with cameras were huddled there...they looked professional...

the band was roaring into Fire On the Mountain...

Bobby and Jer maybe 8 feet away...

i focussed the lens...

so cool!

click!...

click!


i wanted to wander some and record the angles...

just as i was leaving the pit one of The Dead family...a huge looming guy in big shaggy beard wearing hooded Egyptian robes took my camera from me...studied it and said...

"Who does this camera belong to!?"

i was kinda dumb struck but instantly flashed a very stoned smile...the robed protector of the pit smiled back...we hugged,
shrugged shoulders,with a smile he gave me back my camera, i proceeded on...

who was that?

ha!

anyhows...i have images in my head of walking back to edge of theatre...capturing Pyramids and Sphinx and illuminated stage area...

dancin' in the aisles...totally tripped out, totally trip delirious...

the most moving and profound experience of my entire life...

the sheer incredible pleasure at being there at that moment in time...

i had me a hunch to go out to where the local kids, camels and so friendly village residents were watching...

i mean, there was no fence...people could come and go...on three sides all there was was...the incredible desert...

but...i just couldn't detach from the concert...so...

i dance floated down toward stage area...when...strange indeed...spooky even...ha!...the shutter on the Nikon F froze...for
ten minutes it froze...not working...

i read someplace, once upon a time, that all of the assembled cameras froze at that time...is this true?...if so, it seems not improbable at all...there was power being moved that night...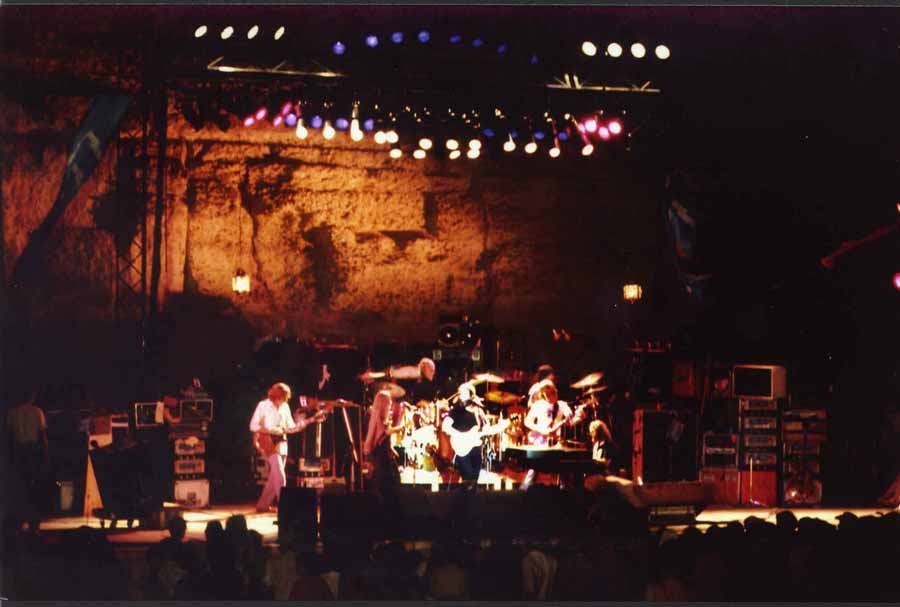 awesome power...spirit of the Pharaohs moved and dancin' as dogs strangely barked on the perimeter...

the Space that night was awesome...Kesey and Pranksters letting go with with every sinew of their other wordly consciousnesses...

i eventually danced back to where Vera, Ken and Alexandra were stand dance swaying...in time for Stella, Round 'n Round and the One More Sat Night encore...

as the band finished they just stood there, beaming smiles out to the audience...we beamed back...i looked sideways and felt myself 10 feet tall...a huge surge of power ran through me...i was levitated...everyone else adjacent appeared levitated too...we were
all 10 feet...i mean, we had our feet on desert floor but we had somehow all risen up!...

ooh!

the moment lasted some two minutes...

immediately post show K & A and US friends huddled together...Ken's face changed to Pluto (the Disney dog!)...

i must have appeared surprised 'cos one of the Cal heads said..."haven't you seen that before!?"...ha!, so cool!

eventually we wandered off, K&A i think leading us to local village home of a new Egyptian friend...we took tea and a smoke...i think!...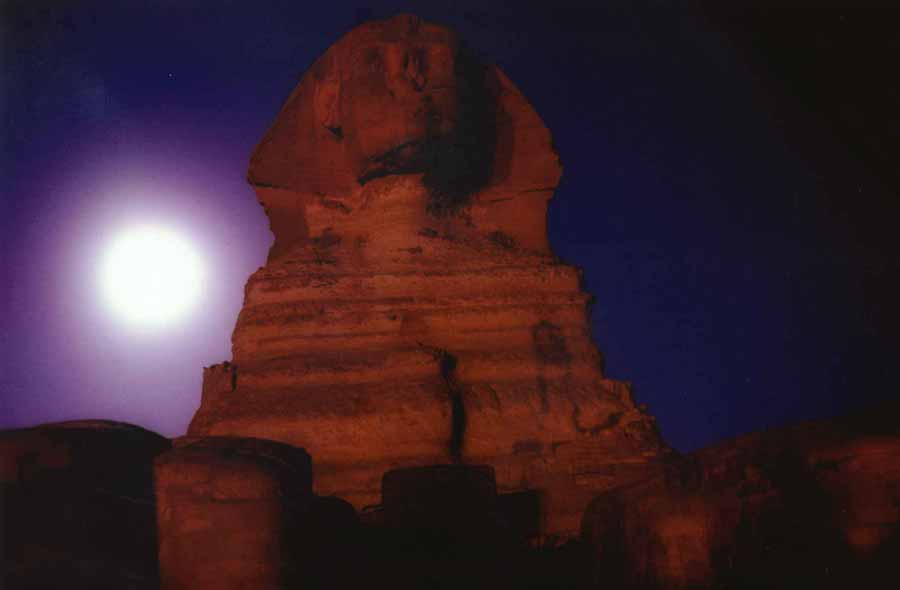 then definitely (i have the slides to prove it!) wandered off to the still illuminated Sphinx and i took 30 second camera on tripod shots
of Sphinx with the setting full moon behind...

oh my god!

(those photos are with John Dwork for possible inclusion in Grateful Dead Tapers Compendium 2...as soon as possible, and if possible, we'll show 'em here!)

then onto the Great Pyramid...

and the ascent!

The rocks that make up the outer wall of the Pyramid are large...some you have to pull scramble yourself up ...so much fun!

there was maybe 8 or 10 of us...it was maybe 4am by now...as, with full moon a sinking low in sky we climbed to the top!...

oh wow the vistas!

there was maybe 30 deadheads on the top, all feeling the incredible tired but energised afterglow of the show...

everyone beaming radiant smiles...

the pleasure!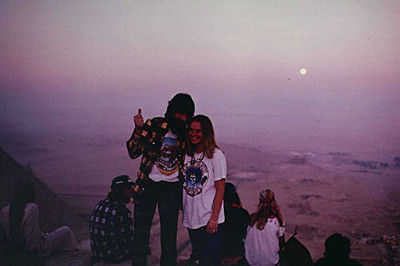 Vera and me posed for a pic on the top...and as the moon sank in the west, the dawn sun rose in the east over Cairo...

so incredible!

the descent was so much fun!...i so remember leaping from rock to rock...
kinda intrepid i guess but...it felt safe to me...others were more
gingerly descending...

o the ecstacy!

order of events is kinds fuzzy here...

to my memory, we met again with K&A with Egyptian guide friend Champion, joining them on an adventure into the Pyramid...

first the Kings Chamber...we lit candles to see the way...such fun!

then...on crawling knees, in the dark!...ha!...down along seemingly endless tunnel...

oh the mystery!...

Champion led us to the rarely visited Queens Chamber and asked us how long we wanted to stay there...K & A indicated one hour...so cool!

Champion left us there...in complete cool dark...we were alone, the 4 of us, so deep inside the Pyramid...

the darkness was black!

K&A started chanting...amazing ethereal music...in Latin i think...

amazing resonance to the chamber...echoey incredible...hee!

we took a toke and experienced the now...

K recorded the whole episode on his Superscope pre-Walkman...so cool!,
so um, atmospheric!

eventually Champion came back and somehow we crawled back out along
that so low tunnel...

to a so hot 10am or so mid morning...

the intensity of light suddenly hitting us...

we visited a few tombs close to the pyramids...


at some time that same day (or was it the next?), Vera and I wandered across to The Mena House Hotel to change some money...and we found ourselves in line at the cambio immediately behind Billy Kreutzmann and crew...so cool!...

god, so many of the family looked so big!...

i imagined one of them was Bear, but i didn't really know...

and glimpsing to the left, there was youthful Bobby striding down the hotel stairs...

ha!



and...that was it!...well sort of!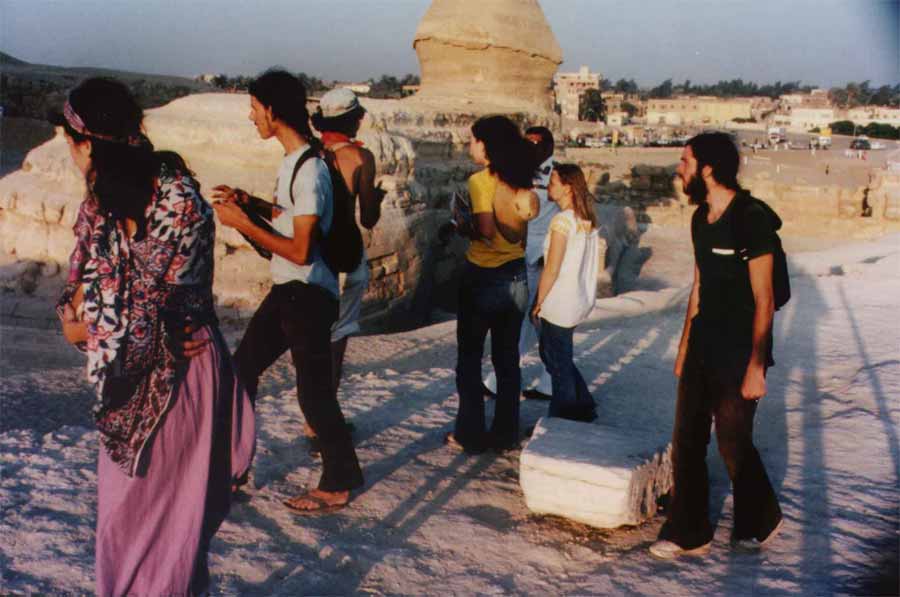 Vera and I stayed another week in Egypt, travelling down to Luxor and checking out the temples and tombs...

whilst in Luxor we encountered that so smile full hippy chick who had shrieked so loud at the shows...looking 5 days wasted, and in same see through flowing dress...ha!

she was still beam smiling...and had an enthusiastic following of eager egyptian lads in tow...

wow, what a trip she musta had!...as my face erupts in smile so big!

and one more memory of a horse and buggy by the Nile, and a reclining deadhead on carriage, looking as if he was waiting for someone...and, and...he was wearing a white so unavailable 't'shirt with Egypt '78 so beautiful logo...

i guess Jer was just metres away...

---


Epilogue.

21 years on...i chanced upon special limited offer at ArtRock...an original so incredible Egypt '78 poster in full glory, available for
US$480...

i had been yearning for this item since seeing it for first and only time at back of Cairo ticket stall on 9.12.78...

i was drawn to buy it, i had no choice!

so...

i purchased it, it arrived in a week, imagine my excitement glee at the unwrap...

'tis hanging framed on wall behind me

just perfect...

i get great vibes from it each day...a constant reminder...

so...

full circle?

well maybe...

the tapes reveal the concerts in part but somehow, i think, there is a very real element of...

you had to be there!


please accept these flow of consciousness musings as what they are...i didn't keep a journal, and memories can play tricks...!

amazingly, it seems, i had forgotten stuff that was...um,
unforgettable!...

i mean, Ken relates how Jer came striding up to us immediately after the 9.14 show, enquiring and gleefully seeking our consensus
opinions on the show...

a gobsmacked awesome memory and come to think of it...i do kinda half recall it now...i do think i was there when that happened!...

ha!, how can you forget something like that ?????!...

well i did!...

huge hug thanks to K&A for bringin' that back to me, and being there, and being friends all these years...

you know, you know, you know...

i have one final anecdote of looking across at Alexandra...as we walked to the 9.15 show(?)...and she had ribbons, ribbons, ribbons in her long brown hair...

me...an English deadhead who'd dreamed of Cal and that whole hippy dream...and there i was...walking with, encountering it so close, so incredible...

and K&A's beam full smiles!...


all the years have combined, sure melted into a glorious dream...

and what an incredible dream Egypt '78 was!...

H A M Z A !!


ps, Vera and i returned to Egypt some 3 months later, en route to Himalayan adventure...we didn't even go out to the Pyramids...it was too soon, too close...

in '95 we revisited with our kids, post Nepal trek this time and in searing Egyptian summer...

i danced on the platform in front of Sound and Light theatre...to refrain of ollin arageed dancin' in my head...
doo-doo-doo-doo doo-doo

doo-doo-doo-doo-doo doo-doo




I'm sure i saw the Sphinx smile!