The Archive .
---
Big thanks to our sponsor Neil !

For information on today's festivals see eFestivals.co.uk
---
Last update Sept 2013- new pix .
---
Bath Recreation Ground .

June 28th 1969.

It was a great two months in July & Aug 2008 as we had many new rare photos arrive of bands onstage at the festival as well as news on recordings and film . After many years the information is finally coming in thick and fast, thanks to Al Bye and Lawrence Impey for the new pix .... and almost 40 years to the day , in late June 2009 , more new pics added courtesy of Mike Ware.... and 2012 , five new images courtesy of Mike Bird. Now in 2013, some nice colour photos of Taste and an Unknown band courtesy of Mike Read ....

Flyer courtesy Bob Hewish
---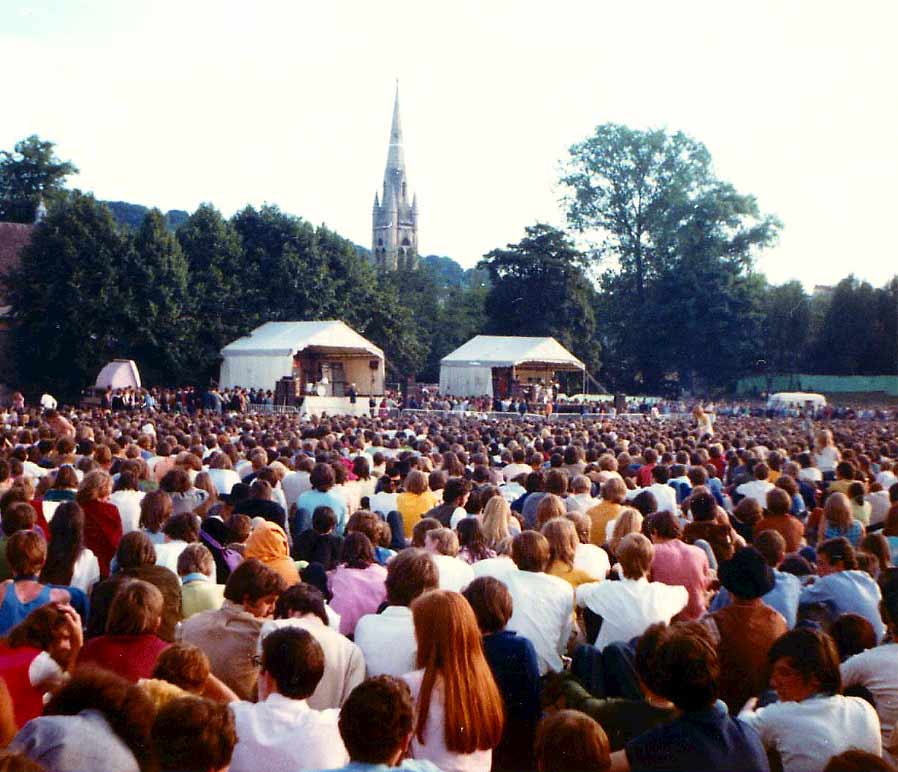 Zeppelin play in the sun on right hand stage © Mike Bird
The Bath Blues Festival was promoter Freddie Bannisters opening gambit in the UK rock festival stakes .In 1969 he dipped his toe into the murky festival waters ,with a solid line up featuring the cream of British Blues Bands plus a few progressive groups such as The Nice- and emerged ( unlike many of his co-promoters ) , financially unscathed and ready to have another go with a more ambitious line-up in the 1970 Bath Festival of Blues and Progressive Music .

The festival took place right in the heart of Bath , whereas the 1970 show was held at Shepton Mallet . The small size of the recreation ground was fine for 1969 and the twin stage set up meant there were fairly smooth transitions between bands. The single stage in 1970 led to lengthy waits for the poor audience as equipment took ages to set up and sound check.

The 1969 bash only attracted 12,000 punters, and has in general been overshadowed by its far bigger sibling festival of 1970. This site is an attempt to draw in more information from festival goers and ( hopefully ) tapers. Thanks to Lawrence Impey, Mike Ware, Malcolm Strachan ,Mike Wheeler and Tom Tom , who took photos of the bands onstage, as well as the crowd, we now have good pictorial memories to remind us what the event looked like.

At long last some recordings of the festival have come to light, both audio and visual ! A guy armed with a 8 mm camera filmed about 18 minutes of various bands onstage and there are also audio portions of the sets by the Nice, Fleetwood Mac,Ten Years After ,Blodwyn Pig and Colosseum, that are generally fairly listenable - which we have been kindly given by the promoters Freddie and Wendy Bannister. More details here at the Recordings page .
| | |
| --- | --- |
| | Photo© Tom Tom 1969 |
Several bands did not play due to time restrictions, according to press reports, these included Principal Edwards and Clouds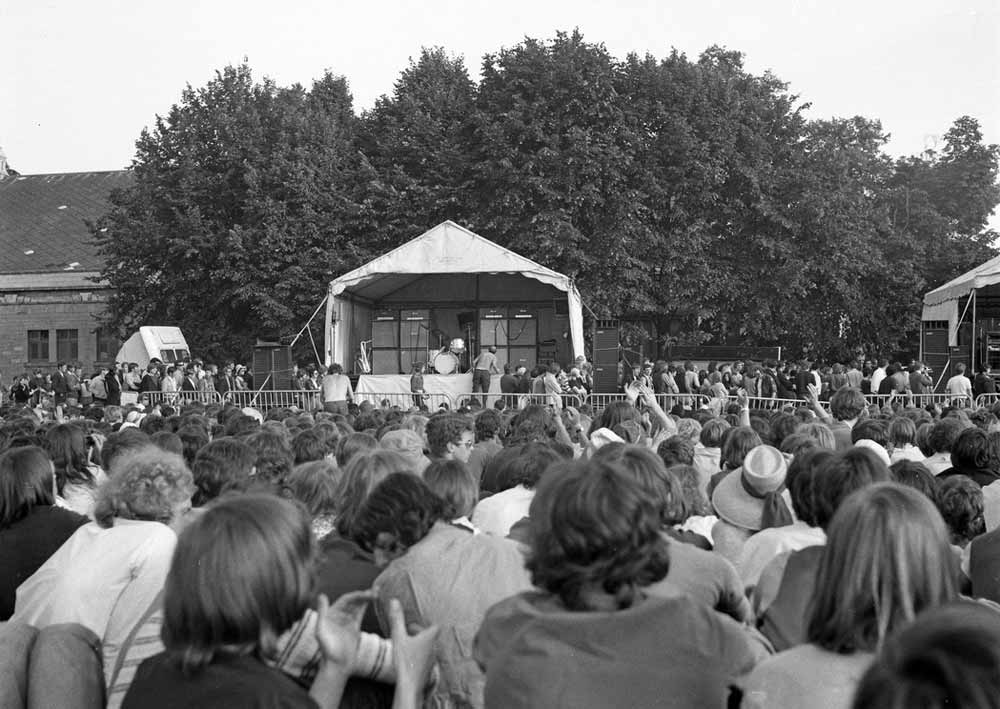 The photo shows the two stage setup - Stage left is set up for Blodwyn Pig. © Lawrence Impey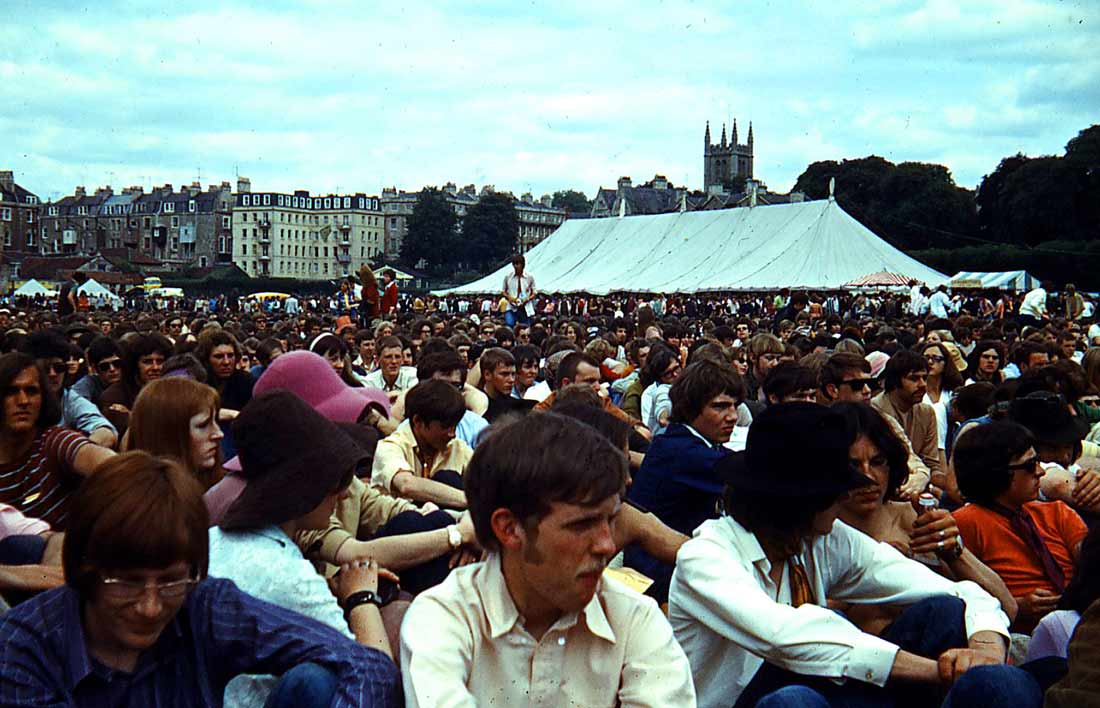 A great looking setting for a festival © Mike Read .
Bath Festival, June 28th 1969 8mm cine film.
Thanks to our friends over at Tight But Loose for these screen shots of a recently discovered 8mm silent cine film taken at the Bath '69 festival. An interview with the filmer and more screen shots will appear in the next issue of the Led Zeppelin Tight But Loose (issue 21). Visit www.tightbutloose.co.uk for more details.

If you have photos, recollections, set lists, reports or tapes of the event then Contact us and we'll add them to the site.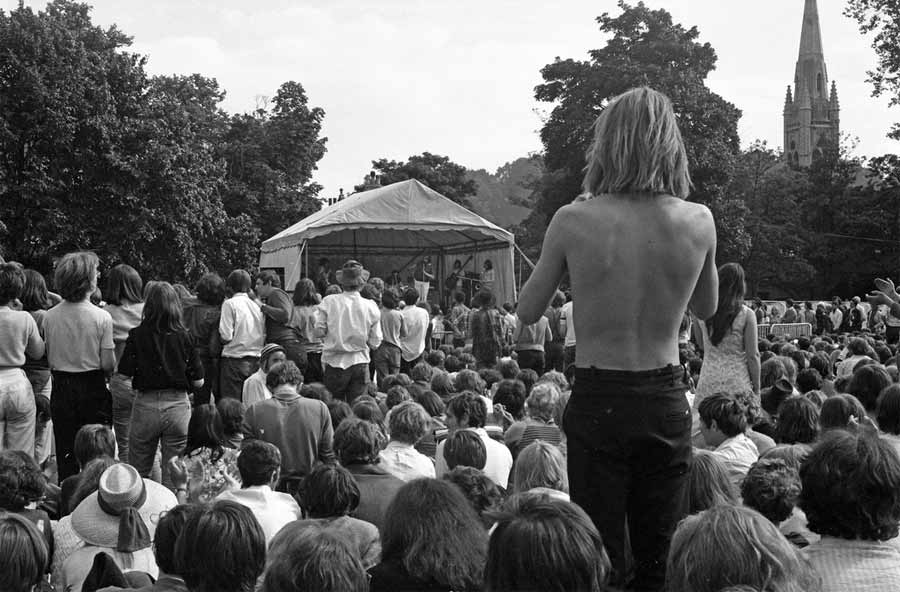 The other stage - Liverpool Scene entertain © Lawrence Impey.
---
---
Contents

If you have photos, recollections, set lists, newspaper reports or tapes of the event then email us and we'll add them to the site. Contact us
---
Bands in order of appearance.(l to R)
---
Bands listed below most probably did not perform
| | | | | | |
| --- | --- | --- | --- | --- | --- |
| | | Babylon | Group Therapy. | Clouds | |
---
Bath 69 reviews and recording information
---
Bath festival products.
| | |
| --- | --- |
| All Bath festival fans will want to read the new book by Bath promoter Freddie Bannister about the 69 and 70 festivals. Its called " JUST BROKEN EVEN " -click on the photo to view more details and to learn how to purchase the limited edition before it sells out . | |
A limited edition of reprints of the 1969 and 1970 Bath festival posters can be bought online here

Rock festival memorabilia from various festivals can be viewed here
NB: Please note we have no commercial involvement with the Bath festival products , any enquiries regarding purchases need to be sent to the rock memorabilia site itself, not to our e-mail address .