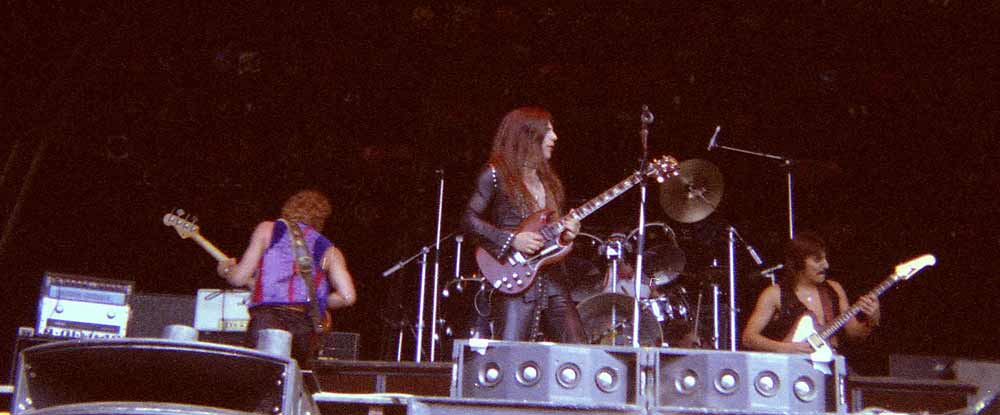 Mahogany Rush at Port Vale © Jules MC
Another stab at using a football ground as a venue for a hard rock festival , Metal was all the rage in the early 80s , but not every promoter got it right, in this case the crowd was estimated at 20- 25,000, as another event wasn't held its fair to guess that this event may have lost money- although the arean looks pretty full in the photos we have saen . The PA was supposed to have reached new heights in amplification - rated at over 100,000 watts. Its a fucking monster as you can see in the pics below ....

Originally Black Sabbath were supposed to co-headline with Motorhead, but pulled out in early July due to ' recording commitments " to be replaced by the Ozzy Osbourne Band. Promoter John Curd was less than impressed " They originally approached me to do the show and the only thing I can say is that the next time they appear in England will be in court."

Elderly local residents objected to the festival ( fearing an invasion of the be-denimed hordes , being murdered in their beds etc, ) and attempted to get it banned , taking out an injunction after the local council allowed the event to go ahead. The injunction was dropped after the promoter, Straight Music , cannily offered the old folks a free day trip to Blackpool on the very day that the event was to take place . This they readily accepted and the show went ahead.
Recollections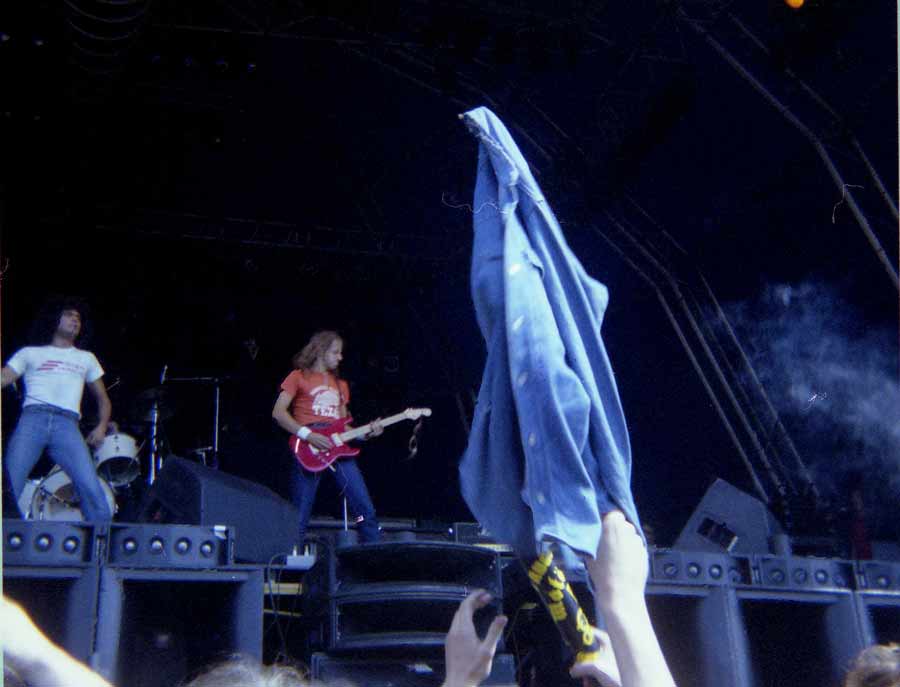 Riot © Jules MC
I went to the Heavy Metal Holocaust Aug 1 1981 with my mate Tony. We set off Friday night at 8.00pm and arrived at Stoke at I don't know what time. About 50 of us were greeted by an officer of the local constabulary who told us which way to go and warned us that skinheads had been reported to be looking for rockers and to stick together for our mutual protection. Nice welcome!
The journey to the ground was uneventful and when we got there we found a large group of rockers and Hells Angels on the field at the back of the stadium. Everything was really good natured with cops sat on choppers and angels playing with police cars' lights and a few camp fires lit fuelled by some poor locals garden fences.I recall one angel walked past our fire with a bobby's helmet on shouting " look at me I'm a copper!"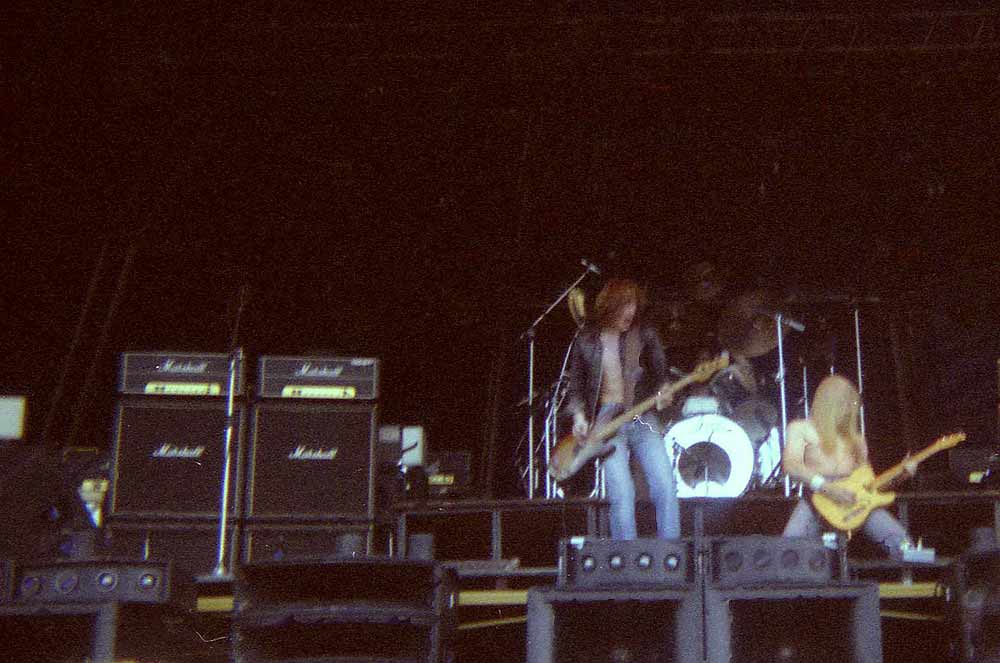 Vardis © Jules MC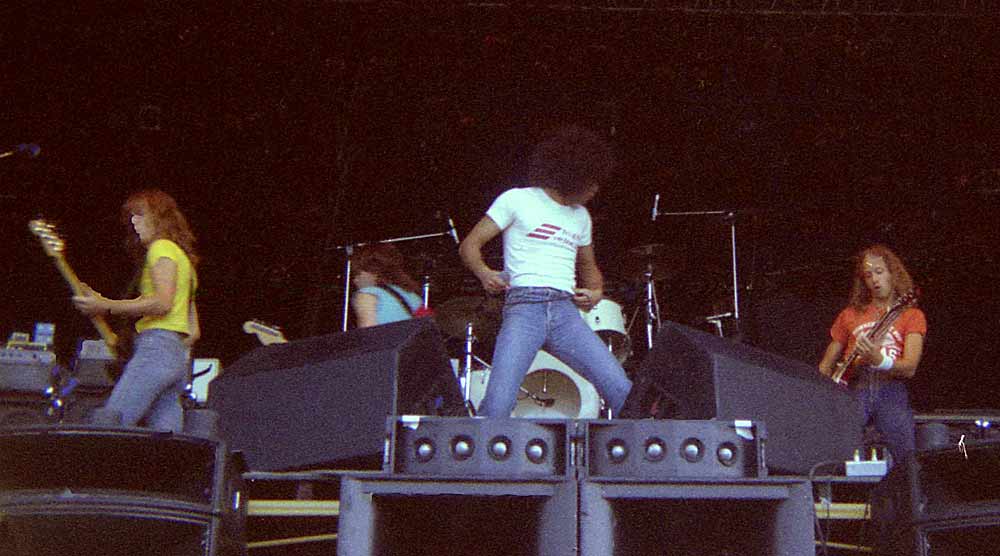 Riot again.... © Jules MC
They eventually let us in the stadium at about 11.00 am and that's when we found it was a dry gig!! This on one of the hottest days of the year! When Vardis came on people were well mellowed out. They did a spirited set but by the time Riot came on they'd have been better off putting Crosby, Stills and Nash on instead. Frank Marino woke everybody up with a brilliant set which for some reason was panned by Sounds music mag!
Triumph then put everyone back to sleep again. At one point Lemmy had to come to stop people throwing plastic bottles at the band.
Ozzy was the last minute replacement for Black Sabbath. So short notice was Sabbath's pullout that the tickets had them as headliners. He did a great set including stuff from his first solo album and also "My bit of Black Sabbath" which went down a storm.
Enter Motorhead. At their prime just after No Sleep 'till Hammersmith had been recorded they were fantastic despite Lemmy losing the heel off his boot and some parachutists who didn't appear until the song after they should.
Through the afternoon there were problems with the PA. because as Lemmy put it "It's so big they keep melting the cables" I don't know about that but it was awe inspiring and I've never seen anything like it.
After the gig we slept in the station waiting room and arrived home at about 1100am Sunday morning.
Just as an aside. Over the years I've gone to gigs and met young guys who are awestruck that they met someone who went to the Heavy Metal Holocaust. It really has attained a semi-mythical status today. I just wish I'd taken a camera with me!!!!!!!!!
Dave Butler.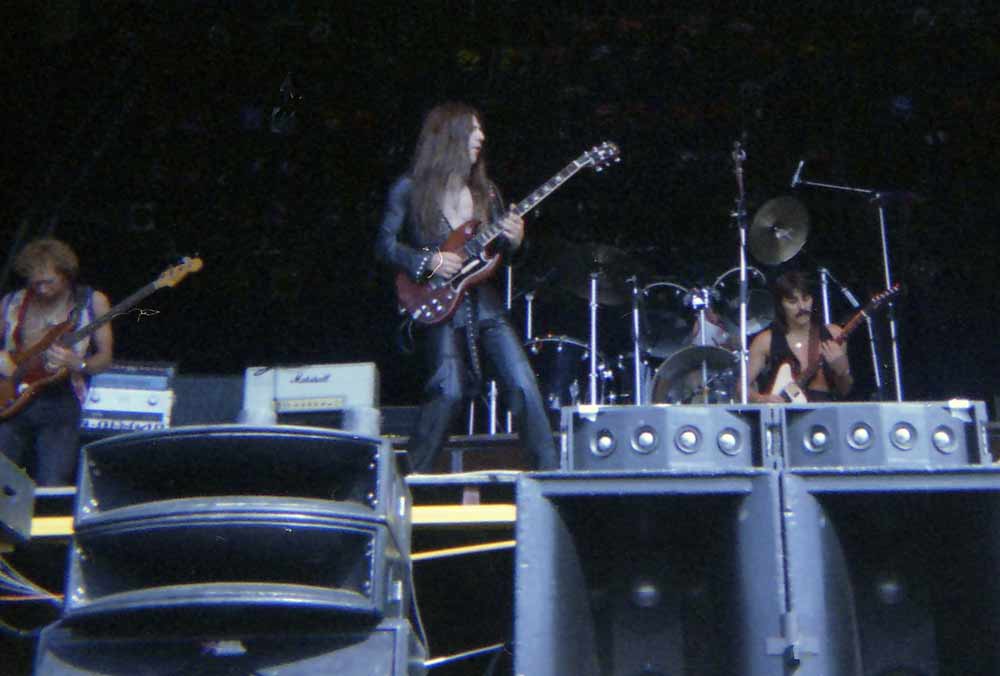 More Mahogany Rush at Port Vale © Jules MC
---
This takes me back a bit.It was one of the most exciting times in music for me with the NWOBHM being in full swing.
I went to this festival with my mate Martin on the back of his clapped out motorbike after my car had broken down in Crewe. I thought I was the dogs bollocks wandering around with my leather jacket with Angel Witch and a picture of the Baphomet painted on the back. Met up with some regulars from the Warrington Red Lion(Diamond Head, Iron Maiden played there).
The main thing I remembered was Frank Marino stealing the show. I'd purchased his live album a while before, and his set list matched the album exactly.
I was also convinced Girlschool played, but maybe I'm wrong.
Regards
Steve Woodier
---
courtesy Dave Jackson

I bought my ticket via a local record store in Doncaster (Angie's Records, unfortunately now long gone) because I was a huge Black Sabbath fan at the time. When I heard of Sabbaths withdrawal from the event I was gutted. I shouldn't have been because the Ozzy set was something that still sticks in my memory many years later. I was a fledgling guitar player at the time and remember being amazed at how a guitarist could play so well while his 'mate' the lead singer was yanking his hair down almost to the floor and dragging him around. Ozzy and Randy Rhoads certainly made an impression upon a 16 year old and in hindsight my love of Sabbath ended with the 70's and the Ozzy era'.

Another endearing memory was of Frank Marino, what a set that was. I'd never heard of the guy (other than one track on a compilation album I had) and wasn't prepared for such a blistering show. It was fantastic and sort of put me off my guitar for a short while as I thought I'd never be as good as that. I bought a number of his albums though and wasn't disappointed.

I recall the Vardis set (they were from just down the road in Wakefield) and thought they were good, especially opening the show in broad daylight with little atmosphere. However, Triumph and Riot were appalling and best left forgotten.
And then there was Motorhead. Well they were LOUD! I remember stood watching them and the music being so loud my denim jeans were just shaking (probably accounts for some of my deafness now). I've seen many concerts in my life but nothing quite like that. I was lip reading for days afterwards. Good entertaining set though.
Other memories are a little vague. The plastic bottle barrages as I dived under the corners of the covers on the pitch trying to get some shelter, was great fun. One hells Angel in his motorcycle helmet standing proud (and quickly alone), inviting 'it on' with his hands and getting absolutely pelted by bottles. It was a great day and holds some fond memories. It was the only chance I got to see Randy Rhoads as the Ozzy concert in Leeds in December 1981 was cancelled and then he was gone.
Dave Jackson
---
Biggest shock at seeing this one was the name. I had completely forgotten. Even for someone who has enjoyed holidays in Iran, Yemen and Syria I hang my head in shame at attending something with this title, and yet as a 19 year old it didn't merit a bat of one lash let alone a full eyelid. Is it this an illustration of how much of a bonehead you are in youth or just a sign of the times? Also a shock to realise it was dry – I'm sure we managed to smuggle something in.
We arrived as Vardis were finishing but in time to do the obligatory is he wearing shoes check on Steve Zodiac (he wasn't). Riot we're much as expected – virtually same as Donnington the year before. As many of your recollectors have suggested things started to go pear-shaped with the singularly un-triumphal performance of Triumph, which was a shame as this was the main reason our chauffeur for the day had dragged his Hillman imp all the way from Batley. Having a singer buried behind a huge drum kit didn't help, but the middle of the afternoon was not the time for a band who relied so heavily on their 'blinding light show'. Yelling "we've flown all the way from Canada just for one show" isn't a guaranteed crowd-pleaser either.
Being a fan of the jazzy solos of Frank Marino (eg California Jam 2) was a bit disappointed with the full-on metal approach but not enough not to buy the album afterwards. Interested in the set list of the bootleg – thought he'd also included his new album closing "We aint dead yet" which seemed to basically comprise the words 'they say that rock and roll is dead but we ain't dead yet' and an endless guitar solo ie ideal for live performance.
I too was gutted that Sabbath didn't turn up, being unable to distinguish the voice of Mr Osborne from the sound of a liquidiser on full. Seemed to remember he was trying a new band out with first UK appearance of Rudy Sarzo on Bass and Tommy Aldrige on drums. Motorhead seemed to as usual do just what they promised and that was about that. A pleasant enough day but nothing really special unless you count driving through Stoke in a traffic jam.
David Dean
---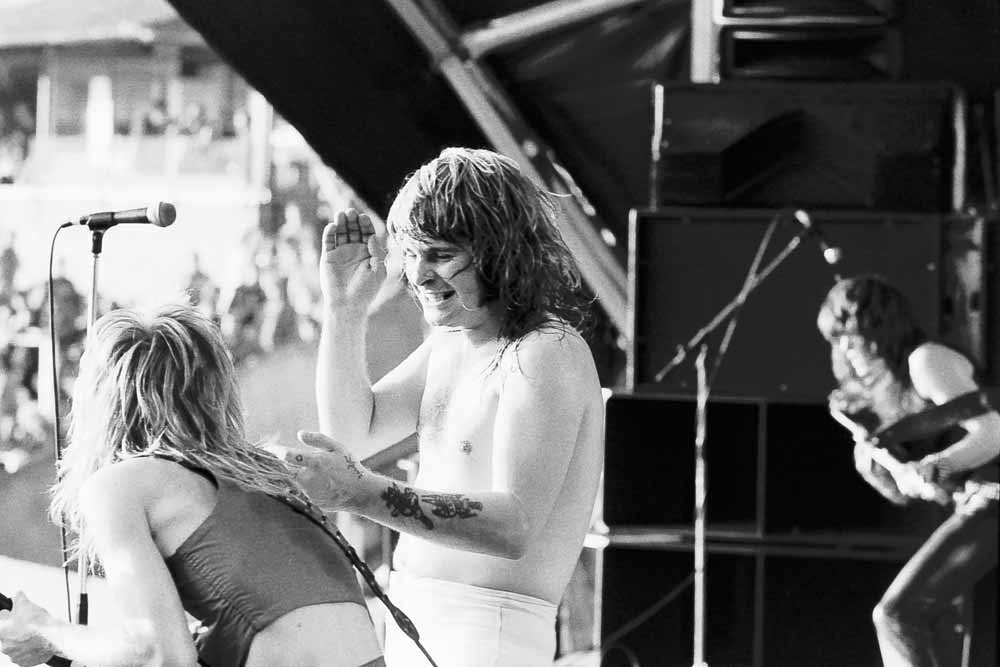 Ozzie having fun at the HMH show © Rick Saunders
Hi there.

Yes we were there and remember the day well. Probably due to the fact that we had to drive there and the alcohol ban in the ground. Without boring everyone with a complete review of the day we went to see Motorhead, who did the business as usual. Ok Black Sabbath did not perform but how many Heavy Rock Fans can say they saw Randy Rhodes play guitar live on stage.

I was recently talking to a young guitarist who is in a rock band about the bands we have had seen live and I happened to mention that I had seen Randy Rhodes perform with Ozzy. The guy almost fell to his knees doing the we are not worthy salute. Randy is one of his guitar Gods, and he will never see him perform.

So all you people out there who were at this festival and were disappointed at not seeing Black Sabbath, I bet there are a lot more people even more disappointed at never having the chance to Randy Rhodes perform live the way we all enjoyed that day.

God Bless.

Rob Saripo
---
Recollections of the heavy metal Holocaust 1981

yes went to this as a last minute trip with 2 coaches of Isle of white Bikers,, i lived in porchester but had friends on the island. was not into Moterhead before going but they were pure energy .
Main Reason for Going was to see Ozzy's new band, Randy Rhoads was inspiring, Frank Marino Mahoganey Rush pure awsome and the final feedback leaving the guitar on the stage resonating..

Always remember awaiting outside during the morning Drum soundcheck's in the Queue that was slowly moving into stadium and the snare drum sound pumping into your stomach as the Air pushed the sound out, massive P.A.

The soft drinks being handed out free by the bikers it was hot day and they were trying to charge a fortune.

AN EVENT TO BEHOLD RIP Randy forever missed only able to shine for a short spell i was a lucky one.

yes ears ringing all the way back to portsmouth ferry terminal
a one off
regards
Paul Redman

---

It was a very warm day I remember and being quite young, I sat in the stands at stage right. I had no clue as to who Vardis and Riot were, was vaguely interested in Frank Marino and even less with Triumph.

Ozzy was blinding, watching a sea of hands waving his "V" signs was incredible. Randy Rhodes of course on guitar. He played a great set!

Motorhead were loud and we didn´t see much of them as the roadcrew were pumping dry ice out like there was no tomorrow. Loud and heavy they were and that was what counted!
Cheers,
Miles, Mallorca
---
My name is Steve and i was at that show,this was a fantastic era for rock music ,every weekend there was always rock music playing either at shows or in pubs. Me and my mate Woody left Matlock Derbyshire in my Vauxhall viva (his pink plastic pig wasn't reliable enough)it was about 1 1⁄2 hours drive from Derbyshire,we drank Newcastle brown ale all the way (sorry) we found a place to park and went straight into the football ground , no more beer we were gutted. Looking back im glad we sobered up it was an awesome day, i remember Motorhead coming out onto the stage left terrace dressed in black leather for a photo shoot dressed similar to the Ace of Spades front cover.
Frank Marino was the show stealer for me i can still remember the look of disbelief on a lot of peoples faces at his playing but the overwhelming memory is the amount of amps and speakers on stage- the volume was unbelievable. This was a memorable day along with seeing Magnum in my local club along with The Sensational Alex Harvey Band, Blitzkrieg,Race Against Time all these bands in front of an audience of around 100.
The Port Vale Show was just one of the fantastic venues and shows in that area Black Sabbath at Victoria Hall Hanley with Van Halen as support in their very first UK show-Thin Lizzy at Trentham Gardens-Rush-ACDC-Blue Oyster Cult all at Bingley Hall, all this in one area these were fantastic times, now living in OZ went to see ACDC in Brisbane earlier this year brought back a lot of emotion and memories for anyone who loves rock music take it from me these were definitely the days. KEEP ON ROCKING
Steve Bennett
---
HEAVY METAL HOLOCAUST,
Port Vale Football
Stadium, Stoke on Trent.
August lst 1981
FIELD WORKER'S REPORT
Vardis onstage at the Holocaust © Mark Hill
FWS was involved in this festival in the early stages. I wrote to the promoter when I heard rumours of the festival and I was invited to visit the site with 2 of the festival organisers to discuss site facilities and welfare provisions. FWS agreed to provide a mixed welfare tent to run the information service and the Samaritans to provide a "quiet" counseling tent.
The site was at the Port Vale Football Club and had many ready made facilities, such as toilets, although these were mainly Gents units which had not been used for some time. The organisers had to get these in working order, add standpipes for drinking water and provide portable Ladies units. The proportion of women attending was very small compared to men. On the day, the toilets worked very well and there were plenty of conveniences for the crowd, which was smaller than expected.
The stage was constructed at one end of the site I next to the main grandstand and offices, which were used by the promoter's staff and the bands as their dressing rooms. There were 2 other covered stands on the terraces and the pitch itself was covered with tarpaulins for protection. 1 of the open stands was used for most of the concessions, whilst food was served in marquees above the pitch near the entrance. There was a good, if basic, selection of hot foods at reasonable prices. The only complaint was the long queues waiting to be served; a result of a not quick enough serving system. Hot drinks were available in 1 marquee and "pop" was sold in plastic bottles from vendors around the pitch, again with queues. No alcohol was on sale on site, and bottles and cans were prohibited from the site Selling drinks in plastic containers was a very good idea, as the bottles were thrown amongst the crowd. This didn't seem to be a malicious sport, but more a result of restlessness in the audience and was soon calmed by the promoter.

The atmosphere at the festival was otherwise very quiet, although not in the literal sense. This was reputedly the biggest PA system ever used in Britain 120kw. It certainly made our job of trying to give out information very difficult. All our volunteers suffered from hoarse voices and ringing in the ears for several days after¬wards. The information point was situated at the top of one of the terraces nearest the entrance, in a tea hut with a counter where we could talk to people and had some shelter from the sounds. FWS had 4 regular volunteers from London, including a volunteer from Release.

Mahogany Rush at Port Vale © Allan Perry
I had made contact before the festival with the Hanley Youth Project, based in the area, to ask if they could provide 4 young volunteers to help with local information. The Hanley Youth Project were extremely helpful and provided large maps of the area and a comprehensive sheet of information on the local services, for which we are extremely grateful. We also had details of special trains and local buses and were busy consulting our full British Rail. timetable. It was amazing how many people had come from Darlington and hadn't checked their return train times before leaving. Most kids had come by coach and hadn't checked with coach drivers to find out where they were being picked up afterwards. There were a few people who ended up sleeping rough because they couldn't get home. About a dozen people had come prepared with tents and camped out on a piece of waste ground next to the stadium.
| | |
| --- | --- |
| Triumph at the Heavy Metal Holocaust 1981 © Mark Hill | |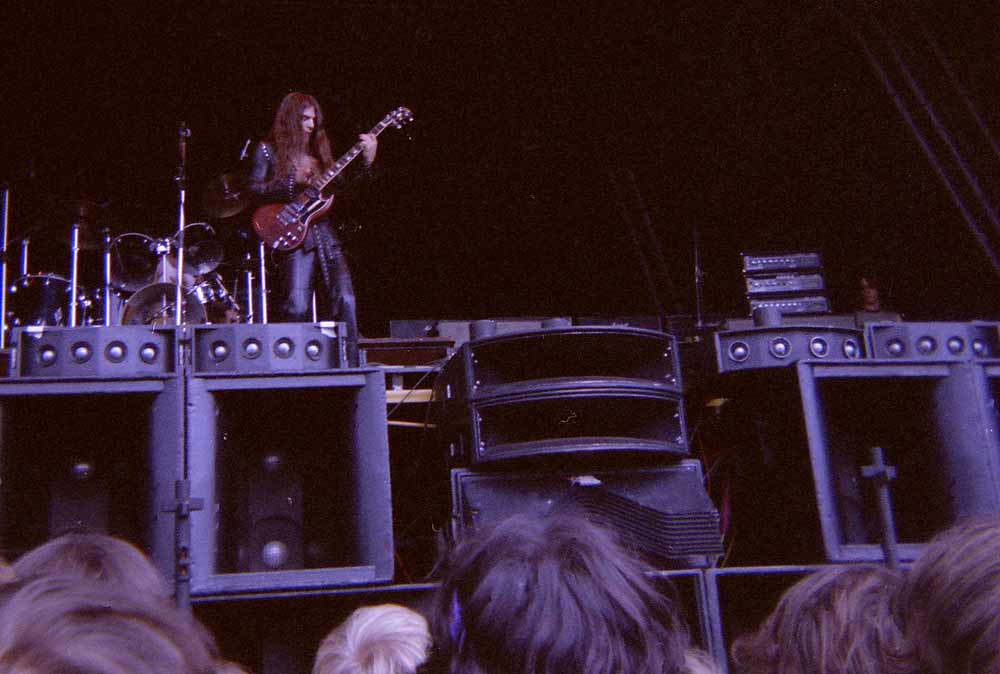 Mahogany Rush at Port Vale- what a bleeding BIG PA © Jules MC
| | |
| --- | --- |
| Triumph at Port Vale © Allan Perry | The Samaritans "quiet" tent was rather unfortunately situated on flat hardcore above the terraces. Although it was as far away as possible from the stage, it was still extremely loud. Samaritan volunteers had difficulty making themselves heard, but not half as much trouble as people trying to use the public telephones situated next to their tent. It was almost impossible to hear anything and the telephones should definitely have been placed somewhere less noisy. The Sounds tent was in the same area, but they were dealing mainly with written messages and didn't have too much difficulty communicating. The Samaritans saw few clients; partially attributable to the very un conducive atmosphere for counseling. |
The Red Cross provided first aid cover, but had few casualties to deal with. All the welfare groups agreed that the atmosphere was very good at the festival and there were few problems. There were a lot of young kids in the audience which was very well behaved.
FWS groups had a good relationship with the promoter and all his staff and the security people on site. Hopefully there will be more festivals at this site as it was organised so well.
Penny Mellor, Field Worker.
Photogallery- stage construction
---
Setlists and recordings
Vardis

August 1st 1981

Silver Machine
If I were King

incomplete

Riot

August 1st 1981

Swords and Tequila
Fire Down Under
Overdrive
Alter Of The King
Hot For Love
Outlaw
Rock City.
Triumph

August 1st 1981

American Girls
I Live For The Weekend
Hot Time In The City Tonite
Allied Forces
Mahogany Rush

August 1st 1981

You Got Livin
Down,down,down
Rock N Roll Hall Of Fame
Johnny B.Goode
Electric Reflections Of War (inc. drum solo)
Something's Comin' Our Way
Roadhouse Blues

56 mins

Frank Marino
Vince Marino
Paul Harwood
Timm Biery

Setlist courtesy Denis Goldring.
---
Motorhead

August 1st 1981

Ace Of Spades
Stay Clean
Live To Win
Over The Top
No Class
The Hammer
Metropolis
Leaving Here
Jailbait
Iron Horse
Fire Fire
Too Late Too Late
Fast And Loose
Dead Men Tell No Tales (Dead Men Smell Toe Nails)
We Are The Road Crew
Capricorn
Train Kept A Rollin'
Bite The Bullet
Overkill
White Line Fever

thanks to Nigel Butterworth for set lists.

Ozzy Osbourne Band

August 1st 1981

intro by Lemmy of Motorhead
I Don't Know
Crazy Train
Believer
Mr. Crowley
Flying High Again
Revelation (Mother Earth)
Steal Away (The Night) + drum solo
Suicide Solution
Iron man
Children Of the Grave
Paranoid

70 mins aud
This bootleg, kindly sent to us Thomas Exner , was a six disc set purportedly taken from the festival.However, we have some doubts. Although some of it might be from the gig, it can't be all kosher as half the bands on it weren't performing at the festival ! Sabbath cancelled and Iron Maiden, Saxon and the Scorpions were never on the bill to our knowledge.
---