The Archive.
Big thanks to our sponsor Neil !

For information on today's festivals see eFestivals.co.uk
Best viewed at 1280 x 1024 min resolution.
Updated May 2011- new photos.
---
The Elephant Fayre .

Port Eliot .

St Germans. Cornwall.

July 29th - 31st .1983.

The Cure , Clint Eastwood and General Saint, Black Roots, Roy Harper, Robin Williamson, Benjamin Zephaniah, Wilko Johnson, Earl Okin Ivor Cutler ,Adrian Henri

and a host of others.
---
| | |
| --- | --- |
| | Who dem dreads idren ? Anyone know if this is Clint Eastwood or Black Roots ? © Mick West |
A documentary was made of the 83 festival called Lazy Daze, does anyone have a copy ?
---
The third Elephant Fayre was even bigger than the 1982 bash and was split into three distinct nights of entertainment . Friday was clearly Reggae Night .

At the moment we have lots of photos of 1983 but no eye witness accounts . The weather was hot, people were divided on how good the Cure were , and there is no mention of traveler troubles in the press reports.

I asked Mick West how he got such good photos of the artists , did he have a press pass?

."No press pass, smallish festival, just got a close as I could in the audience, 135mm telephoto on a Pentax, volume up against Siouxsies speakers was intense!! My wife was in a support dance troupe , so I was in the performers camp site and had no knowledge of the convoy people till told afterwards. Think the reggae band is more likely Black Roots??...Clint Eastwood were more show biz and no sign of Courtney Pine on sax either (he was backing eastwood)"

mick
| | |
| --- | --- |
| Courtesy Bob Butler . | |
| | |
| --- | --- |
| Courtesy Bob Butler . | Courtesy Bob Butler . |

Cover of the 1983 programme -courtesy Bob Butler .
---
Recollections
Andrew A wrote

That's nice. Brings back old memories.
I took my children and a friend with child and we borrowed a Landy from my dad and camped out for the three days. That was the 83 one I think, headlined by Clint Eastwood and General Saint.

I got a little story about that. As you know they are all Rastas including the crew and when they travelled down on their bus they were well aware that they were a target for a police raid. Sure enough they were stopped just outside Exeter and the bus was turned out and found to be clean. However they had used a spot of intelligence and sent their stash on ahead in a car with their women.

The Elephant Fayre was always held to raise funds for Amnesty International. I can't remember the amounts but Perry handed over quite a wedge at one point.

I'll see if I can turn up anything else. There was a Festival newspaper with various schedule changes and other news. That was written and printed on the premises, somehow.

Elephant Stage © chris hewitt www.deeplyvale.com/
| | |
| --- | --- |
| | |
Hi,
I found my old Elephant Fayre t-shirt from the 1983 Festival this morning while going through boxes of stuff, as one does.
so...
I hit the internet and found your site.
I worked at the 1983 show. I'm an expat Cornishman, living in New Zealand, and at the time was technical manager for our Sweetwaters festivals (1979-1984). We had had a very good year so the boss gave me a round-the-world air ticket and told me to have fun, go and see other festivals, and see what ideas I could bring home. I had just finished working for Mike Eavis up at Glastonbury 83, of all things managing the construction of his toilet blocks. It doesn't sound like a glamorous occupation but if you've ever been to a rock festival you cannot understate the value of a good clean place to go for a poo...
I met up with a guy called Charlie, who used to run (along with his overcute daughters), a catering caravan called the El Alamein Mobile Cafeteria. Charlie cooked meals for the site crew, and delicacies and drinks far into the night for those with the cash. At Charlies I met a couple of Cornishmen on the crew, who were heading down to the Elephant and suggested I come south.
I hadn't been back to Cornwall for twenty years, so off I went.
After a bit of hard talking with the site staff, I ended up working there as a festival volunteer. When I got to the site there were about thirty or so people there, and it was one of the most beautiful places I had been to. Since there were so few there, we were free to go where we wished. The grounds were fascinating, with the ruins and the overgrown paths and gardens.
For the first day or so I was moving stuff from point A to point B until I got put on the fencing crew. Ended up working with a guy doing the scaffolding on the ticket gate - it turned out to be Lord Eliot. He's a good man with a spanner.
When the fences were up someone, naturally, had to keep an eye on them to make sure they stay where you put them and that not too many people jump over them - very painful on a picket fence...
Thus passed the first day and night. I think I 'helped' about a dozen people stay outside the fence.

| | |
| --- | --- |
| stunt riders | |
I ended up working as security at the Theatre tent, which was mostly good fun except when Ivor Cutler took the floor. Most everyone at the Fayre wanted to go and see him, and the tent wasn't big enough by half. I ended up being Mr Nasty on the door, and somehow managed to keep what seemed like half the festival outside the tent and in reasonable humour. Not the easiest shift I've done. The theatre team were very impressed and literally passed the hat round on the spot, which was amazing as volunteer's pay isn't much.
The Stunt was quite amazing - the photo doesn't quite do it justice.
| | |
| --- | --- |
| | |
Just on sunset an African band there set the crowd alight. They were supposed to play on a small stage in the village, but to my suprise walked off it into the middle of the crowd and set up there on the grass.
"Where we come from there are no musicians" said the bandleader. "We have never played to an audience in our lives. Instead, in our villages, we all make the music". They divided us up into different groups, each clapping or singing different parts, and we partied, sang, and danced for hours.
I saw a bit of the Cure - not much though, as we had some exciting times with people coming over the picket fence. By the time that was sorted, I'd ended up by Port Eliot House, which had an ivy covered stone wall between the estate and the village. I was just having a pee in the flowerbed when a grapnel came whistling over the wall and caught in the ivy about four metres above ground. I said something rude, and was moving toward the wall when one of the bushes nearby got up, climbed the wall, cut the rope with a knife, climbed back down, grinned at me, and went back to being a bush again. Lord Eliot, as befitting one of his station, had a small detachment of army squaddies for his personal security, and they had this area well under control. Very handy people to have on your side on a dark night. I promised the bush I'd find somewhere else to pee and left them to their job.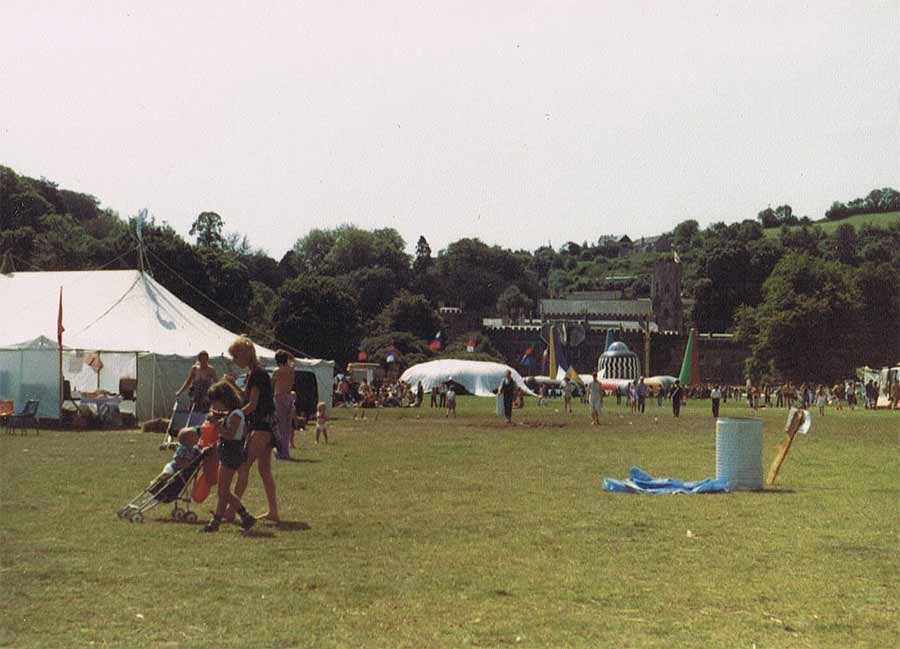 The stage -early eighties © Ben
Much of the rest of the show was a blur. Large numbers of interesting molecules were loose in my brain and it was August before I really noticed.
I left after about another day of rolling up fence sections and hitched my way back up to London and a bath.
Cheers
Johnny Irons
---
1983
I remember the elephant fayre. It was a lovely, lovely festival!
We were students from the Plymouth College of Art. The atmosphere was relaxed and the weather was very hot!
I remember wondering down the hill one morning after having woken up in my stiflingly hot tent and spotting this geodesic tent called the `Pleasure Dome`...
I handed over my 50p and was given a heavy thick blue plastic bag. I stripped off and put my clothes in the bag.
I walked around into the main part of the dome where there were wooden pallets with rows of shower nozzles and all of these people taking a refreshing shower.. boys, girls, men, women and everyone was beaming at the fun and novelty of it all!
There were big bass bin speakers directed at the showers, pumping out some righteous reggae and depending what state you were in, it was bloody wonderful!
To top it off just when you thought it couldn't get any better, one of the guys turned on a couple of taps and the water came out blue, then green and red and everyone just freaked out in ecstasy!!
Oh happy times!
Mat Hughes
---
Recordings and setlists
The Cure
The Figurehead, In Your House, M, The Drowning Man, Cold, Siamese Twins, Primary, Three Imaginary Boys, At Night, Lament, One Hundred Years, Play For Today, A Forest, Faith, Pornography.
Encores: 10.15 Saturday Night, Killing An Arab, Forever.
Wilko Johnson, Elephant Fayre 1983 courtesy David Mitchell
SPK

Napalm 2 .Walking On Dead Steps .Sandstorm Method .Metal Field .Metal Dance .The Kill .Will To Power
Roy Harper
A recording exists of Roy Harpers set .
---
We are looking for eyewitness accounts of this event
---
Please feel free to contact us and contribute towards building pages about this festival by Contacting us. We try to reply to all messages, and will do immediately if possible. Usually we wait until we have enough new material to warrant a page upgrade , so posts may take quite a while to emerge on the page .
---
Port Eliot Literary Festival 2007
Return to Archive