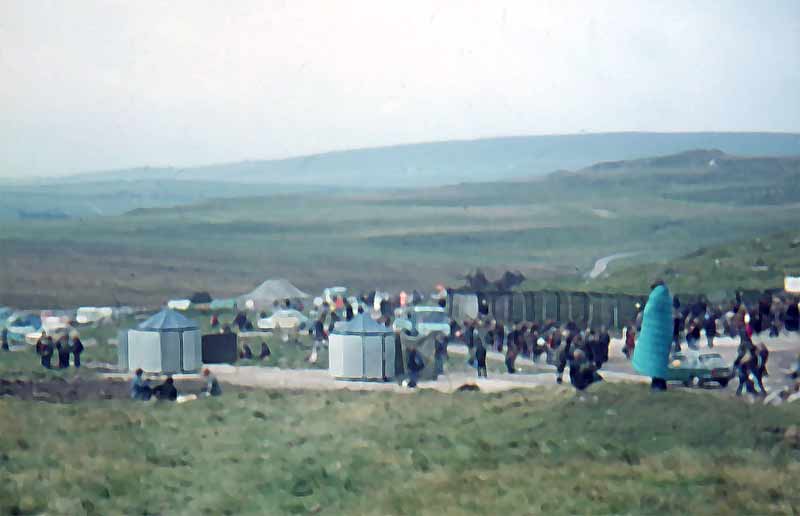 A promoter would have to be slightly crazy to stage a festival in such a bleak spot in mid September ! © Pat Green
---
Hi there

I was at Buxton festival in 1972 as well as the bands you have listed, I remember there being a band called Glencoe, and a couple more I cannot remember. But I do know that Curved Air were there but did not perform, because Sonia Christina the lead singer said it was too cold and too late . I remember being very cold ,wet and hungry. It was September and I spent the night under a plastic sheet wearing just a t shirt and denim jacket.
Thanks

Chris Guest

---

Brian Armstrong was also there with Chris !

I was at Buxton in 1972 with one of your contributors, Chris Guest!
My memories-
A bus ride to Buxton changing in Sheffield, followed by a long walk from Buxton town centre because the promised shuttle bus service never materialised.
The fences being broken down and people getting in for free after I'd just paid!
Cold.
Wet.
John Peel's nasal scouse tones.
Curved Air - sadly missed.
Family - I missed most of their set because I fell asleep but I do remember them playing "The Weaver's Answer" my favourite Family number.
Waking up to the sound of Pink Floyd's "One of these Days" thundering round the hills on record.
Wishbone Ash - brilliant, they were the band I went to see, worth all the hassle.
Sleeping under a plastic sheet, wet and cold.
Thinking it was a crazy place to have a Rock Festival.
Receiving respect from my mates at school because I was there.
Regards,
Brian Armstrong
---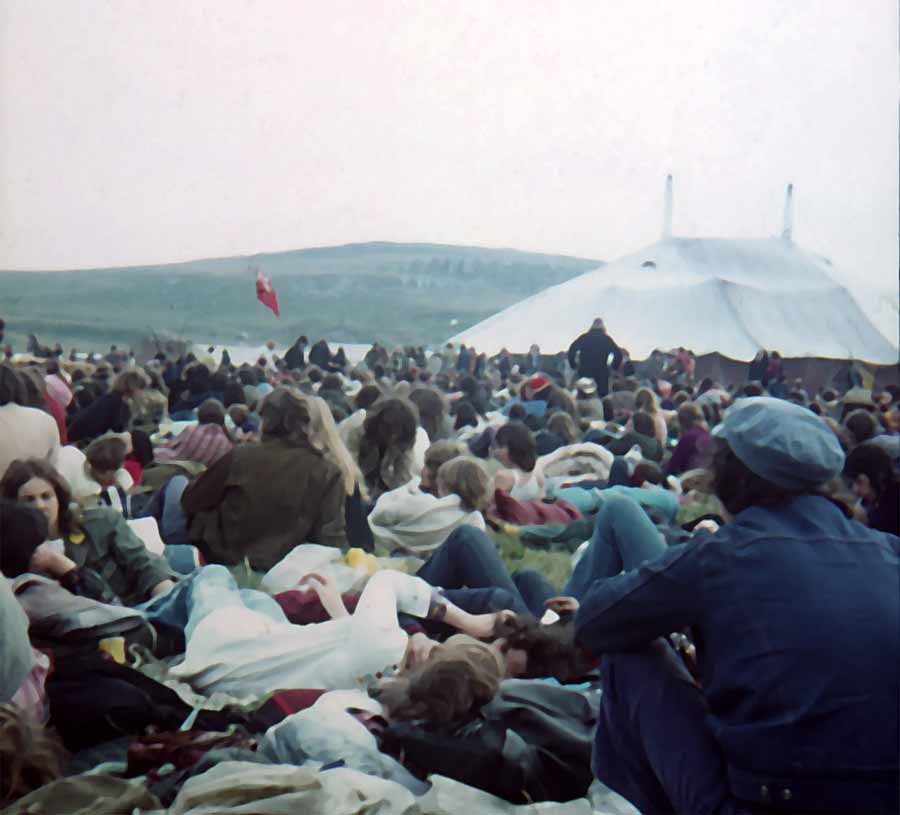 © Pat Green
---
I was at Buxton 72 and your list shows Slade who never played. Also don't recall the Wild Angels being on the bill. Curved Air were there but chose not to play as it had run too late.
John Peel announced it and everybody booed. We were all geared up to give Sonja Kristina some drunken lecherous leers. Wishbone Ash closed the show very early in the morning with an encore of "No Easy Road". Don't recall rain but it was very cold at night. The beer tent was selling "Party Seven" giant cans of beer with seven pints in them. The queues for them were so long you had to make an important decision - one PartySeven and face queing again or or two Party Sevens ? Unfortuntely I chose the latter and while one Party Seven wasn't enough, two was too much for a sixteen year old. Part way through the second can, I got up to dance to "Easy Livin" by Uriah Heep and fell flat on my face. Remained prostrate as the world was spinning during the rest of their set and John Kay Band and Steppenwolf but heard them all right. The John Kay Band was a vehicle to promote his recent "Forgotten Songs and Unsung Heroes" solo album and consisted of Steppenwolf with a different drummer and organist. They then went off for a bit and came back with Jerry Edmonton on drums and Goldie McJohn on organ and did their Steppenwolf greatest hits.
Earlier in the day, Wizzard had played a good set. Their piano player (Bill Hunt ?) looked as though he was on something (three Party Sevens ?) and after a couple of numbers pushed his electric piano offstage into the pit then climbed up onto the roof of the stage and pranced about for the whole of the set !
Also went to Bickershaw and other Buxtons.
Cheers
Tim Hardman
---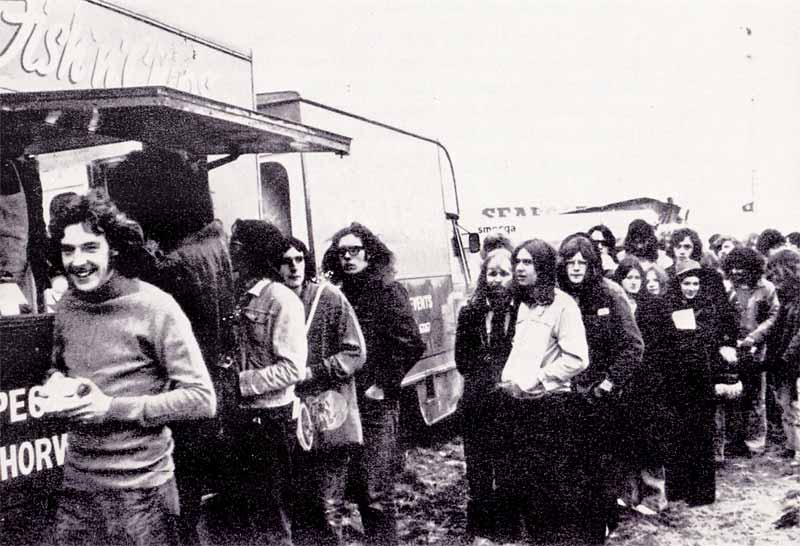 Queuing up for chips, anything to keep warm ! © Elias Welch

Remember being very disappointed that Curved Air were too cold to play,but does anybody else remember Roy Wood and Wizard being pelted with beer cans and Wood losing it and storming off. Uriah Heep and Wishbone Ash played great sets, I think Ash finished it all off about 4.00am.
Alexender
---
I remember this one and agree with just about everything else said by earlier contributors -wind - huddled up in the cold etc. Particularly remember Curved Air's no show and John Peel's scathing remarks about them. I seem to remember (which nobody else seems to have commented on) that the 4am finish wasn't just Wishbone Ash but a bit of a jam with lots of other people from other bands coming on and off. I might be wrong!There were two other bands I don't think mentioned anywhere else. The band that opened the festival were called COLD COMFORT FARM and played a number of blues standards. They were followed by GLENCOE. Another band I don't think are mentioned called SUNSHINE (with a singer called Ethel!) and then the WILD ANGELS. Then Roy Wood - Uriah Heep - John Kay Band - Steppenwolf - Family - Wishbone Ash.

David Owen Davies.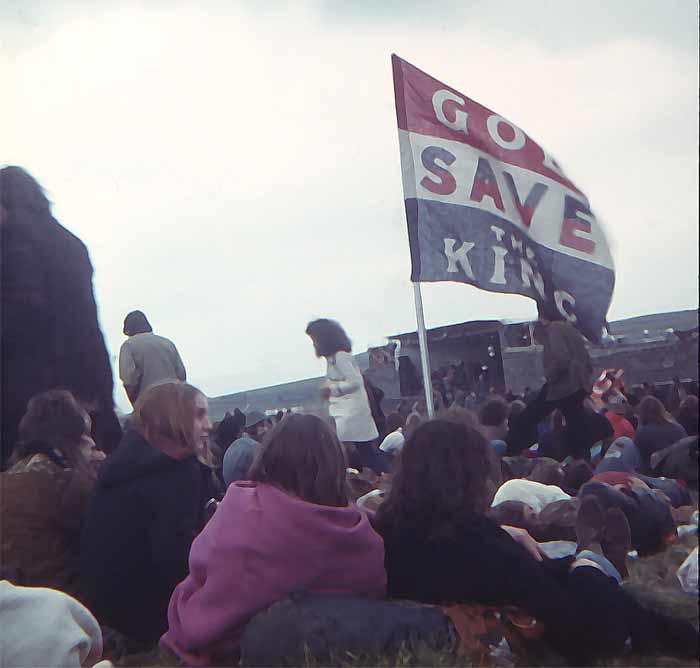 Huh ?© Pat Green
---
I was there . It put me off festivals for life. I lived in the next county and went with a couple of mates. It was freezing all day and some people down the front lit a fire. Family were excellent and the rest is just a blur as I never did like Uriah Heap or some of the others. Do remember the wizzard bloke dancing on the roof as others frantically tried to get him down. Left fairly early suffering from frostbite. What was I thinking in those days ? .
BOB
---
First memories were arriving from Nottingham on an old bus to see the centre of Buxton surrounded by freaks. This was a great start. The buzz on the ground was that the town was crawling with undercover drug squad members, a rumour that was quickly confirmed by the shuttle bus which passed two lots of dodgily dressed "freaks" who even my grandmother could have spotted were dressed up for the day. Years later an uncle of mine working for the scientific civil service confirmed their presence and the fact that one of their buses got lost en route to the festival...thick or what!!

It was a cold and grey day with a long long walk to the queues for the toilets, too cold to relax, and worse later on. Musically things were slow, with an Amercian funk band deluging part of the site with their flyers...might have been Cold Farm Comfort or some such band. Glencoe were a muscular outfit who were well rehearsed and to the point. I remember the John Kay band coming on big time about the fact that they were no longer Steppenwolf, but having to remind a dozy uninterested crowd that, this was THE John Kay from, er Steppenwolf!
Wizzard were entertaining if only for the guy climbing the scoffolding ..I thought it was Ace Kefford, but now I dont think he was even in the band...but the sound was atrocious and diluted anything in the way of light and shade.
| | |
| --- | --- |
| We presume the surroundings of the stage are blocks of hay, not bricks, a strange contraption indeed. | I too remember Peely being extemely pissed off - nay, even swearing - about Curved Air's absence. I'd love to say I remembered Uriah Heep's "July Morning", but I can't. I do however remember three more things, it got colder, it periodically got wet, but up stepped Family, and Chappo hit the stage with a passion that belied everything that had gone before. Peel was obviously glad to have them there, and I remember a magnificent feeling of controlled power -one minute Chapman spat out his lines, and the next the band would play some gorgeous melodies. The vibes sounded splendid, the crowd at the front really went for it, we all stood up and tried to keep warm, without losing sight of our little patch of space, and Weavers Answer was a memorable highlight. |
Later on Wishbone Ash belied the early hours, the cold , the damp and the darkness and worked up the crowd, only to come out with the immortal lines, "You are great, you've got us all night now"; They promptly played one more number and left us to the cold and dark.
I was glad I was there, even if it was a warning of how things had changed over the last 2 years or so. The yanks were crass, the new british bands didnt really cut it , Ash did well but Family proved to be the kings of a disappointing festival, if only by virtue of Chappo apart, they played some inspiring music, and connected with the crowd.
The journey home next day , was marked by lots of mud, but a real sense of achivement that we stuck it out through the night.
Regards,
Pete Feenstra
---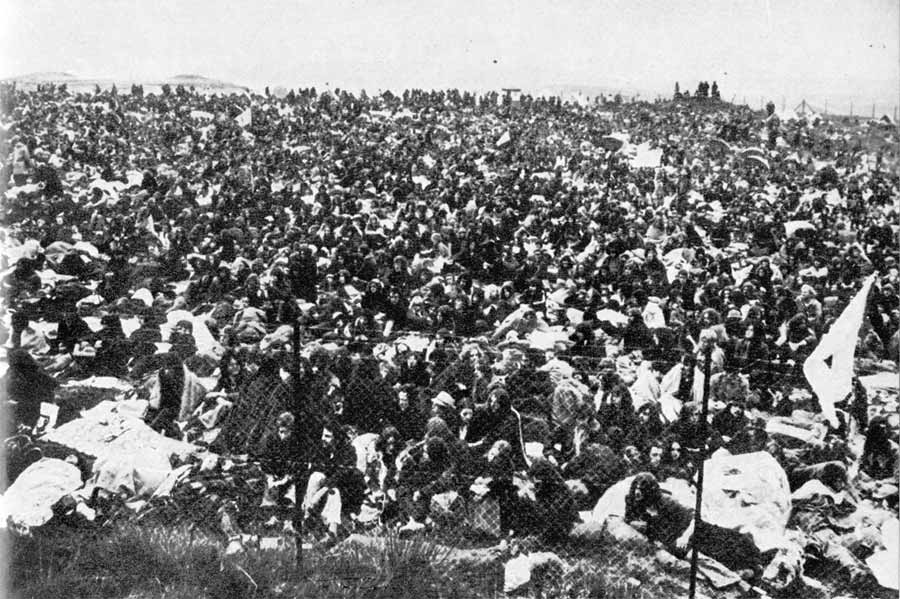 The crowd,dirty ,cold, wet , but undaunted, becos they are BRITISH ( and are used to it ) © Phil Dauntsey
---
Bloody cold. Interminable wait between bands. Standing in a tent having a piss next to John Peel (one of the highlights of my life up to that point and possibly since). Wishbone Ash coming on at some ridiculous hour of the morning yelling "It's Wishbone time" over a PA that barely woke us all up. Absolutely brilliant. Wouldn't have missed it for the world.
Nick Cassidy
---
This was my first ever festival, I went with a few friends, Mick and Mary Corrigan, Dave Cawley and a few unremembered others.

It was cold and wet, and I am sure it snowed at one point. I remember being near the front and being terrified by the Hells Angels who were close by. I remember them relieving people of their sleeping bags and using them as fuel on their fire, when they attempted to take ours, they had not anticipated the fury of Mary, who was a diminutive blue eyed blonde, she sent them scattering, they left us well alone for the rest of the festival.

One of the highlights for me was when Dave and I went looking for an alternative toilet, found ourselves at the back of the stage and ended up playing football with John Peel, I think Roy Wood was there, but was in awe that Peely would invite me for a game of improvised football.

I remember the party sevens (and the queues to get them), but I don't remember much of the bands except Uriah Heep who I thought were very good, and being disappointed by Steppenwolf.

Overall, I am glad I experienced the festival even though it was cold and wet, but I remember Reading 1975 better, two nurses from London and one single sleeping bag, don't remember seeing any bands except Hawkwind :)

Trevor

Uriah Heep Buxton 1974
I can't really add much to what has been written so far except that the longer it went on the colder it got. Can't recall rain, but it was 30-odd years ago and the memory is failing to match the body. It's amazing how much heat plastic sheeting can retain! The highlights for me were Family and Wishbone Ash. The former for having Roger Chapman as a frontman - a truly inspiring performer. The latter for having the commitment to get on stage at some stupid time of the morning in the freezing cold and playing some inspired music. Can't remember Roy Wood! Uriah Heep were ok but Steppenwolf and the John Kay band were poor.

I went with two mates from school. Managed to hitch a lift part of the way back but had to walk the last 6 miles home as there were no buses at that time of the morning on a Sunday. Nicked milk off doorsteps to keep the energy up!! I take this opportunity to apologise to those residents of Hazel Grove who's Sunday pintas mysteriously disappeared.

We only went to this concert as we'd been to the previous year's indoor event. Which, even though was hot, noisy and cramped at least was sheltered from the elements. The only bands I can remember from that gig was Juicy Lucy, the Groundhogs and Brewers Droop, who's song "It's Not The Meat, It's The Motion" I still remember if only the title!!!

Happy days!!
Keith Humphreys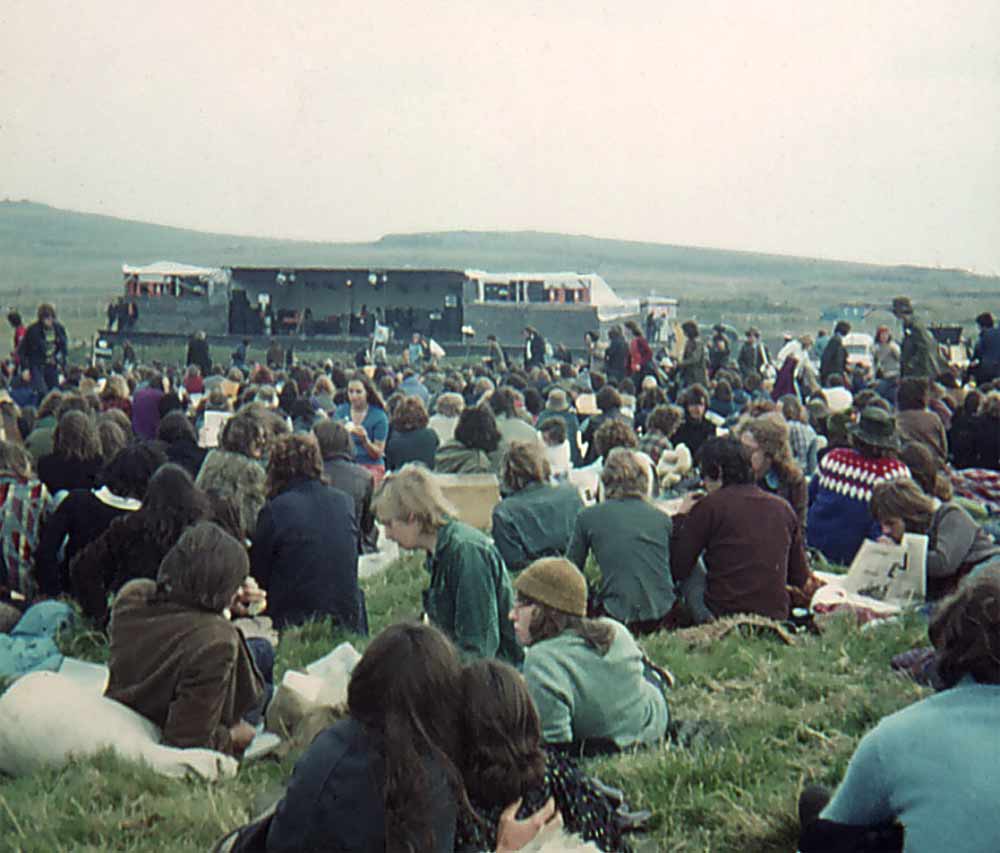 © Pat Green
I was 19 in 1972 when I took the ferry from the Isle of Wight and train from Southampton and ended up, more by luck than judgement, in Buxton being loaded onto a pickup lorry with a bunch of other festival goers. Trucked up to the festival past busloads of unfriendly looking policemen. The first night I spent having my nuts frozen off in my tent. I had succumbed to advertising hype and brought along the latest great new invention, a space blanket in which I nearly died of hypothermia. In the end I joined some Hells Angels who had built a roaring fire. Being a biker myself, and freezing to death, this seemed worth the risk. They turned out to be friendly and good naturedly razzed a copper who wandered over to get warm. Not all were in a good mood. Two policemen strolled through the campsite. "Evening officer" came a cheery call: "Bollocks" was the sour response. And thinking back, they must have been bloody freezing, too.
I woke up after a fitful hour or two with a bearded face nearly touching mine. "Good morning" he grinned "You must be the cat from the Isle of Wight". In an attempt to keep warm people had bought afghan fur coats which some hippies were flogging for five quid each. By the morning they had all disintegrated, quality control not being what it is today. In the arena, a few thousand bodies were wrapped in poly sheeting against the cold and the fitful rain. I remember the geezer in Wizard, out of his head running along the roof. He was eventually persuaded down where he proceeded to beat the bassist over the head with what looked like an iron bar. It was better entertainment than their music.
Family were great - I loved Burlesque and Roger Chapman was on form taking the piss out of any unfortunate in the crowd who caught his eye. A bunch of people had occupied the slightly higher ground immediately in front of the stage. A bloke with an afro was digging the music but unwittingly blocking the view. A well aimed, if rather churlishly intended, beer bottle informed him of his error.
Ever since Easy Rider I had been besotted with Steppenwolf. I had a big Norton and the only reason I was there was to worship at the feet of these rock god biker USA heroes. They turned out to be shite. Wishbone Ash, whom I'd never heard of, came on at some ungodly hour of the morning and, fearless of death by electrocution, played their bollocks off for two hours in the pouring rain. I've been a fan ever since, saw them last two years ago at Bisley where they nearly blew my ageing eardrums out. Magic.
Phil Underwood
---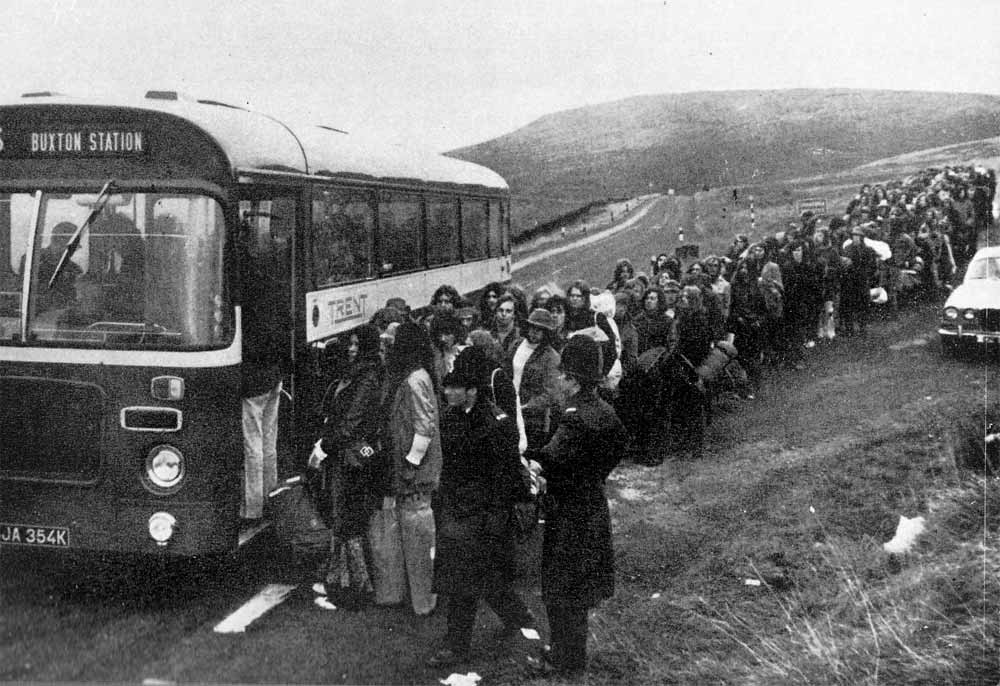 The poor buggers at the back have a long wait as that bus looks pretty full already © Jim Thornton
i was at buxton festival in 1972, me and my mate johnny set off from leeds on the friday, after changing buses at sheffield the nearest it went to buxton was castleton. we went straight in one of the local pubs for a few beers, but it was getting late by then so after a hour or so we set off up the road towards buxton. a mile or so later we decided to put tents up for the night and set off early saturday morning.while we put our tents up we were asked by 3 teenage girls who were also going if we,d give them a hand to put up there tent. this we did (eventually), it was pitch black. then after a joint it was time to try and sleep.
next morning we set off thumbing lifts, the girls got one almost imediately, we didnt have such luck. we walked for about 5 mile before someone gave us a lift into buxton. after a greasy spoon we found coach to site, (does anyone remember location of site ?) it seemed a few miles away from buxton. after getting off bus it was a quite long trek to the site, weather was sunny i think to start with, but chilly, we arrived at site and felt a bit dissapointed with location and facilities, after being to bardney festival earlier that year, and the facilities they had there, this was a shithole. anyway after putting tents up we sat for hours watching groups, id gone esp for steppenwolf, and uriah heap, and they werent on till the evening, (i think), then i went for a hotdog and the guy only had sausages left, no breadcakes! shit. and to cap it all i lost my mate, he told me later he had gone for a pee and couldnt remember where we were, and as he had took his tent down to use as a pancho i couldnt look there, i think the young hippy chick he,d met had something to do with his disapearence, lol.
i wasnt let down with the bands though i was at front near stage with a girl who id met and we both really enjoyed the gig, the weather by then was really cold though, and same in the morning, after thumbing a lift to manchester we said our goodbyes then i got on train for leeds, it was the first time id been warm for hours lol. looking back though these were good times and i wouldnt change anything given the choice. and apart from the odd "wanna score mate" you didnt feel theatened at these events. not like todays festivals where your tents likely to be broke into, or some hoody gang mug you, or is it just me showing my age, lol cya.
micky w
---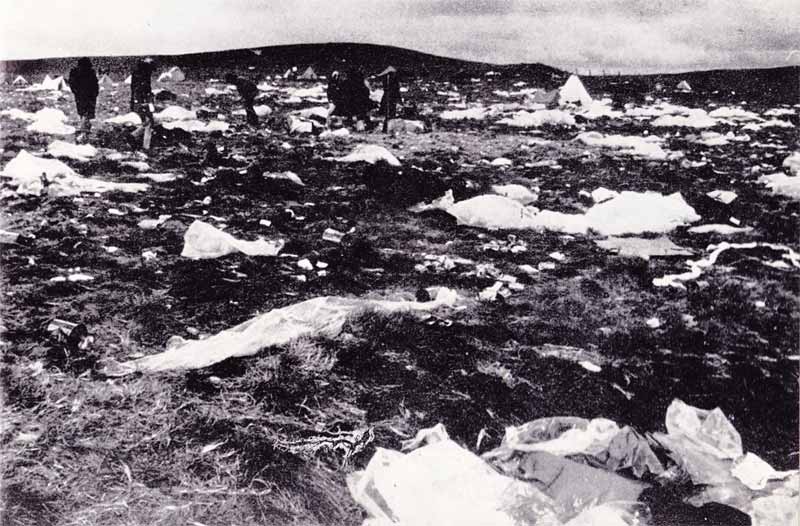 The aftermath, the usual Sea of Filth © Jim Thornton
Hi,
I was there, it was my first festival and I was 15 years old. I remember John Peel getting us all to sing Nellie the Elephant. It never rained but was really cold.
After the festival we walked down into Buxton, and spent the night in a bus shelter. It was snowing lightly and someone came round with a tea urn. I remember Steppenwolf and Wizard.... It didn't put me off festivals, but I did buy a tent for the next one :)
Amanda.
---
Hi there

I was at the Buxton festival in 72 I thought Me and my Mates were going to Freeze to death the Coldest place I had ever been...as luck would have it my Dad had a few Mountain rescue blankets like the ones they give out after Marathons "silver" as I recall.
In 1971 no one had ever seen them and they folded up smaller than my mums rainmate...I was reluctant to take them at first because I didn't think they looked cool with me Kaftan ,Glad we did though...

Frank J
Manchester
---
1972 Remember it well, I was 17. Drove there in the night in my mates hillman Imp – I remember driving up a small track road. Outstanding highlights for me were Roy Woods Wizard and Wishbone Ash – considering Roy Wood was making his mark in the pop charts they were an outstanding rock band. I can't remember much else – thanks for the memories

John Charnock
---
i recall i was just 19 and so was my m8 at the time tony boylan we had just been working at a hotel dish washing and smoking banana skins .poor we was at the time lol.and working in wales.anyway after nicking some blankets from the hotel and blagging a weeks wages in leu of notice of the crazy manager who sacked us haha,we went on our way my god september n bloody freezin to say the least ,we kipped half way in an old landrover and nearly died of frost bite ,but after what seemed days we did manage to get to buxton at night ,thing i remember is family that did it for me id heard other bands playing in the dark but couldnt distinguish what or who they where,but lead singer chapman bellowed out his vocals in the biting air of a buxton embraced in winter ,
thanks for that introduction to outdoor uk festivals it was to be the first of many such furrors in the free festival scene ,highlighting with stonehenge 1977 for me the sweat tents and the enormous amounts of knives we did played a huge part over the crap microdots we shelled out for .many memories many girls many friends thank you one and all.

dave diamond port sunlight wirral
---
Known Recordings of Buxton 1972.