The Archive
Last updated Dec 2012
---
---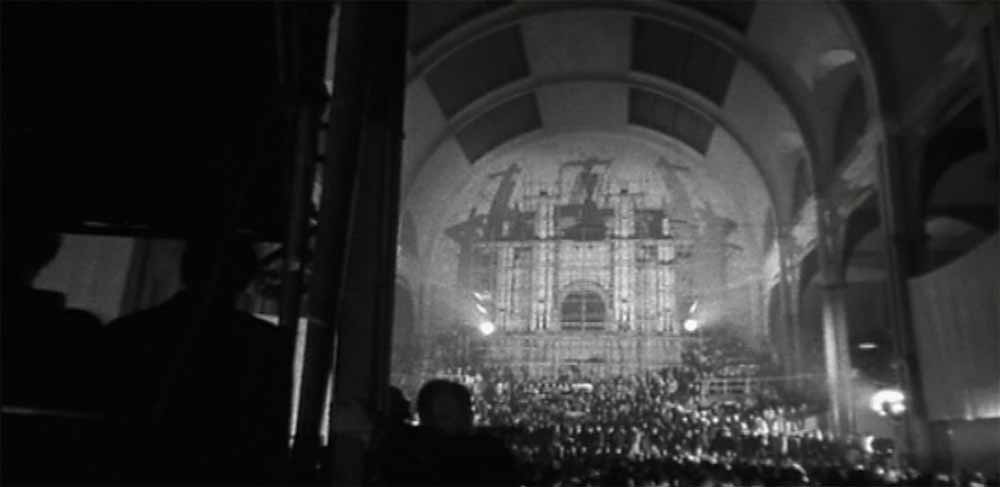 Well stone me, its the bleeding Ally Pally all tarted up like a dogs diner and taken over by bleedin' ippies !
---
The 14 Hour Technicolor Dream, held 29th April 1967 was probably the closest London ever got to duplicating the infamous Acid tests that Ken Kesey and the Merry Pranksters held in California in the mid 60s . Not that there were no gatherings in the UK capital where people were turned on to hallucinogens , or where a combination of music , lights and mixed media attempted to create an atmosphere conducive to the psychedelic traveller . Middle Earth and other hippie hangouts were doing this for most of the late 60s . But this was the BIGGEST event to contain all of the above - and more .

Additionally , whether you call the 14 hour Dream a happening, be in , gathering or freak out (and from what I hear, a good portion of the audience did have the opportunity to imbibe of the psychedelic sacraments if they knew where to go ) the opportunity for the group mind meld , the all out weird craziness that took place in the acid tests WAS there, even if it may not have happened in quite the same way that the best of the Prankster freak outs did .

For a start , the choice of venue did leave something to be desired . The Alexandra Palace has all the ambience of a very tall aircraft hanger-with acoustics to match. The roof goes up forever and traps most of the sound ( as the Grateful Dead, found in 1974, even their brilliant four storey high "Wall Of Sound "PA system sounded pretty ordinary in this settting ) .Its also cold , grey and its horribly BIG . Even with many thousands of people in the venue the palace feels like its half full .

However, perhaps with all the strangeness that went on during the Technicolor Dream, the organisers and the attendees managed to banish the Alley Pally demons and to create a truly special event and to know whether or not they truly did this , one had to be THERE.



So just what was on offer to those who attended and who were the organisers of the event ? The flyer above tells part of the tale. International Times , at the time THE standard bearer of the underground , were funding the show and , many of the top bands of the underground were slated to appear. In addition , there were a multitude of mixed media activities that were also supposed to happen .

These artists were amongst those advertised to appear .....
Velvet Underground, Allan Ginsberg, Andy Warhol,The Mothers of Invention-but none of them did attend, the Mothers were booked , but cancelled. )

Those that most likely did show up on the night were

Pink Floyd, Alexis Korner, The Pretty Things, The Purple Gang, Champion Jack Dupree, Graham Bond, Savoy Brown, The Flies, Ginger Johnson's Drummers, The Crazy World of Arthur Brown, Soft Machine, The Creation, Denny Laine, The Block, The Cat, Charlie Browns Clowns, , Derek Brimstone,Yoko Ono, Dave Russell, Glo Macari and the Big Three, Gary Farr, The Interference, Jacobs Ladder Construction Company, Ron Geesin, Lincoln Folk Group, The Move, Mike Horovitz, 117, Poison Bellows, Pete Townsend,Christopher Logue , Robert Randall, Suzy Creamcheese, Sam Gopal Dream , Mick and Pete, Giant Sun Trolley, Social Deviants, Simon Vickenoog, Jean Jaques Lavel, The Stalkers, Utterly Incredible Too Long Ago To Remember, Sometimes Shouting At People, Barry Fantoni and Noel Murphy.

How many of these actually DID perform is now probably impossible to ascertain for certain , but the Flies, Floyd, Arthur Brown , the Move and Susie Creamcheese were all there . We have a list of acts who performed on one of the stages in the attendees accounts , added in Nov 2010.

The Floyd arrived back from another gig in the wee small hours and played the dawn in for those who had lasted the whole night .......
---
Recollections .
Carl Stickley writes :
I was Events Manager for the Recurring Technicolor Dream at the ICA. This was put together by my friend Malcolm Boyle and ran from Noon til 11PM (yes, I know, that's only 13 hours...). Anyhooo, we managed to blag the whole of the ICA for the day. Various sikeadelick delites were on offer inc. Screens showing pop nuggets from the time Poems Chill out room Dance Bruce Gilbert of Wire "Madcap", Malcolm's 1 man play about Syd Barrett. Hoppy, IT founder and originator of the 14 Hour Dream. Jennny " Groupie" fabian Charles Shaar Murray Michael Horovitz who read poems at the original (and who was awarded the OBE last week). Arthur Brown (his first London gig in about 20 years and who played the original event) John's Children (Bolan's 1st band who also played the 14 Hour) and a superb oil light show by Optikinetics who started off doing shows for the Floyd in the 60s.
The girl having her clothes snipped in the original was part of a Yoko Ono art piece. She was there as was Lennon. You've probably seen the "What's a Happening?" programme from the time and Peter Whitehead's footage which crops up on the "Pink Floyd, London, 1966-67" video. (Pete's selling his mint, framed copy of the poster BTW). We also screened his "Tonite, Let's all Make Love in London" film. Legend has it that John Esam ran off with the proceeds from the original show (he was the Acid King of London, allegedly). And there was a helter-skelter and a tent for smoking banana skins in. Mick Farren describes the evening in his recent biography. good site
Best Carl
---
I was there and I remember seeing Arthur Brown definitely and I think, Eric Burdon but I cant remember who else. Lots of dancing. It was a lovely night of madness. I took speed for the 1st and only time which kept me running till dawn and beyond. But I mitigated the effects with dope also. There were side rooms showing I think Kenneth Anger films. It was all part of the multi-media culture that I was espousing and sincerely believed in going to things at the Round House (including opening night); UFO; Middle Earth/Gandalfs Garden; Royal College etc.

Mary
---
Hi,
I was at the aformentioned gig and saw a band called 'The Imbecile Illusion Of Happiness.' I know this isn't a trick of the imagination, since I was a very anal sort of 16 year old and made notes (which I still have somewhere).
Yet I've never met anyone else who's ever heard of that band. I've asked several other people who were there and even I asked John Peel.
I assume they were announced as such as a joke and were actually another band?
It's a mystery. Compounded by the fact that the lead guitarist was an exact copy on an early Angus Young, complete with the schoolboy uniform. Except Angus Young wasn't playing then. He obviously stole this guys act.
Have you got any clue who they could have been?
It's a mystery that I've wondered about for 40 years.
And I was not on drugs.
I was also one of the guys who cut the girls dress off. I have that piece of dress somewhere too.
Thanks.

Derek Ridges.
---
Hi This is Joe from The Purple Gang

This is my take on it all.
We were not filmed.
I would love to see more pictures.Many people have contacted me over the years who were there.
I recently went to a Buck Palace Garden Party and thought it might be cool to go and change into my suit at the OTHER place on Muswell Hill. I stood half naked at the back door once more where we parked the van in April `67...ghosts everywhere but the big hall was gone.....
Joe Boyd said that Hoppy chose the venue as it had been used before for blues allnighters.The two stages were to accomodate all the bands who wished to play and the stages were so far apart as the "spillage" was not ruinous.The PA /Lights were done by the Soft Machine/ UFO people.The police in those days would have had to go to court to get an entry warrant.The gig was over and gone before they could do it.There was less intrusion in those days. They were held at bay for a long time at UFO club- only gaining acccess months later.
all the best
Joe Beard
hipster/jugband/psychedelic veteran of The Purple Gang
---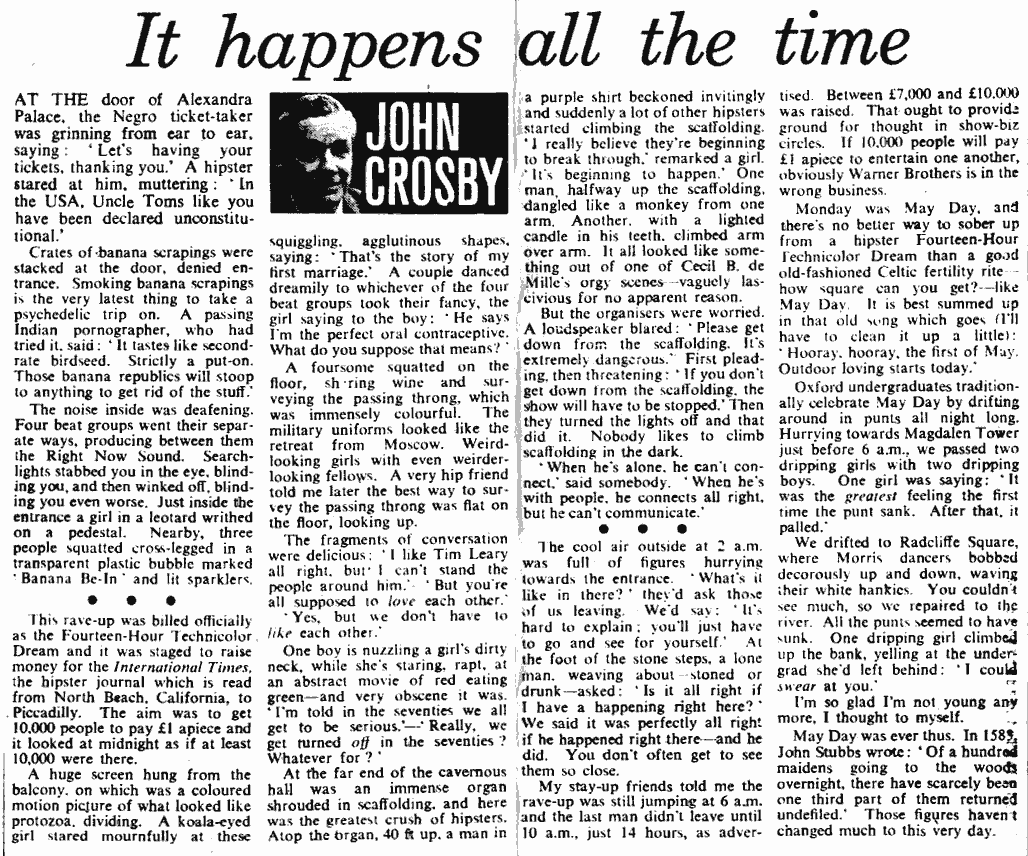 courtesy Alan Grange
Of course for all we know the folks mentioned in the clipping on the left as not returning the proceeds of the ticket sales may well have done so after the IT article was published, but this was the state of play some time after the event was held.

---

Arthur Brown having trouble with the fire on his head
Re-entry printed on wrist so as to be visible under ultraviolet light (hadn't seen that before)
Porno (or at least risque films projected on walls)
Light show (that old oily lava lamp look)
Pink Floyd at dawn
______________
Martin Eayrs
---
I was there after hitch hiking from Hartlepool and spending the morning train spotting at Waterloo - still steam locos until July.
I have kept a list of the acts on one of the stages:
Social Deviants (Inc. Mick Farren)
Pale Fire
Charlie Brown's Clowns
Crazy World of Arthur Brown
One in a Million
The Cat
New Music Workshop
Ginger Johnson's Jungle Drums
Purple Gang
Poison Bellows
Champion Jack Dupree
Savoy Brown Bluesband
Soft Machine
Tomorrow
Pink Floyd
The Soft Machine absolutely staggered me and they remain my favourite band - up until when Robert left .
I have photos of some of the acts, but would love to see more of the Soft Machine if there are any out there.
Regards,
Alan Grange
---
I was there July 29th and have never forgotten it. I was fifteen years old, with a bit under a quid in coppers making my pockets sag. The guy on the door said, "I'll take your word for it!" which was an unexpected kindness, and let me in. Despite all retrospective comments from observers at the time that it was too commercialised – it really wasn't. The stage looked awesome as the liquid lights blipped over a massive screen of sheets – I'll never forget Arthur Brown...scary as hell...literally.
Creation were my pick of the bunch – second line up with Kim Gardner I recall – truly brilliant band. Indeed Julie Driscoll appeared with Trinity. Sam Gopal just plain weird ragas, all sat cross legged on stage. Eric Burdon telling us that they'd recently played Monterey and then playing a great set. But the Floyd...was I at a different gig than most commentators? I thought they were awesome, and Syd right there centre stage. I can only clearly recall Pow R Toch H and bits, but they hit the mark for everyone. Such a buzz when they walked onstage.
Nobody ever mentions the MC's – I think one was a member of Scaffold, wearing a Cardinal's outfit. Apostolic Intervention – didn't that lined up include a 'Wing'? Blossom Toes also great "Look at me I'm you" was a trip. Tomorrow were always great whenever I saw them. Just what would have happened if Steve Howe had replace Syd instead of Gilmour doing so? A final mention for the lightshows. Mark Boyle and various others transformed the Ally Pally into an absolute wonderland with slo-mo movies, liquids, and indeed, the strobed spotlights (we were told they were WW11 searchlights...and we believed them!)
The Ally Pally is a spiritual site for me now. Anyway, it's beautiful that so many of us are still around.
Love
Ian Macintosh
---
CONTENT
There are links to accounts of this show as well as photographs of many aspects of the event.
If you have any info regarding the festival please get in touch Contact us