The Archive.
Created and Updated June 2008 view at 1280 X 1024 for best results
click HERE to find out more !

Big thanks to our sponsor Neil !

For information on today's festivals see eFestivals.co.uk
---
"York Rock Festival"

York Racecourse.

Yorkshire.

Sept 22nd 1984

Echo and the Bunnymen

Spear Of Destiny

Sisters Of Mercy

The Chameleons

The Redskins

courtesy Ashley Haynes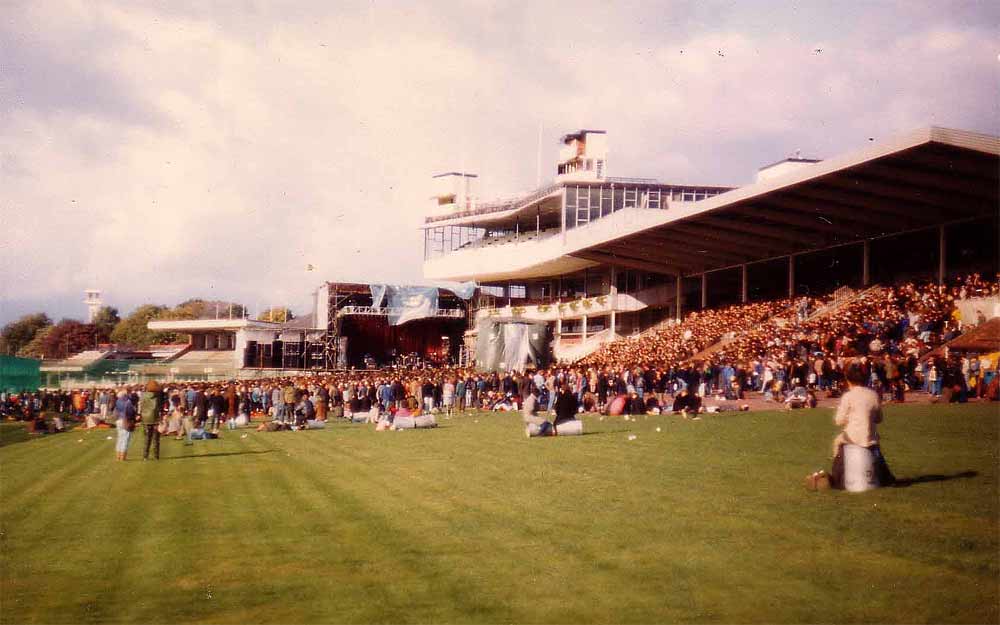 A sparsely filled arena © Ashley Haynes
Oooh , a festival in Yorkshire in September! Obviously these guys had never heard of what happened at Krumlin in 1970, well it wasn't as bad as that , but it was wet and cool. The arena was barely half full, and Ian Mac of the Bunnymen was assaulted backstage after he complained about the bouncers getting heavy with some of the audience members during the Bunnymens set ...
Anyway the experiment was never repeated, which was s ahem as they did not get a lot of festies this far up North......
---
Ashley Haynes was there and reported it thus :
Remember it well, I cycled there from Stockport arriving the day before the event and pitching my tent outside the gate. There was no official campsite but a few hardy folk had come along to camp, so they did. The main issue with this festival was the date. The middle of September wasn't exactly the best time of year to hold an outdoor event like this, and of course, it rained. That horrible drizzly rain that really gets you wet!
York had always been a favourite drinking hole of mine so the evening prior to the gig was spent around town soaking in the ale with some of the jolly campers. We even paid a visit to York Minster which was recovering from a fire caused by lightning.....or the wrath of God..or something. One of my lasting memories of this evening was back at the tents hearing the Bunnymen doing a soundcheck playing 'The Killing Moon'.
The day of the festival was a bit drier but not really what you'd call warm, but the crowd didn't mind, Bunnymen and Sisters of Mercy fans aren't really known for their 'shorts, sandals and bikini tops so everyone was well wrapped up. I can't remember the complete running order, The Redskins opened (I Think), they were pretty good, looking like an 'Oi' band and sounding like heavy soul, they impressed me enough to go and see them the following year at the Hacienda. Next were Manc band The Chameleons who had yet to attain their cult classic status and then I think John Cooper-Clarke came on, he was same old, same old but still quite funny.
Sisters of Mercy were the first band anyone had come to see and to be honest I thought they were pretty boring. This was the 'classic' line up featuring Wayne Hussey before he left to form the Mission. I imagined that in a moody dark club somewhere in East Germany and they could've been perfect. But playing at an English racecourse in the middle of an average afternoon.....er.....no.
Spear of Destiny were more like it, arriving onstage to the strains of the theme from Match of the Day they brightened up the crowd but not the cloud. I stayed about halfway back from the stage for most of the day so I didn't get to see first hand what was going on down front. I'd heard that the bouncers were getting a bit too handy, this being the first York Festival they were probably inexperienced at such things.

It was dark by the time The Bunnymen hit the stage, almost. They were really good although I was feeling very tired and the thought of the long cycle home the next day didn't appeal....



courtesy Ashley Haynes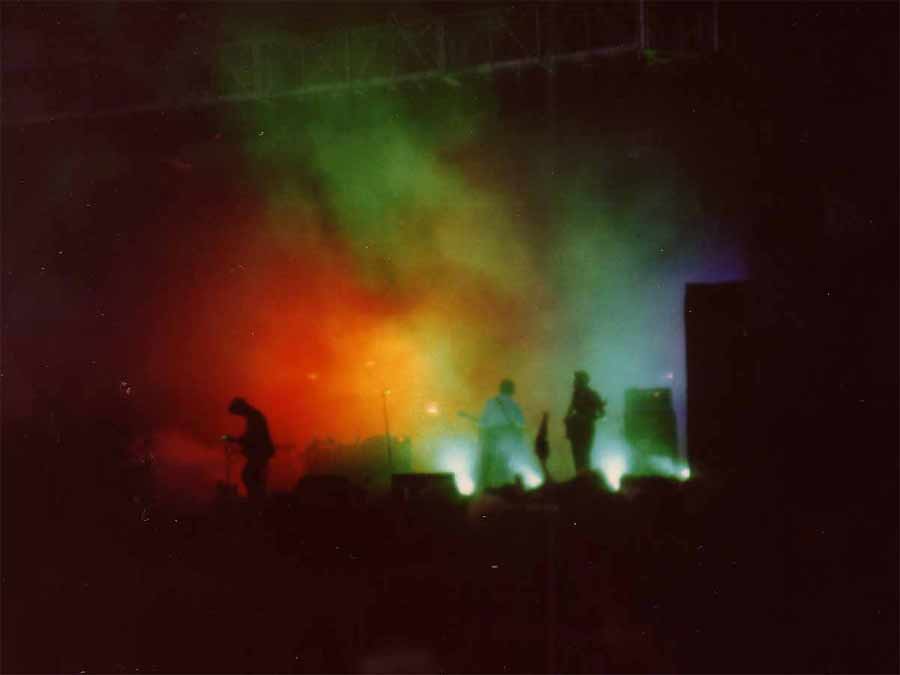 The Bunnies adrift in a sea of dry ice ....© Ashley Haynes
The set was typically moody with the usual mix of dry ice and subdued lighting, I think my photos sum the show up visually. As for the festival itself, it didn't rate too highly in my opinion. It seemed to me as if they were trying to create a 'Donington' for the alternative crowd but it didn't work. There was a rumour that the festival was to become an annual event and that Talk Talk were booked to play in 1985. It didn't happen, the wrath of God perhaps?!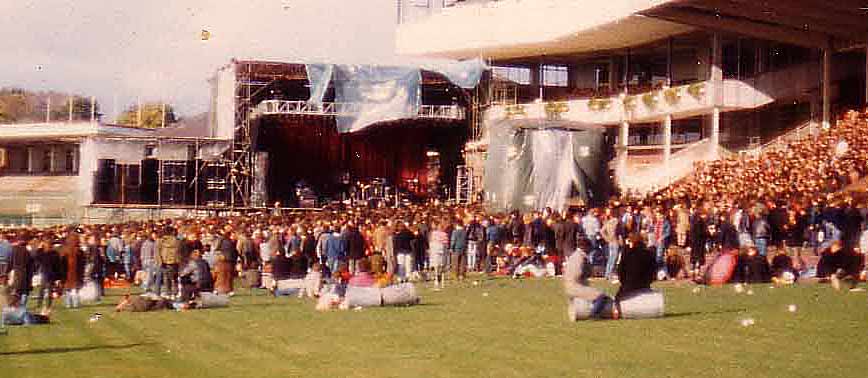 © Ashley Haynes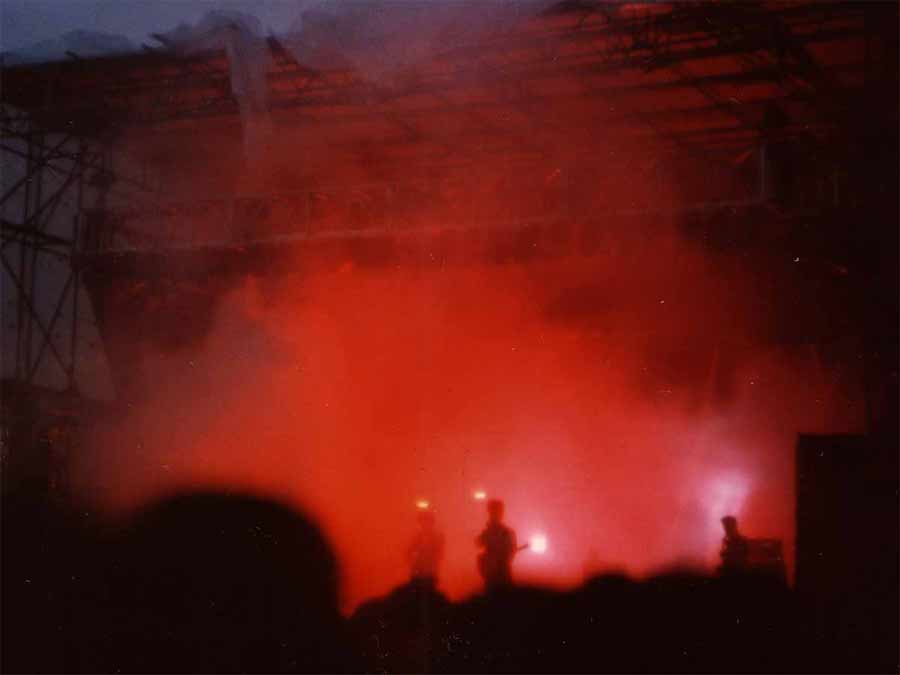 Bunnymen ,are you out there ? © Ashley Haynes
Setlists and Recordings.
Sisters of Mercy

22-Sep-1984, York - England - York Racecourse: 1 VCD.

Burn,
Heartland,
Marian
Anaconda
Walk Away
Emma
A Rock And A Hard Place
Floorshow
Alice
Body Electric
Gimme Shelter
Ghost Rider
Sister Ray
Presumably an amateur shoot as audio is out of synch with the video.




September 22nd, 1984


Going Up

With a Hip

Rescue

My Kingdom

Angels and Devils

The Yo Yo Man

Heads Will Roll

Thorn of Crowns

Ocean Rain

The Killing Moon

The Back of Love

All That Jazz

Never Stop

The Cutter

Crocodiles

Do It Clean

45 Minutes SBD
A Person Isn't Safe Anywhere These Days

Return Of The Roughnecks

Here Today

One Flesh

Intrigue In Tangiers

Thursday's Child

Singing Rule Britannia (While The Walls Close In)

Monkeyland

Pleasure And Pain

Don't Fall

In Shreds

Splitting In Two - Alternative TV cover
---
If you have photos, recollections, set lists, newspaper reports or tapes of this event then Contact us if you can help.
---
Return to main archive