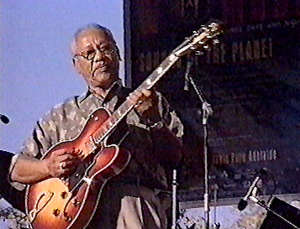 Some folks were just raving about Ernest Ranglin ( mostly people on TV and radio I must admit ), but an equal number also found him pretty ordinary and I have to say I'm in the latter camp. He's the father of Reggae , so they say , apparently he taught Bob Marley to play guitar .
He occasionally jams with Babba Maal onstage , which WOULD have been very interesting, but unfortunately it did not happen at this Womad.
Impeccable credentials one would have thought.