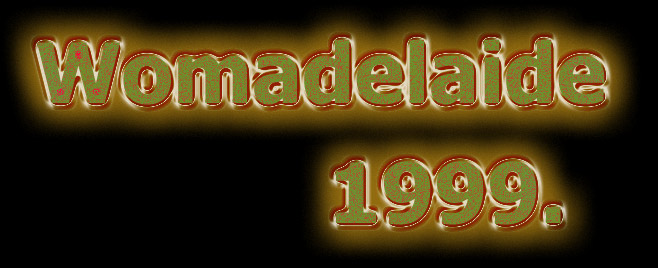 Kila.
Irish band Kila followed in the footsteps of Shooglenifty and Afro Celt Sound System in representing the new wave of Celtic bands to visit Womadelaide and as such they did not quite live up to the expectations of most of the people I talked to . That's not to say they aren't a fine band,far from it, they have good material and great personalities, its just that they didn't quite scale the heights of the aforementioned bands,in terms of delivering the knockout punch that makes a show great rather than good.That said ,I caught both their shows and enjoyed them a great deal.
I think that they would go down better in a club setting than on the large stage , as their music needs a certain intimacy missing in a large stage setting and certainly , their second performance had MUCH better sound then their first, which sounded bloody awful at times on Friday night.
A band to watch out for, their mix of African drums and Celtic instruments is interesting and will probabaly get better with age. Large portions of their Saturday night show were broadcast on the ABC TV special and on the radio show. .