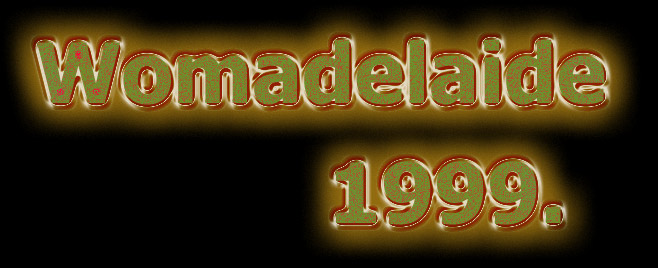 Gjallarhorn..

This Finnish four piece were the big surprise hit of the festival for me, since I'd never ever heard of them before they arrived here in February. Reportedly it was a bit of a shock for them , as it was 35C when they arrived in Adelaide and it was minus 35C in Finland when they left !.


Still, they acclimatised remarkably well and gained a big following with their great mix of traditional Finnish instruments ( note the Dragon headed violin played by vocalist Jenny Wilhelms ) as well as didgeridoo, jaw harp and lots of exotic percussion . The eeirie vocals ofJenny are out of this world and there were some great fiddle duets and up tempo numbers which are good for dancing , a band to watch out for !
Jenny : I could compare the way we do music with jazz musicians,we do a lot of improvising ,a lot of riffs , stretching out notes. We want to keep the freedom but also the respect for the traditional music.The music is built up for melodies , its not builtup for chords.
We don't have in our music a walking bass, we only have a drone and the percussion to do the bass stuff. The music is extemely danceable!
They are right,this stuff just makes you want to dance !
A good portion of the Friday night set from stage 2 is included in the ABC TV special. Theres an excellent aud tape circulating as well.Check out their albums, well worth a listen, they have a unique sound.