The Archive.
Updated Dec 2012
---
Windsor Arts Festival .

Home Park Windsor
September 23rd 1972.

Hawkwind

Arthur Brown

Pretty Things

MC5 #

Pink Fairies

Mahatma Kane Jeeves

Renaissance

Brewers Droop

Mottleigh

DJ Pete Drummond

# did not perform

A later version of the lineup with Quickslver removed from the bill.
---
There have been a couple of instances in the early 70s where festivals were held in the same town or area within a few months of each other. The main culprit was the Plumpton festival in 1970 where a festival was held in May and then again in August . Neither had anything whatsoever to do with each other but their close proximity has caused endless mixups for attendees and archivists alike. People insist they saw Ginger Baker in August when they saw him in May and others assert that Yes appeared at the May event when they really saw them at the August festival !!!!.
The Windsor Arts festival is another such example , only this time, Hawkwind played at both events - one of which was recorded-BUT the gig that was recorded was from 1973 .This has led to much bootleg confusion , with graphics from the paying Home park event being applied to the recording taken from the free festival held in August the year after ( yeah go figure.....).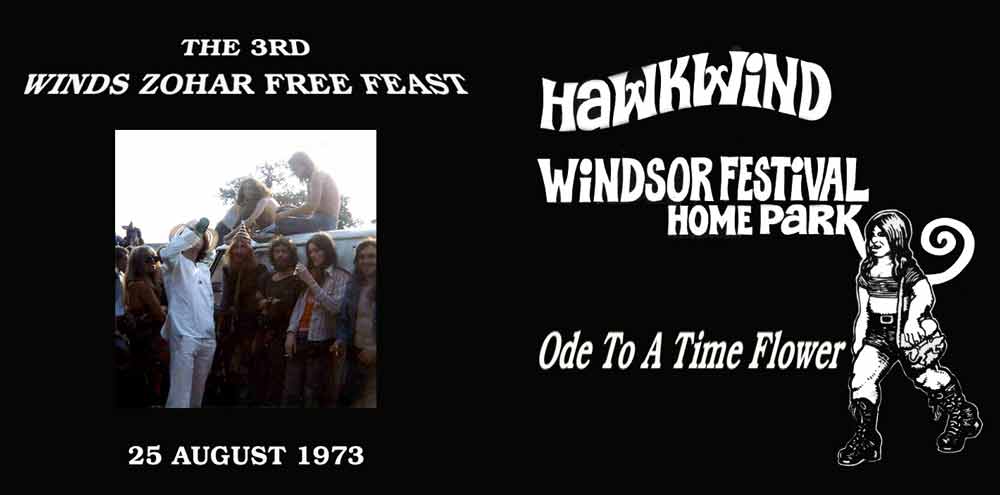 such as this example ....... correct date ,wrong venue and graphic.......
In reality the two events had very little in common . They were held at two different parks, and for rather different reasons . The Great Park was the venue for the decidedly unauthorised anarchistic free bash and the Home Park ( which is much closer to the Royal Residence ) hosted the charity concert which had received official blessings.
A original anticipated lineup © Richard Wawman.

Promoter Richard Wawman has kindly provided us with some background on the festival.

I put on a major event on September 1973 on The Home park Windsor. I was eighteen years old and had to fight the local council for a year but eventually got approval to put it on right under The Castle. The event is often confused with the free festival in the Great park. The event was a one day festival. We tried to get Quicksilver Messenger Service and MC5 but they did not show up. A representative did come from the US and apologise to the 20,000 strong crowd: The eventual line up on the day was:
Hawkwind
Arthur Brown
Pretty Things
Renaissance
Ma hat ma Kane Jeeves
Brewers Droop
Mottleigh
Pete Drummond was DJ with Phil EnglandBest wishes

Richard Wawman
This rather depressing review appeared in a music paper of the day.
The signs were there once again at what was in effect just another one-day festival that a bummer was to be had by one and all. The weather was cold and grim, there were a large number of Hell's Angels making their presence felt throughout the site, hordes of exceptionally swarthy orientals in shades appeared to be organising the whole thing and a lot of the bands previously billed hadn't turned up. Quicksilver had decided some weeks before that they weren't coming over to Britain, while the MC5 reportedly had not been offered enough money for the gig.
So what did that leave us with? Well, there was the pride of Ladbroke Grove, the Pink Fairies, Arthur Brown's Kingdom Come for anyone who favoured a particularly inane set of theatrics, the Pretty Things and Jesus's very own sunbeams, Hawkwind (Jesus's other sunbeams had naturally rolled up in their bus, brimming with joy and eagerness to spread the word of God to yet another god-forsaken bunch of benign degenerates posing as rock fanatics).
I had just been informed that there was no beer tent, and that the nearest phone-box was half a mile away, when my whole being experienced a sudden sinking feeling of nausea as I turned to witness the group on stage. Their name is Mahatma Kane Jeeves and that should serve as a public warning. After them came the Pink Fairies, who have seen better days but can still rock out better than most. Paul Randolph, the original guitarist, had left some months ago, and Russell and Sandy have since enlisted the aid of Mick Wayne, a more than adequate guitarist but scarcely a front-man. Never mind: bassist Sandy still struts the stage in his cool, if confused stance, Russell beats his skins with openly demented glee and the band still play "Do It!" and "Johnny B. Goode". So what more do you want, punk!
The Pretty Things, who must have been around for ever, drew the first standing ovation of the day. Yours passionately was seen to yawn during selected parts of their set though I admitted to jigging with a certain abandon to an encore of "Route 66". A final thought: Could Pretty's vocalist Phil May (who's been with them from the beginning) become the English Mark Farmer?
And then there was a flash in the sky and a hand reached out and switched on the luminous sign amid the heavens which read "Hawkwind". And it was good. There's nothing like a blast of the good old psychedelic experience when you're getting cramp in the limbs and you've just got the remains of a discarded hot-dog all over your latest pair of snakeskin boots. Hawkwind enjoyed it. I enjoyed it, the kids could relate to it, and it must be the first time that Nik Turner's woodwind tootling could be heard above the awesome cacophony. Sounded mighty good, Nikky.
All of which left poor Arthur Brown with 10 minutes to perform in, as the power was turned off just after 10. I've never been that enamoured by Brown's antics but there were surely those around who wished to view the spectacle of Arthur making an artless fool of himself, and so to them my condolences. In retrospect Windsor could have shaped up to be a one-day Phun City (remember that great "cheap thrills" festival?) but this is 1972 and the dream has long been over (at least that's what everyone's been telling me.)
-Nick Kent
---
Any info to add ? Contact us