How good to find Barbeque '67 on your website!
I've told the tale of this festival so many times, and as the years go by, I get a distinct feeling that people do not believe that Jimi, Cream, Pink Floyd, the Move, Geno and Zoot could ever be on the same bill, and no-one seems to believe that it would cost as much as £1! Well, let's face it, it doesn't sound credible, does it? Here are my memories.
Three of us (Martin Willmott, John Percival and Ivan Willis) were aged 16, pals and music fanatics at Royal Grammar School in Worcester. In the days when council house kids had the privilege of attending Grammar Schools free of charge. John saw an advert for Barbeque '67 in NME, and tickets were available at £1 each. We telephoned the number and were told that tickets would be reserved for us, and we could pay when the tickets were printed. We were sent posters - not the one posted on your site! No mention of 'Pay At The Door'! We were sent six posters, and distributed them in school and in 'Youth Clubs' (a generation thing) and gave Ivan's phone number. (In those days, telephones were in red boxes outside a Post Office. Most people dreamt of winning the Pools and having one in their house. So Ivan was unusual in having his own phone. Can anyone believe that now?)

We got enough interest to arrange a coach and duly booked it, giving a deposit of £10. This was a more than a week's wages for our pals who had left school the year before. It was a lot of money to drum up, but we couldn't fail, so we decided it was no risk. Until we found that the tickets were not available after all. With the wisdom of hindsight and experience, the organisers were incompetent. They had underestimated demand and could not cope with the requests for tickets, and couldn't cope with the volume of phone calls. We rang for hours and hours, then got a timid voice telling us that the tickets would come in the post. We waited day after day and nothing arrived. We phoned and got no reply. Then we shit ourselves. We had taken deposits and ticket money from a coachload of people much older and bigger than ourselves, and no tickets arrived! We decided to tough it out, as we had no way of contacting anyone. There were no phone numbers, e-mails were science fiction, and no-one could afford to put an advert in the paper. We turned up in the Cornmarket in Worcester at 7 am and we all boarded the coach, full of smiles and fun. Except we three organisers, who were close to incontiinence all the way. And what a long way, across the Midlands and the East of the country before 'A' roads were fit for purpose.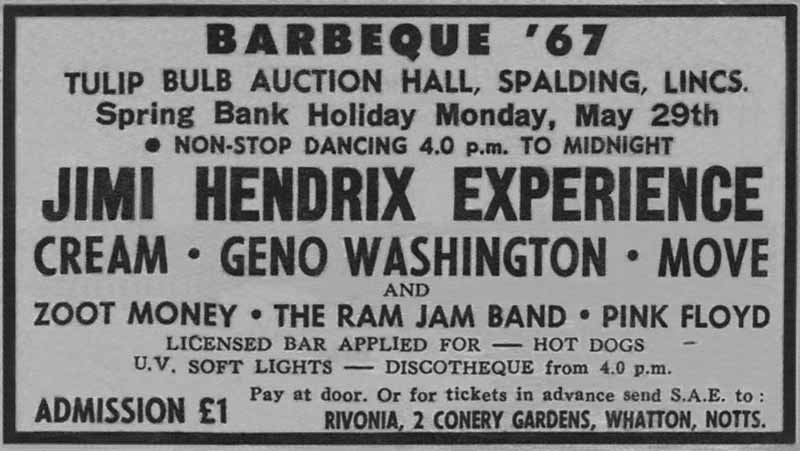 The offending advert..... thanks to Joe 'Dzsanesz" Kovacs for restoring this item !

It was a gorgeous May day, hot and sunny. I took my guitar, and played 'Purple Haze', 'Hi Ho Silver Lining', 'Day Tripper' and 'Colours' over and over again until I could hardly talk. Then, to our eternal gratitude, our coach was trailed by Zoot Money and some of his band in a car. We recognised him and flagged him down. The three organiseres got out and quietly explained our predicament. He said he'd try and help and told us to meet him at his hotel - I think it was called the Red Lion. We arrived in Spalding and he met us, but he could not find the organiser, so no luck on tickets - but told us we could pay at the door. As per the 'poster'! Not the one we had! We panicked, but were sent to the front of the queue, gave back the £1 to every coach traveler, and we duly all got in early.

The first support group were awesome. I believe they started with a Joe Tex number, 'Show Me'. They played a mix of Soul and Rock and were very competent. Their set was very good and the sound was better balanced than the majority of the following acts. Sound balance in the sixties was terrible in big venues - the comments of other contributors are accurate, but that is how it was routinely in the sixties. You relied on memory for the lyrics, 'cos you could never hear them at a live gig in a large hall or outdoors. The visuals were king !

Pink Floyd were the first big band to start, and were pop artists at that time. Impossible to believe almost, but they had had two recent hits and were thought of as a psychedelic pop band. They were really terrible. The light show was truly pathetic, although credit where due, they were pioneers of the art form. Someone with an overhead projector had sheets of acetate with globs of oil on them, making the globs roll about on the plastic. The globs were projected onto a bed-sheet. You couldn't hear the vocals and the volume was too low to hear the instruments. It didn't quite attain the standard of amateurish. I think The Move came on next, and were one of the best bands on the bill for impact and sound. They got a bit of life into the audience and impressed me more than I expected.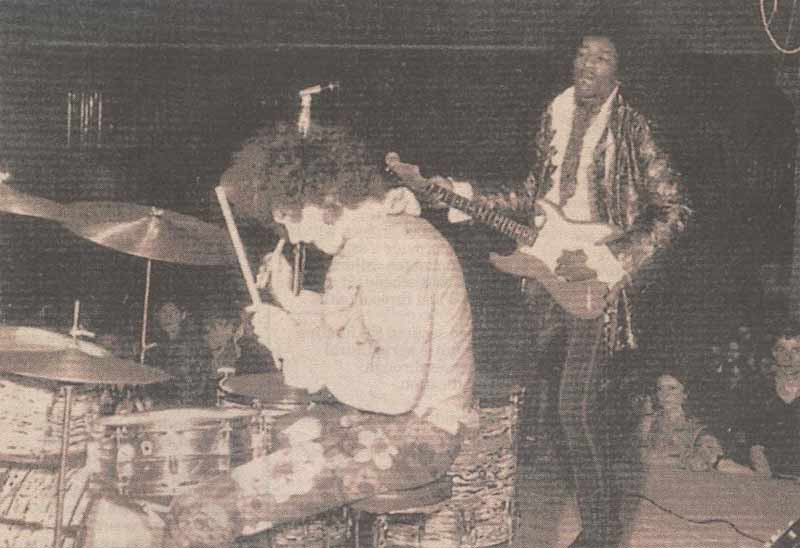 The Jimi Hendrix Experience- Barbeque 67 . Thanks to Pennie Limming for the pic and cuttings.
Pink Floyd and Move were classed a the two 'psychedelic bands' on the billing. Next came the two 'Blues Bands'. I think Hendrix started first and was loud, vocally incompetent, irritable and a male Diva! Everyone loved him though. He played his guitar with his teeth on 'Hey Joe', stuck the headstock of his Strat throught the mesh of his Marshall stack, threw a guitar into the amp and created a bue flash and smoke, and generally gave a show to remember. His sound balance was dreadful. This was normal at the time. Cream came on next, I think. Eric Clapton had been eclipsed by Jimi recently in the musical press. However, he was miles better than Jimi on that day. He was competent on the guitar, you could hear his playing clearly, and the vocals were good from my standpoint. This was the first time I had seen him play his psychedelic SG and it was visually stunning. He played 'Sunshine Of Your Love' (pre release?) and it was awesome. This was also the first time I had seen him with a perm and with Hippie garb. The bass was inaudible but Jack Bruce had a striking presence. They may not have been at their best in audio quality, but their personal presence was immense. They were some band. Not eclipsed in any way!

Then Zoot came on. The Big Roll band were so professional, Dusk was setting in, and the atmosphere was great. They were so much more professional than the previous bands and you could hear what they were doing. I didn't like their stuff really - it belonged to a half-a-generation before. But you can tell quality when you hear it. And Zoot had tried to help us with the tickets!

Then Geno. I had really come for Hendrix and Cream, but I have to say that Geno stole the show. He was awesome and created an atmosphere you could cut with a knife. Everyone was silent in his quiet moments, and went wild in the loud passages. Everyone sang, shouted and tried to dance in the melee. They pointed their hands into the air. Hard to believe that Geno is not a major star today. He had the audience in the palm of his hand.

What a great gig! And all over by 11!

Martin Willmott