The Archive
---
View at 1280 x 1024 for best results .
Last update October 2011
---
Reggae Sunsplash

Selhurst Park Football Stadium

July 7th 1984

Prince Buster.

The Skatelites

Sly and Robbie

Black Uhuru

King Sunny Ade

Lloyd Parkes and We People

Leroy Sibbles

Dennis Brown*

Aswad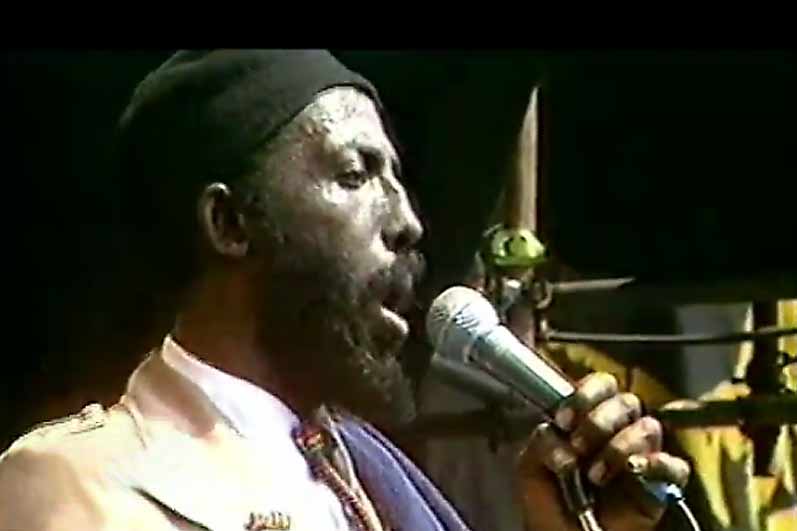 Prince Buster at Sunsplash 84
The first of two major Reggae concerts held at the Crystal Place Football Club stadium in London in the mid 80s . These were BIG events, we have seen figures of 250,000 attendees bandied about but we doubt the validity of crowds this vast actually managing to fit into the stadium . Whatever the truth , Selhurst Park looks full to the brim on all the video we have seen so far, so we imagine there were at least 80,000 present . The weather was good, especially so in 1984, which was a true "Sunsplash ".

Suprisingly, given the size of the shows, theres very little hard data out there regarding either of the events. The second festival is often confused with the first and some clips online are attributed to the yeart 1984 instead of 85 and vice versa .

Fortunately film crews were in attendance at both events and a 60 minute vid entitled ' Splashing the Palace " was released from the 84 footage. 1985 seems to be less well represented but the footage is there if you are prepared to search or trade.
Dennis Brown
| | |
| --- | --- |
| Tony Greene | |
---
Reggae Sunsplash

Selhurst Park Football Stadium

July 29th 1985

Sugar Minott*

Arrow

Ini Kamoze

Gregory Isaacs*

Smiley Culture*

Sly & Robbie

Third World

Bloodfire Posse.

(* deceased )

A tiny portion of the Sunsplash 85 crowd

The late Sugar Minott Sunsplash 85
The saddest thing about this concert from a 2011 perspective is the large number of artists that featured who are now deceased. In addition to the solo artists, a member of Bloodfire Posse has also died. A reminder that the lifestyle of many prominent Reggae artists has led to their premature deaths , either from self induced disease brought on by heavy drug use or through violence.
A few clips are in circulation, taken from the 1985 concert. We've seen Third World, Sugar Minott and Gregory Issacs clips online .Sugar Minott in partiuclar was really pumped up and raring to go. Portions of this footage were broadcast from the BBC TV special "Ebony : Sunsplash 85"
---
Recordings and setlists.
Cover of video release of excerpts from the 1984 show

Dennis Brown's drummer 1984

Al Capone - Prince Buster
Latin Goes Ska - Skatalites
Rock And Come On - Leroy Sibbles
Rock Steady Party - Leroy Sibbles
Syncro System - King Sunny And His African Beat
Pass The Dutchie - Musical Youth
General Penetentiary - Black Uhuru
Guess Who's Coming To Dinner - Black Uhuru
Roots Rockin - Aswad
Redemption Song - Lloyd Parkes And We The People Band

---
Can we get a witness ?
We have been endeavouring to collect as many recordings of the artists that featured at these concerts as possible, so we can effectively review the performances, provide set lists and band line-ups. Any info displayed on these pages or which is sent to us for review remains the copyright of the contributor and the Archive makes NO PROFIT from its use. The intention is to also display as many personal histories of the festival as possible for the benefit of readers of the site and we welcome all written contributions, no matter how long or short.

If you can contribute in any way, with tapes, reviews , photos or personal histories, please Contact us .
---
Knebworth Concerts 1974-86

Knebworth links
---