The Summer of '80 Garden Party

Bob Marley
Average White Band

Joe Jackson

Q-Tips,

Crystal Palace Bowl .

June 7th 1980.
---
Bob Marley onstage at Crystal Palace 1980
used under Creative Commons Attribution Share Alike 3.0 license , courtesy and © of Tankfield
Hi,
I was browsing the net to get the date I saw Bob at the bowl and I found this, cant really say much except there was a legalize pot campaign going on and you could buy cannabis as easy as ice cream from the stalls "probably why there's not much people can recall".
The weather was great, I do recall Joe Jackson saying something quite racial that the crowd didn't like and he was booed. Myself and my friend walked around the back of the stage and got to see Bob behind a big fence with some friends smoking and chatting before he went on stage.

All the best Joe
---
Yes a crazy day, came to london from scotland for the gig, great view down the bottom of the hill, thought great, went for a wander down to the right of stage and all the wailers were behind the mesh fence,t hey came over and talked to loads of people even passing spliffs they were smoking out for all to have a drag, went back into crowd but after AWB finished and that must have been when loads of people who had finished work may have turned up . it started to get very very crowded about us, they just kept coming and the amount of smoke was unreal, you just breathed in, what a gig, what a day, dont know how we got back to golders green where we were staying,
still got my ticket and the program of the day
willie
---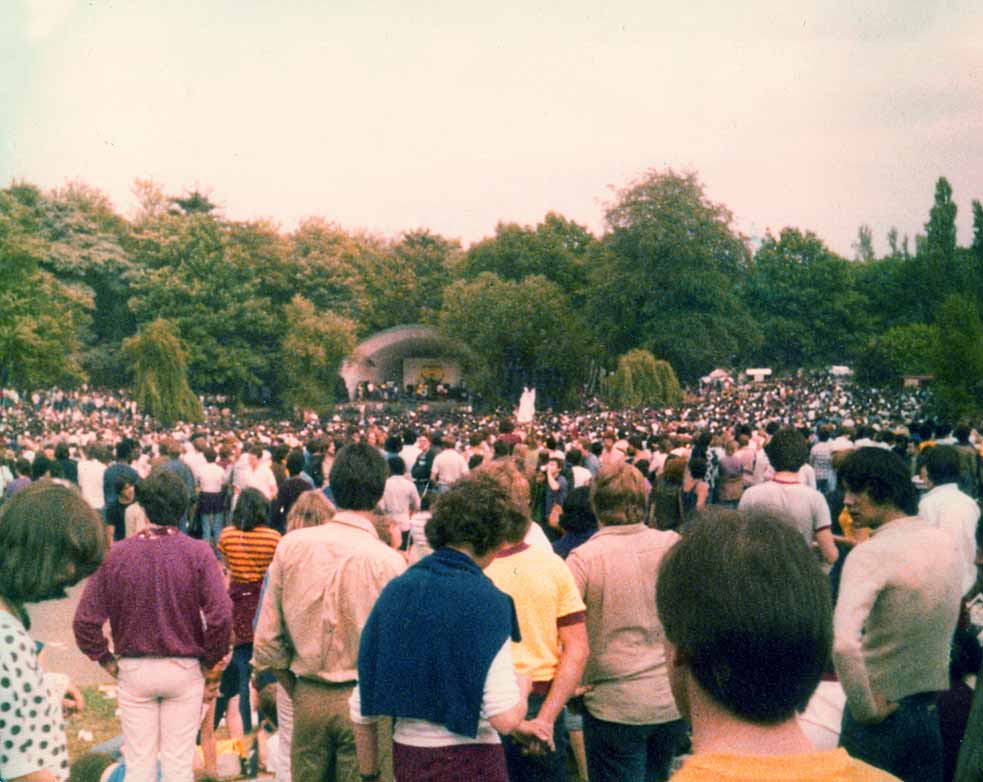 Ire dreads ! Ganja, Marley and greenery at the place mon ! Seen ! © Rob
Hi

My friend and I were at that concert - now 30 years ago! I was then 23 yrs old - wow.

I was at the top looking across the crowd and they were rolling a massive joint which went right across the crowd - do you remember that? I remember puff was available everywhere and I pretty much missed everything cos I was out of my head and could not really handle the strong puff! I did buy a Bob Marley souvenir tshirt which I still have somewhere.

Looking back I wish I had made more effort to remember it all - what an opportunity that was to actually be at a Bob Marley concert. He was very much in the distance over the water and I think I did take photographs. It was a great day.

Jennie S
---
I was also working at the Crystal palace Children's zoo that summer of 1980 and was a bona fide council employee and decided that I shouldn't have to pay for a ticket. I went with friends and we knew the security guards but they said that we had to get there early to get in free so there was a long tedious day spent hanging around. At one point Harvey Goldsmith pulled up in his big car and asked the guys what we were doing there. Their explanation that we were there to sort out any female fence jumpers seemed to satisfy him and off he went. We thought it was hilarious that such an important guy should be so worried about two sets of ticket prices ! One of my main memories of that day was seeing the sound check and Bob Marley being really funny – something that I had never thought of in connection with him. Some of the musicians were a bit off and he asked them if they had had their Weetabix for breakfast or not.
Deborah P
---
I was an American student living in London for the year. Another friend from the States came to visit and she and others with her were going to the concert, so I tagged along. I had never heard of Bob Marley. We got there very early in the a.m., maybe 8 or 9 a.m. and were some of the first there. I remember the security guard stopping a car and grilling those inside "We're the Wailers", they said sternly. They drove in. We sat right on the edge of the lake in the green grass. The sun was bright, the crowd got denser and denser. Finally people jumped in the lake about the time Joe Jackson came onstage. Someone broke a duck's neck and threw it at Joe Jackson, to me it seemed "out of the blue". Jackson expressed disgust; was irate. I think he cursed and left the stage. It was disturbing and I remember being bewildered that more people didn't seem upset that witnessed it. It started to be a juxtaposition of bright sunshine and music and filth in the lake. Why weren't other people upset? People seemed to be in an altared state. People threw garbage in the lake. The minnows started washing up at my feet. The grass became mud. The crowd went further than I could see, dancing, swaying, happy, but then those minnows kept washing up. Marley was enlivening and energized. I was sunburned. Brightness, high energy, sun, dense humanity and those dissonant images from the water; Bob Marley and the Wailers at Crystal Palace.
sue boorman
---
The only Crystal Palace party I attended was the Bob Marley show in 1980. All this time later, the event seems a bit of a blur. But I do have one very specific memory. The day was a lovely warm sunny day and my friends and I were situated near the back of the crowd. There seemed to be so many people there, my grilfriend of the time was keen to get away early and grab a seat on a London Routemaster bus to the flat we had only recently taken (in Kennington). I was keen to hear as much of Bob Marley as possible and hung on in hope of an encore. At first, it seemed that there would not be one and we started walking to the bus stop when Marley came back on for one number, just him and an acoustic guitar. And it was the then unreleased Redemption Song. So my biggest memory was of walking through the trees en route to the bus stop, straining to hear the last notes that floated through the air and hearing this fantastic song that seemed so uncharacteristic of Marley at the time, but that has since become one of Marley's most famous hits. This memory seems all the more poignant given that this proved to be his final tour, the last concert being in September followed by his death in May the following year.

Richard Mills
---
I was there. Working in a Casino in Blackpool at the time. Went out for a drink the night before and met some old school mates, who offered me a ticket. Off I went – the driver, as I remember, was the only one who wasn't stoned – not that I smoked that much.

I remember having to call my brother to call me in sick – he did it under protest !

Remember that the weather was great and the atmosphere. We were we lying just above the lake (pond) to the left of the stage. Glad I went. Must agree though that Jackson was pretty crude (and I had 4 brothers). Still have the programme and is in good nick.

Only reason that I came on this site is that my Dutch boyfriend said that no way Marley en Jackson had ever played on the same stage.

Haha 1980 – I was 20 – am now a teacher living in Holland.

Groetjes A
---
I was 18 finished school and at a loose end. Living in North London the trek to Crystal Palace took an age to get to by bus.

Does anyone remember a branch breaking off a tree and people falling into the pond below. I also have a recollection of a rasta with a massive Ghetto Blaster recording the gig – we shared a food drink and other supplies with him ! He kept shouting every now and again "RASTA FAR I " After the show as the crowd were dispersing and still very much under the influences….he played what had been recorded – unfortunately you could hardly hear anything other than a voice every now shouting "RASTA FAR I "
A great day !!! from what I remember………..

Oliver
---
Hi
I went along age 19 - it was the best concert ever !!
I always remember people climbing the trees by the stage and falling out - we were so far back they looked like dolls!
Caroline
---
I was there and the highlight for me was Bob performing Redemption Song at the end of the set. Just him sitting down and singing. Perfect.
Kathryn Hughes
---