The Archive
Last update March 2012 .
---
Cardiff Castle Open Air Concerts
1975-1976.
---
Cardiff Castle was the venue for a series of outdoor concerts in the 70s, held rather infrequently and occasionally against opposition from the local council, the first proposed concert- by those sons of Satan , the Rolling Stones- was unfortunately cancelled due to this outbreak of wanton puritanism by those in government. Fortunately, this proved to be a temporary state of things and the first concert to go ahead was held in 1975.

The Castle itself is a weird sort of mutant beast that is a melange of various architectural styles. Some of it is very old and other bits date from Victorian times when the Marquis of Bute made a fortune in the coal trade and , instead of improving the lot of his workers by providing better accomodation, spent a fortune on the castle , with gilt ceilings and other fripperies providing a mind melding experience for visitors. Later on the family gifted the castle to the City of Cardiff, so the Welsh taxpayer is now responsible for its upkeep.

There is a large open lawned expanse in the centre of the castle grounds and this is where the one day concerts were held .

Left : Poster for the cancelled Rolling Stones concert that should have been held in 1973
---
12th July 1975.
10cc

Steeleye Span

Thin Lizzy

Man

Dj Pete Drummond
A truly wet festival, it sluiced down for much of the day . but the event went ahead anyway. Apparently the crowd was 15,000 strong , but thousands could not get tickets and were turned away at the gate. It only stopped raining at the start of Steeleye Span's set ,otherwise the grounds were saturated and the audience were repeatedly warned to stay away from any electrical devices as there was a distinct danger of electrocution. 10CC began their set with a volley of flares and overall , despite the rain, the bands were given a good reception by the audience.

Judging by the program, this event was some sort of benefit, but just who for seems to be shrouded in the mists of time, can anyone provide more information ?

Also has anyone got any photographs of the gig?
I was just 17 then and I went with some guys I had started a band with. It pissed down all day. The main thing I remember was seeing Thin Lizzy introducing new guy Scott Gorham on guitar. Lizzy showed us all a huge difference in their approach to music with a much more Hard Rock sound than before. They were great and this gave us just a glimpse of how truly great they were to become.

I remember Steeleye Span playing All around my hat which had done well as a single. The rest of their set was the real pioneering folk-rock that they and Fairport had established.

10cc were great. They performed most of the new album The original soundtrack. They had played at the Cardiff Capitol a few months earlier and this was the same set but the big venue really suited them. A lot of the older people in the crowd ( and these people who were only 3 or 4 years older actually ) booed 10cc moaning that they were a pop group headlining a RockShow. At this time in Rock history there was a sort of tyranny where if you liked what The Sweet, T.Rex and Slade were doing you kept it to yourself. Boys my age liked these groups as well as liking Zep, Purple, Sabs etc. but it was uncool to admit it.
10cc went on to play astoundingly well, some of the older ones still huffed and puffed but the mojority of the crowd soon picked up that this was something special.

Regards
Norman Cox
---
I went to that gig with 3 mates, we drove down from Builth Wells and it poured with rain all the way. Despite the weather forecast, we were in denim jackets, Levi's and red flash pumps. On arrival in Cardiff we headed into the Angel and drank until we were chucked out (almost forcibly as this was before all day opening). By 3:30 we were in a massive queue getting soaked to the skin. By the time we got into the Castle the 1st act was over and before the 2nd came on we were so wet and miserable two of us, Harry and myself, abandoned the gig as the pubs were open again by then. After more beer in Cardiff and Merthyr, we were back in our local before last orders. This was surely the greatest gig I went to that I didn't hear a single note of music at!

Tim Williams
---
Yep – I was 18 at the time and remember this one well. My memories of the weather are exactly the same as another contributor. It chucked it down all day and evening.

10cc were the last on and most people abandoned the covered grandstand to get closer, despite the wet. I think that everyone was, by this time, so wet anyway that none of us cared and some were so wet and mud splattered that they were even sitting down in it. Traditional festival weather really!!!

Steeley Span were very disappointing. I more than suspect that they hadn't done a sound-check because none of us could hear them. There was constant heckling from the crowd while they were on, along the lines – 'turn it up, turn it up'. Particularly disappointing for me as they were the main reason I went.

Thin Lizzy for me, turned out to be the highlight. They were quite simply the best of the acts. They really rocked – enough said really!

Man - Curiously I have no memory of them at all.

Tim Lawrence
Cheltenham
---
Status Quo

The Strawbs

Curved Air

Hawkwind

Jackie Lynton

Budgie

MC John Peel

July 24th 1976
By contrast, the first concert of 1976 was blazingly hot . Openers were Welsh act Budgie ( it seems that the promoters took the chance to give local bands an opportunity to get some big exposure time at a large venue as Man has also been given a slot in 1975 ).
Budgie certainly won one fan at least ......

'Breaking all the house rules'. My jaw dropped, Burke Shelly (who I'd never heard of at that time) belting out the lyrics backed by his own faultless bass riffs which formed the backdrop of the whole idea complimented by Tony Bourge' brilliant lead breaks with Steve Williams kicking the other two up the arse with solid rock drumming. It was awesome. The naive youngster was now not quite so, the eyes opened by this fantastic sound that belted out across the castles surroundings.
---
Ticket for the Quo show courtesy Phil ...

The 1976 concert was a big disappointment because Rainbow did not play. They could not get their Rainbow on stage so pulled out.

Budgie were the stand out group for me. At one point in the set to the amazement of the crowd they started playing Brotherhood of Man's hit Kisses For Me, then about 10 bars into it said "enough of this crap" and Tony Bourge let rip with the blistering riff from Breadfan.
I went with my mate Chris Thomas who later played bass with The Racing Cars right up until they retired last year.

Happy Days!

Norman Cox
| | |
| --- | --- |
| | |
---
Queen

Manfred Mann's Earthband

Andy Fairweather-Lowe

Frankie Miller's Full House

DJ Bob Harris

Budgie

MC John Peel

September 10th 1976

Advert courtesy Giovanni Pantano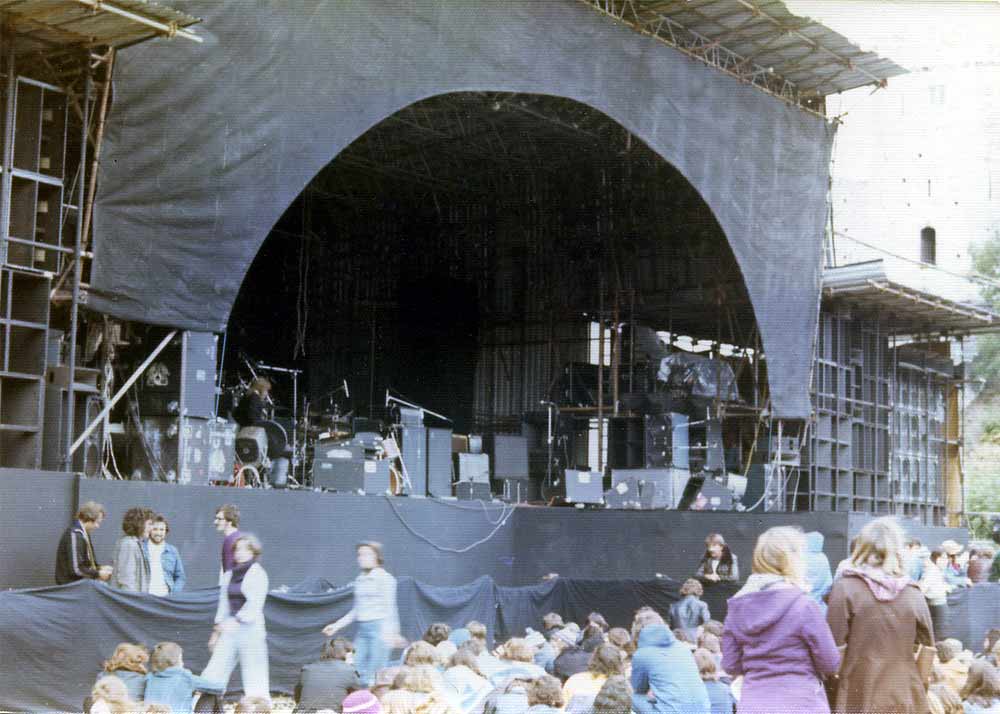 The stage at the Queen concert 1976 © Greg Litjens
Hi festivalers
I went to this gig. There were six bands due to play (from about 2 in the afternoon) including Richie Blackmore's Rainbow (who may have pulled out), Andy Fairweather Low and the other support bands I can't remember. Queen came on in the evening. It was raining badly throughout their set and many of the crowd were forced to buy plastic sheets to cover the rain. Well worth it though. Queen were spectacular. It would be good to see a listing as other people may have other information.
Regards.
Greg Litjens
---
remember that the people selling the black bin bags upped the price when it started bucketing down, I've never seen rain like it in the UK.
1976 was a very hot summer and it broke that day.
When Freddie came on stage he said (in his white leotard) " Hello darlings have you got your rain coats on? I've got mine". Bob Harris who was the compare that day applauded us all as did Brian.
I saw Queen 7 times and they where never better than what was their first open air concert
Paul Roberts
---
manfred manns earthband played blinded by the light for the 1st time in public..queen came on & the heavens opened up..they were awesome & nobody moved just got soaked but never moved,freddie addressed the crowd "how the ! beep ! are you just standing there "thanks "
Bredinbrum
---
Hi
I've just been looking at your website about concerts in Cardiff Castle in 1976.
I was handling all the ticket sales for the two concerts that summer and the Queen concert was held at the end of the summer .... I think it was Friday September 10th and it poured with rain. I remember that after the success of the Status Quo concert on 24th July the two guys who organised the concerts decided to do a second one that summer but it was all a bit rushed and the Castle wasn't available on another Saturday as it was booked up with weddings so a Friday was chosen which was unfortunate as the ticket sales were very slow. I seem to remember that they lost money on the Queen concert.
I hope this is helpful
Veronica Peck
---
Ritchie Blackmore's Rainbow cancelled out of this show and were replaced by Manfred Mann
Queens likely setlist

(no recording appears to exist )

Bohemian Rhapsody

Ogre Battle

Sweet Lady

White Queen

Flick Of The Wrist

You're My Best Friend

Bohemian Rhapsody

Killer Queen

The March Of The Black Queen

Bring Back That Leroy Brown

Brighton Rock

Son And Daughter

ë39

You Take My Breath Away

The Prophet's Song

Stone Cold Crazy

Doing All Right

Lazing On A Sunday Afternoon

Tie Your Mother Down

Keep Yourself Alive

Liar

In The Lap Of The Gods...revisited

Now I'm Here

Hey Big Spender

Jailhouse Rock

God Save The Queen

Ticket courtesy Giovanni Pantano

Please feel free to contact us and contribute towards building pages about each festival by Contacting us . We try to reply to all messages, but sometimes it takes a while .

Usually we wait until we have enough new material to warrant a page upgrade , so posts may take a while to emerge on the page .
---