The Archive.

View at 800 x600 min res

For information on today's festivals see eFestivals.co.uk
---
On tour in the 90s.
Grateful Dead and jamming band tour photographs of Andrew Bartlett.©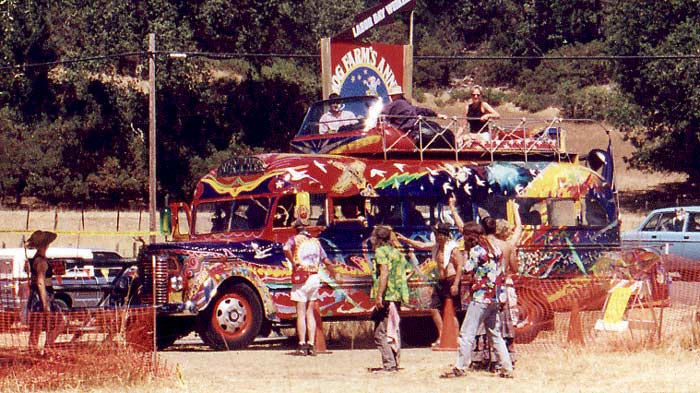 Further at the Hog Farm © Andrew Bartlett
---
Andrew , a native Aussie , had hardly even heard of the Dead before he decided to hitch around the states in 1992. He got lucky as he fell in with some Deadheads and the next thing he knew was watching this bunch of old farts play to this gi-normous crowd at Las Vegas .All these hippies were going apeshit over these spacey jams . Andrew liked what he heard . In fact , it blew his mind -as they say in hippie speak . He stuck around ,toured heaps ,seeing many other great bands like The Allman Brothers , Country Joe, Phish, Blues Traveller and Albert Collins as well as the Dead.
Andrew took his camera with him on tour and he's now made his collection of tour pix available for you to see on the net. Hope you enjoy the collection and thanks to Andrew for letting us share in his good times on tour with the good old Grateful Dead and the other jamming bands.
If you have pix of jamming bands and you would like to display them on the net as part of this collection , then Contact us
Grateful Dead
Shoreline 1993
Jerry's Wake 8-13-95.
Jamming bands
Other stuff
All images on this site are copyright of Andrew Bartlett and should not be used for commercial gain .If you wish to use the images for this purpose Contact us
When you've viewed this collection go see the classic images of the Dead at Egypt that epic lensman Adrian Boot has for sale ,killer pix !