| | |
| --- | --- |
| The banner © Nick Hider | At this remove, its easy to forget that in 1981, Britain was in the middle of a very deep recession . Unemployment rose from 1.5 million to 2.5 million in 12 months. Joblessness among ethnic minorities rose even faster, up 82% in one year. It was a spring and summer of discontent, with riots in inner city areas around the country. The TUC People's March for Jobs was an attempt to put pressure on the Tory government to do something to redress the problem. The March arrived in London on May 30th (or the day after, we have seen both dates used ) , where at least 100,000 marched to Trafalgar Square. |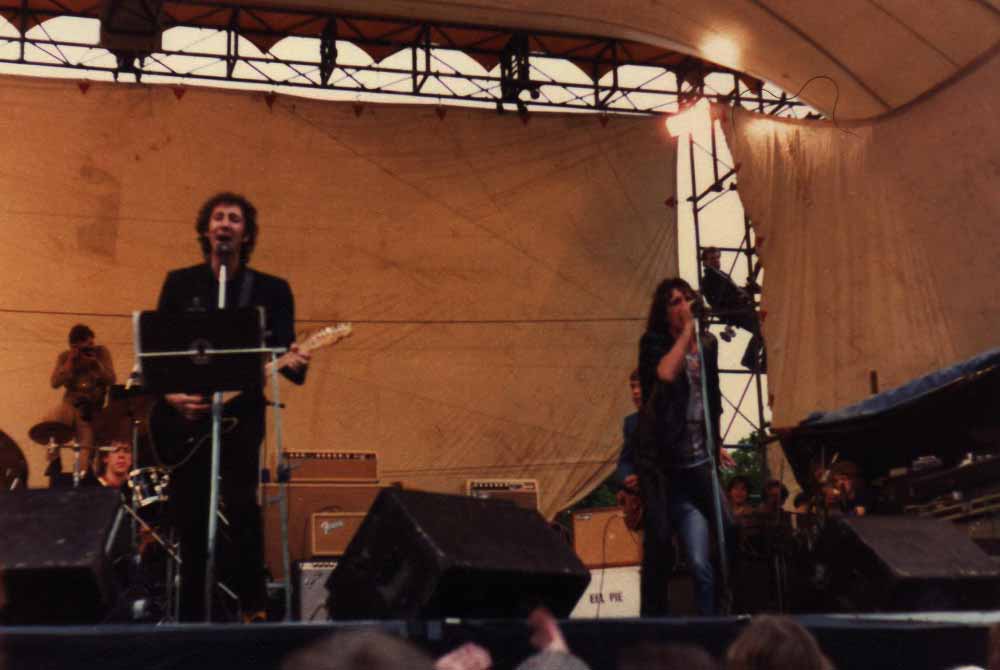 Pete Townshend and Jim Capaldi © Pete Wyatt
This page documents the concert that was held at the end of the March at Brockwell Park as a free concert support the 500 long term marchers who had walked all the way from Liverpool to London , its not known how many attended ( the crowd looks BIG on the one photo we have seen of the audience ) .

That is the background against which the people's march for jobs is now taking place. The march has been organised by the North-West, the West Midlands and the South-East regional councils of the TUC. It is a march from Liverpool to London. It set out on its way on 1 May. There are 500 long-term marchers. They are the ones who have been marching from 1 May. They will be coming to London at the end of the month.

The marchers are a cross-section of trade, industry, age, race and sex. When I was marching last week I was in the second row. Ahead of us was a disabled person—and this year is the International Year of Disabled People. He was being pushed in his wheelchair by one of his colleagues on the march. He reflected those who suffer because of their disabilities, especially at a time of high unemployment. On each day of the march the long-term 500 have been complimented by thousands of supporters in each town along the route.

The Minister should not dismiss the marchers lightheartedly. They represent the best in our country, and the protest against unemployment will continue in one form or another until policies are changed or until, finally, at the next election, the Government are driven out of office because of the people's loathing for mass unemployment.

David Winnick Hansard

When asked if she would receive the organisers of the march, the Prime Minister Mrs Thatcher replied "No"

So, no surprises there then ......

Perhaps it is appropriate in 2011 to commemorate this era in British music and society . Especially for younger folk who have known fairly good economic times. As we lurch towards a double dip recession, perhaps we should consider just what it is in our system that creates such recurring economic crises which devastate the lives of millions ? Just as the 1981/82 recession has largely been forgotten , no doubt the same will happen with the present mess - so when will we ever learn from our mistakes - or are we destined to keep on repeating them endlessly until we completely screw the entire planet up ?

Right : Pete Townshend and band © Pete Wyatt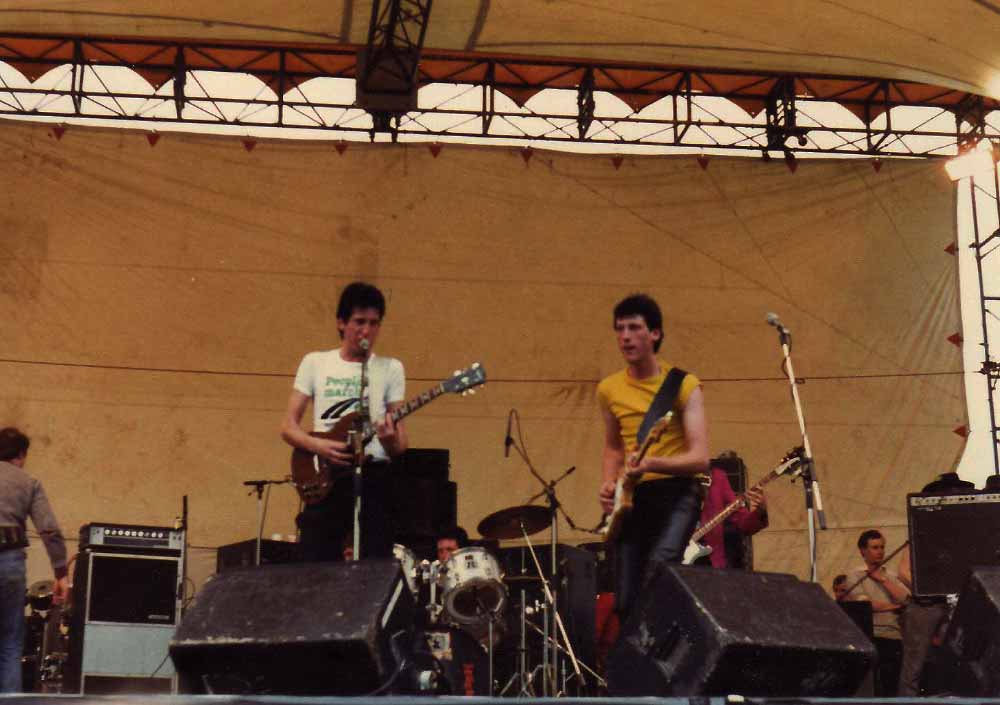 The Quads © Pete Wyatt
---
| | |
| --- | --- |
| | The Members © Nick Hider |
A handout of the time indicated the purpose and intentions of the March
The Peoples March for Jobs being held this month looks like proving something special. The basic details are well known. Organised by the three regional TUCs (North West, West Midland and South East), it has now sprouted two legs,one from Liverpool and the other from Yorkshire, which will converge and march together on London.The basic aim of the March is to focus national attention on unemployment and the need to do something urgently about it. The message is that unemployment harms people,the economy and society. As such, it has very broad appeal.

The conception of the March is to unite around the trade union movement the widest possible sections of people. Unemployment affects not only the trade union movement, but the whole of society.As such, it is perhaps the first attempt by the labour movement to organise a national campaign which seeks to mobilise and involve not only its own ranks but many other sections as well. Already the March has attracted a diverse range of parties. The trade union movement is of course heavily involved.

Samll portion of the crowd at the Jobs Fest © Bruno Marsden
| | |
| --- | --- |
| © Pete Wyatt | MC Alexie Sayle © Pete Wyatt |
The young unemployed will march in large numbers.Women's organisations, community groups,ethnic organisations and the church are an integral element. Labour councils, notably in the West Midlands, are playing an importantc oordinating, facilitating and financial role.The Co-operative Movement is providing resources and assistance. A range of well known sponsors from all walks of life indicate the breadth of feeling expressed by the March. The cultural events along the route of the March, including the big rock concert in Brixton's Brockwell Park, will appeal particularly to young people — and demonstrate that the labour movement has learnt from the experience of the ANL and CND.The Peoples March offers much. If successful, it can focus national attention on the issue of unemployment in quite a new way, thereby further undermining theTories. It can intensify discussions around what kinds of policies are needed to make a serious dent on the unemployment problem. Finally, it can give confidence to the labour movement at a time when it needs it most: a massive, creative and broad March initiated by the labour movement will be a pointer to new forms of unity and alliance in the struggle against recession.
Pete Townshend © Nick Hider

( visit Nicks Flickr site to view more great photos from this era )
Our roving correspondant Howling Pete Wyatt attended and he sent us this useful report .
I remember this Free Concert quite well thirty years on-I must be honest and concede that I wasn't that politically astute in 1981 although I hated the Tory Government and supported the March for Jobs, as you do, but I did get sucked in by Pete Townshend's appearance.I'd seen the Who in 76 ,79 and five times on their March UK Tour.I was 22 and was getting the most out of that Who set-up although it wasn't the best, but you take what you can get- I took my 15 year old brother to several gigs which I'm still proud of.
So I turned up with my cumbersome tape recorder, camera, met up with a Who friend/fanatic Jackie and waited for the fun to begin, near the front. It may have rained which would have been fitting.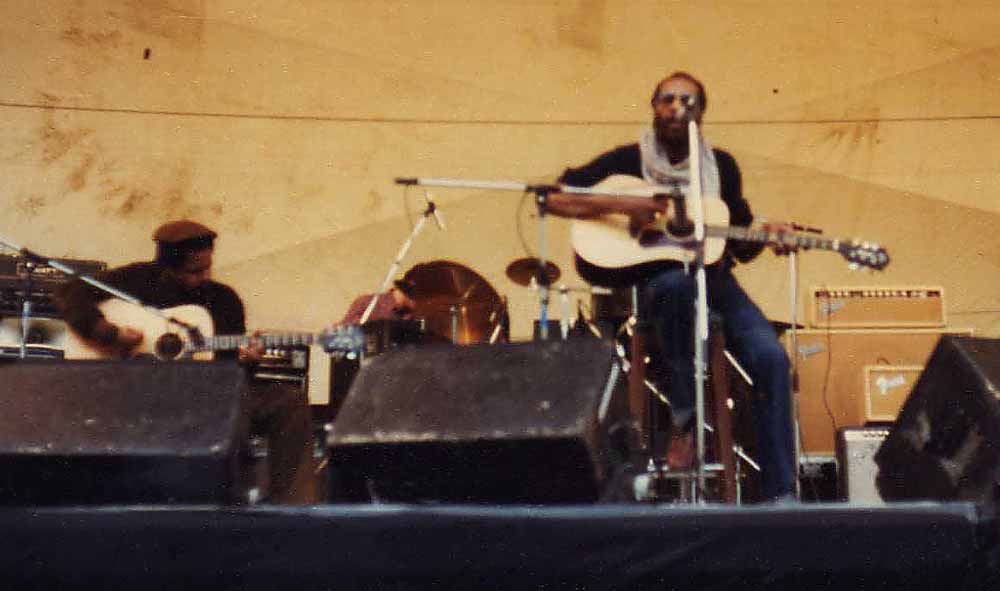 Richie Havens © Pete Wyatt
Richie Havens was very strong as you would expect, playing a solo set, and he was followed by the Quads from Birmingham.Their single 'There Must Be Thousands' had met favour with John Peel and was very strong in an Undertonesy sort of way-Their set was very exuberant and I bought the single . Can't remember too much about The Members except their singer Nicky Tesco, who was very political and in yer face which is what was needed really.Don't remember George Melly making an appearance as billed on the poster
During the afternoon, the majority of walkers reached their final destination and there was much applause and celebrating.The event was MC'd by Alexei Sayle, who made, I remember, a lot of asides that would be considered politically incorrect these days.I'm not sure the line up was as billed because I don't remember Aswad appearing but Jim Capaldi turned up and played unfamiliar material (to me) with some attractive ladies on backing vocals.He joined PT for I think, Join Together.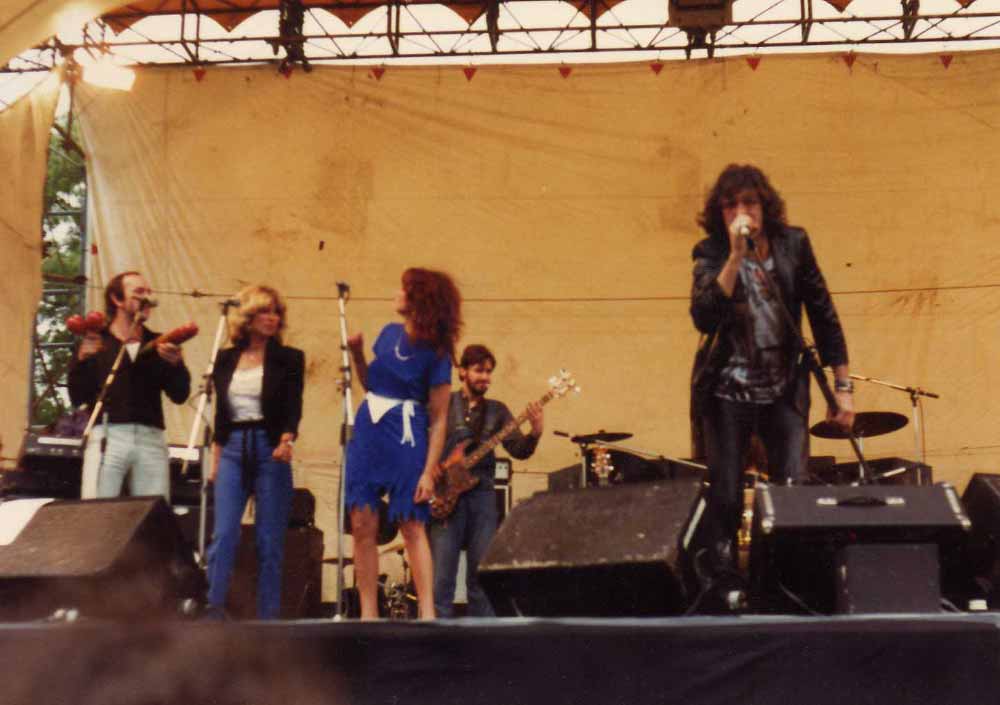 Jim Capaldi and friends © Pete Wyatt
PT came on with his band which included Neil Hubbard on guitar, Tony Butler on bass and Mark from Big Country. He seemed quite humble in a way and I'm sure made some kind of comment about "I'm not sure how me playing here can help things but at least it draws attention to the plight of many folks in this country". His set list was drawn from his album Empty Glass (namely Let My Love Open the Door and A Little is Enough) but he threw in Substitute and a powerful Join Together. At one stage he asked for requests and someone shouted out "Keep On Working" (from Empty Glass) which got a laugh, given the situation.
Pete's admitted since, that he wasn't in the best nick in 1981 but it was a good set and drew people in, which was the key really. My tape, when I got home, was unlistenable, which was fine really. I'd gone to see PT but had come away feeling uplifted by both the bands, crews and especially the Walkers' efforts. Which is what one wants really. Music generally doesn't let one down and has the capacity to effect change. Is that a quote or have I just made that up?
Howlin Pete Wyatt
---
Recordings and setlists
Pete Townshend
Sat 30 May 1981:
Brockwell Park Brixton

audience tape 60 mins

Lineup
Pete Townshend : Guitar, Vocals
Mark Brzecicki : Drums
Tony Butler : Bass

plus guests

---
Photo of Townshend band with view of audience ( external site )
Related pages on this website regarding music related events against the Tory Goverment in the late 70s and the 1980s