The Archive
Big thanks to our sponsor Neil !

For information on today's festivals see eFestivals.co.uk
Formatted at 1280 X 1024 res or higher -.Created June 2007.
Updated June 2009 new recollections
---
The Loch Lomond Rock Festival
Cameron Wildlife Park, Balloch, Dumbartonshire.
Scotland.
June 21st 1980

The Chords, Bad Manners, The Cuban Heals, The Only Ones, Ra Bears, The Regents, Punishment of Luxury , Stiff Little Fingers, The Tourists ,The Jam.

June 22nd 1980

Red Ellis, The Henry Gorman Band, Wild Horses, Lindisfarne, The Ian Gillan Band, Krokus, The Denny Laine Band, Saxon ,Wishbone Ash.
---
| | |
| --- | --- |
| Wishbone Ash promo ballooon © Paul Brannigan | Local band Underhand Jones . Loch Lomond 1980 |
---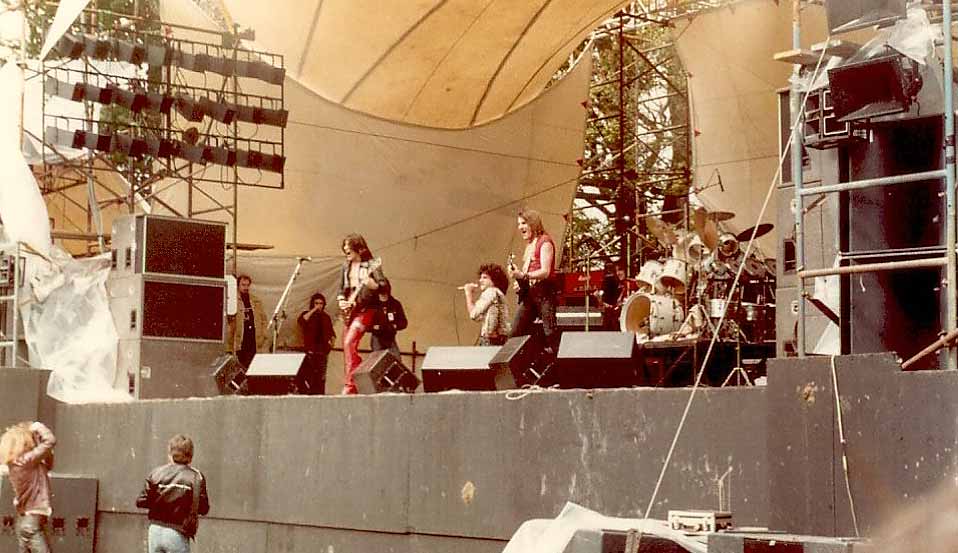 Krokus onstage Loch Lomond 1980 © Paul Brannigan
| | |
| --- | --- |
| | Not a lot of info available for this one as yet. It appears that the promoters went for a two way split of more " New Wave " bands on the Saturday and a heavier mix on the Sunday, it also gave a fair few local bands a chance to show off their potential to a large audience. We have managed to find a couple of quotes from the Glasbands forum , which gives an idea of what the first day was like , it rained again the first day , but weather was good on the Sunday . Attendance was worse than expected probably why the festival was not held again in 1981. The promoter was John Caulfield . |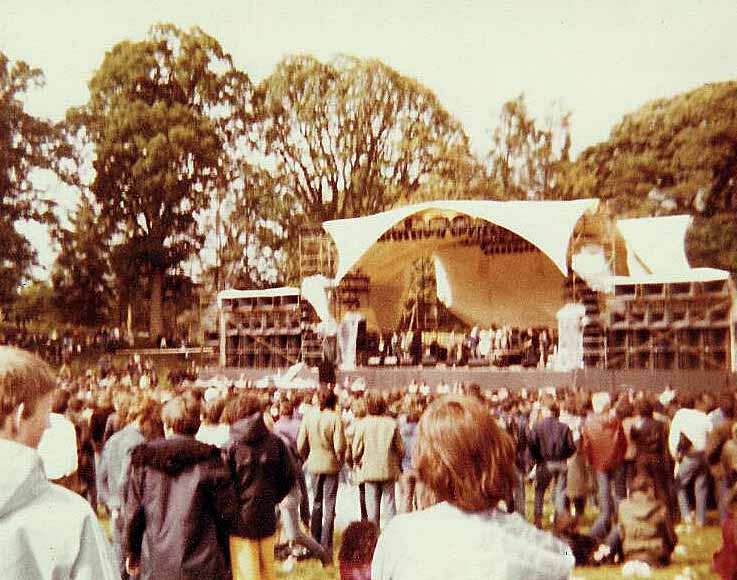 Bad Manners onstage June 21st 1980 © Stuart Campbell
Stuart remembers : There were lots of violent pitched battles between Mods and Skins (esp the night before the gig but also during the Bad Manners performance). When Bad Manners were on stage - the Skins assumed a position to the left of the stage where there was a small hill (just out of view of the shot). As the set progressed they launched several assaults on the crowd below as well as raining (thankfully empty) beer cans and bottles on us from their vantage point.
Recollections
Signing autographs
Left : Fernando Van Arp and Biff. Right Ian Gillan © Paul Brannigan
I can remember some things about this gig very well. The band list was as follows in no particular order;
Red Ellis, Henry Gorman band, Denny Laine, Saxon. Wild Horses, Gillan, Wishbone Ash and Krokus.
There were not that many people there, probably because Reading was not that far off in August. Memorable things for me were the way most band members were at ease in mingling with the crowd, I caught Marc Storace under a tree watching and got his autograph (In the picture he saw us in the crowd which was nice), and an altercation between John McCoy and Ian Gillan on stage.
They started pogo dancing and then shoulder charging each other! There was only going to be one winner there. You can see the picture below where McCoy is going down, (during the encores) When he did it was concert over.
The worst thing about this concert was that we lost our autograph book, :(
Hope whoever "found" it enjoyed it.....
Paul Brannigan
© Paul Brannigan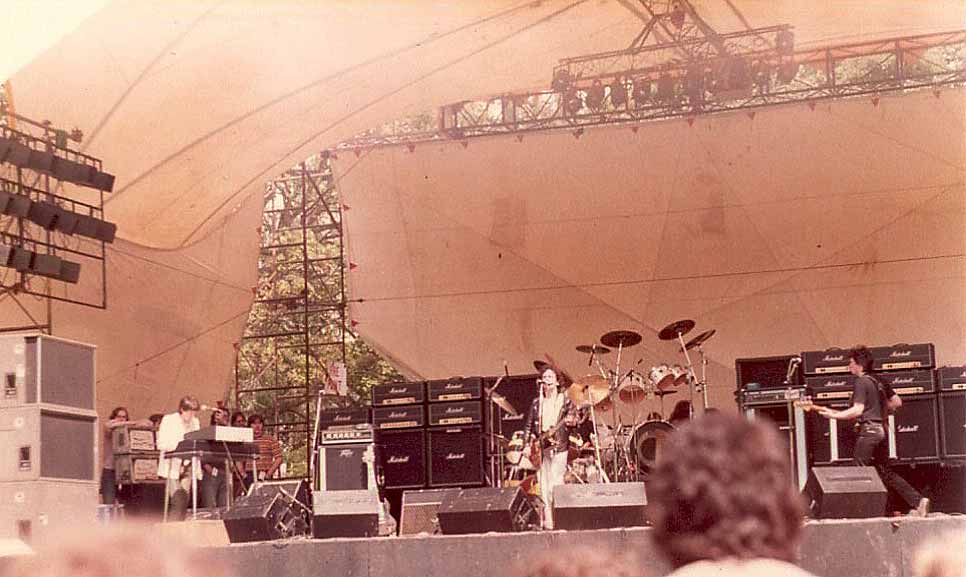 Henry Gorman Band © Paul Brannigan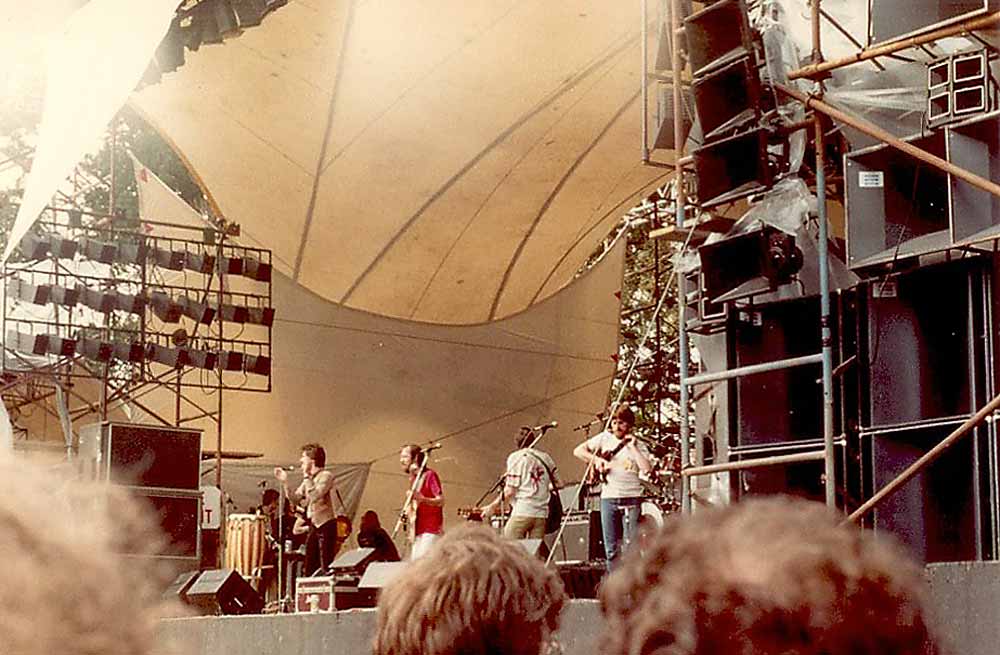 Lindisfarne © Paul Brannigan

Those were the days. My 1st festival in 1980 at the grand old age of 16. The Saturday (possibly Friday) was very gray and dreek and I can clearly remember watching Bad Manners from through the fence at the back. They were a lot of people watching from the back fence. I could obviously only afford a one day ticket. Sad as it seems I also caught SLF, The Tourists and the Jam from the same fence. From the fence I believe I stayed at the local youth hostel.
The Sunday (possibly Saturday) was a bit brighter. There were certainly the odd showers and people playing in the mud, just like the pictures you'd seen on the telly. I can't even remember eating or going to the toilet. Perhaps I only started doing these things as I got older. I don't even remember taking any drugs or drink. More likely I had so much that my memories been distorted. I remember standing at the fence by the back stage area collecting signatures from Gillan , Saxon etc. I actually went on to meet Saxon about 10 times but this must have been my 1st meet. The name was 'Beastie' back then if anyone from Saxon remembers me from Glasgow gigs.
For all these years I've felt guilty about spilling some old guys beer during Lindisfarne. The whole audience changed and increased in age for this set. If you ever read this, I'm still sorry. At least I now understand why the ring pulls were removed. I should have left my skateboard at home.
I actually left before Wishbone Ash but I do remember enjoying most of the other bands. I thought they were gay rock back then. Not metal enough for me. I probably needed to catch the last train or something
Thanks for the memories
Gordon

Wild Horses © Paul Brannigan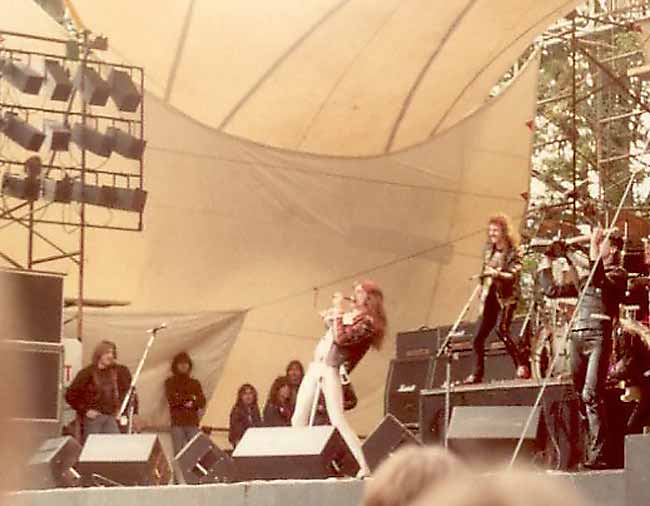 Saxon © Paul Brannigan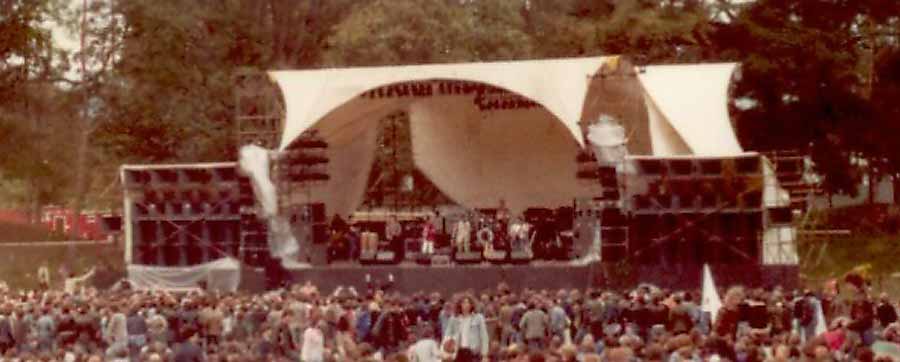 The stage © Paul Brannigan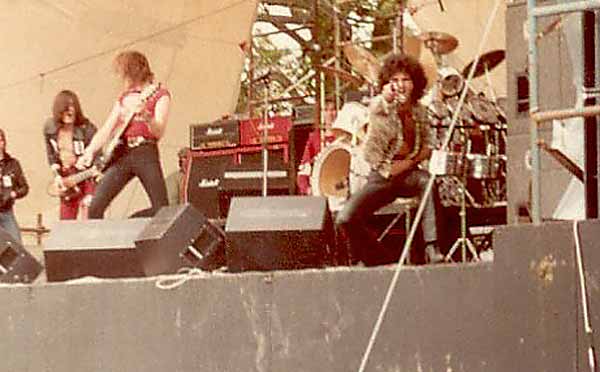 Marc Storace © Paul Brannigan
| | |
| --- | --- |
| | |
---
6-22-80 .Photos © David H

Great site and I love the photos.
Can I please add that I was at both concerts, and at one of them there was a guy actually inside the roundabout toilet who had dropped his watch inside. He couldn't get out and was covered in excrement. I never found out what happened to him..
Also there was a guy who was feeding the bears raw meat I saw inside the bear enclosure, those were the days..
The security guards were in their towers too, keeping an eye on us. I felt like I was in a concentration camp!
One other thing,
A plane organised by the event flew overhead dropping little parachutes,hundreds of them, with something inside that no one knew what it was. They ALL ended up in the no go area, the swamp, in the middle of the area inside the ground. This area was covered in really thick mud and bear shit with some kind of caves at the back. Some guys ran into it and quickly sank in the mire. One guy I spoke to who had been there and retrieved one told me inside the parachute was a sweet ! Someone was having a laugh, probably the pilot!Very funny.
Thanks for the site.
Alistair Emery
All was well between the rival tribes strangely united by The Chords - a 'Mod' band with a decidedly 'new wave' sound. The SLF fans in the crowd seemed happy enough with their music if not their clothes, and a good reception enabled them to nip back onstage to steal an unplanned encore.

Such is festival etiquette that this meant all subsequent bands should also take a bow. Unfortunate, as next up were Bad Manners. In the subsequent 20 years I've never seen a worse performance than the 'set' from Buster and pals - a while before they became a lovably eccentric British institution and Buster became a hotelier. Tuneless, feckless, they were downright awful.

Of course, come the end of their set, the DJ - Clyde legend Brian Ford, if memory serves - somewhat desperately asked the question "do you want some more Bad Manners?" Together, with one voice, shoulder to shoulder, the punks, mods and anyone else with ears replied "No! Fuck off!"

They came back on anyway to be met by a hail of bottles, cans, rocks and leftover bearshit. Stray missiles hit the already traumatised bystanders, and pitched battles ensued, like 1960s Brighton. Except for the rockers being punks. And Brighton being a muddy Scots field.

Fortunately, the Tourists took the stage and the fighters lapsed into a coma at Annie Lennox's horribly miscast powerpop. The Jam managed to reunite the crowd as punks and mods saw their heroes, who, if memory serves, played 'Going Underground' for the first time ever.

Stuart

Festival program
Loch Lomond Rock Festival.
I was there. Only for the Saturday as New Wave was my thing. There were four of us up from Lancaster University and we must have been 18. I remember it was a day of extreme emotions: fear, joy, tiredness, fear, anger, and a bit more fear.
Fear: - it was war for most of the day: Scottish punks v Scottish skins. Bottles, sticks, fists... at one point a fire raged, the cops and fire brigade arrived to curb the worst aspects, but the fighting ebbed and flowed through much of the day.
Anger: - I was the only black guy at the concert. I felt a thump in the back, and thought: "here we go". As I got up, a big lad stumbled on about 5 steps, fell flat on his face, vomited, quivered and stayed there for the rest of the day. I thought; "let him die!".
Joy: - the best sets for me were the Tourists, SLF and the Jam. SLF actually stopped the fighting with their rendition of the Specials 'It doesn't make it alright'. It kicked off again immediately afterwards. The Jam were the last act, in time for the setting sun. By then, the gangs had fought themselves into submission, and the boys produced a set that will live in my memory forever.
Tiredness: - we all fell asleep in the car going back. All of us. I was driving and woke up on the motorway inches behind a lorry. Scratch 1 life.
Thanks for the memories.
Richard Huggins

---

Didn't realise it was coming up for an anniversary, will be 30 years next year and pure coincidence that I happened upon this page today, 20th june 2009, hadn't remembered it as being held in june , I thought it had been in july. I remember it well, I was a few weeks short of my 18th birthday and my attendance that weekend cost me my job, for all of one day I might add, I worked aboard my father's trawler and he had stated that if I wasn't home in time to go to work at midnight on the sunday night then I was sacked!!! and to think I decided to piss him off by not going home and waited to watch the pure drivel that was the whole sunday. To be honest with the exception of the immortal performance by the JAM and to a lesser extent SLF, the rest was piss poor.


I had travelled up to Loch Lomond on the Friday night from Campbeltown on the Kintyre peninsula, a familiar stretch of road for all inhabitants of that part of the country seeing as Glasgow is the nearest city, two and a half hours by car, four long uncomfortable hours by bus.There were ten of us in my band Hostage's red transit van, the van was used by my old man for transporting the boat's crew to the port we worked out of at that time of year which was another reason why he wanted me home by midnight Sunday, my no show meant a midnight taxi trip for him and the rest of the crew which cost £50, not a small sum in 1980. Having arrived on the Friday night we drove on to Glasgow to pick up another mate and kip at his flat in Maryhill, after many pints and an indian carry out, his bathroom the next morning was great practise for the portaloo experience that awaited us at Loch Lomond.

When we arrived on the Saturday we found a good spot in the carpark and made our way to the entrance to the festival proper, only to be accosted by the police who decided that we were a suitable group to search for drugs. I recall being extremely annoyed and very vocal about it when they insisted on opening up my very expensive camera which had cost me £200, their opinion that such a young man with an expensive camera meant i was more than likely a drug dealer so they opened the camera, exposed the film despite me explaining that they would ruin it, I was told to make a complaint if iI was that bothered, I think they'd decided they would rather be spending their weekend elsewhere and took it out on the crowd, funnily enough I didn't see a single one when the fights started.

Once we got all the searching out of the way a couple of the boys were dispatched back to Glasgow to buy the required dope for the weekend, we were in the habit of being stoned every weekend and this one would be no different, it made the bands just a bit more bearable, we didn't bother even going in to watch the earliest acts on the Saturday and spent it lounging about in the carpark getting stoned, once we ran out of beer it was decided that we should at least make the effort to actually watch someone instead of listening from the carpark, there was a row of trees between the stage and the carpark but was closer to the stage than some parts of the actual arena. The opened can policy led to some of our group buying the beer six at a time and drinking them quickly so they wouldn't go flat rather than queue for ages for one or two cans, two of the group were counted as having consumed over forty cans each and that was just on the Saturday!!!

I remember nothing of Bad Manners, the Cuban Heels were a Glasgow band who had played in Campbeltown and had a bit of a reputation on the Scottish scene but never amounted to anything, we even beat them in a Melody Maker battle of the bands competition held in Glasgow in March of that year, the winning band called Bite the Pillow played at Reading that year as a prize, by the time the Only Ones played I was on Another Planet, I think I actually slept thru most of the SLF set and spent most of the Tourists set watching two punks sliding in the mud, altho I do recall the Saintly butter wouldn't melt Annie Lennox shouting "fuck off you wanking bastards" at the crowd for not appreciating the performance of one particular song, ironically entitled "So Good To Be Back Home" come to think, she did a lot of swearing at the crowd??

The Jam were mighty, one of the best sets they I ever saw them perform and not as has been mentioned the first live performance of Going Underground, that was released in March 1980, in fact my band had performed it live on the friday before it was released as I'd got a pre release copy by mail order, we got it on the tuesday, performed it on the friday, it was released the following monday and performed on that thursday's TOTP having gone straight to number one thanks to pre ordered copies like mine, some 60,000 if I remember it sold over 300,000 in the first week or so.I had to be rescued by my brother and another pal from the front of stage where the mod crowd were being pelted with missiles, I was too busy taking pics to notice the cans and bottles (no idea where they came from?) flying above my head before a token charge was made by the punk and metal section of the fans. The Jam were brilliant and to think just two short years later I was watching them play to a crowd of about 500 at the Magnum centre in Irvine, one of their last dates before the split. I've hated Weller for the Style Council ever since, modfather? he spent 12 years doing crap and now is back doing Jam style music even if he won't admit it.

Sunday was a washout performance wise, all the bands were hopeless, amatuerish and tuneless, one band worse as the last, completely forgetable, ok so Lindisfarne did the singalong numbers from the seventies, I slept thru that as well, Saxon were rubbish as were Krokus, only the fact Wild Horses kept our interest was down to having two of Scotlands legendary rockers in bassist jimmy bain and guitar hero brian robertson, sadly former member jimmy mcculloch had died the previous summer, we had met him an odd time when we were starting out while still in school, he had been playing with McCartney in Wings and our drummer had appeared on the Mull of Kintyre recording made in the summer of 1977, and that brings me to Denny Laine, what can we say about him? We had run into him a few times too, I'd given him my autograph during the recording of the above song when Macca had asked me to hold his guitar while he signed autographs, he'd spotted the pistols god save the queen badge I was wearing and asked to swap it for the buddy holly lives badge he was wearing, I think you see the badge in the campfire scene of the video, it ended up on the cutting room floor in the crowd scene.

I remember ogling Jo Jo, Laine's wife, an older woman fixation I had at the time, whole other story about a party they were at in town and a feeble attempt at flirting on my part and the guilty pleasure of one of the locals removing Denny Laine's wallet from his jacket when he nodded off after too much drink, cutting all his credit cards in half and putting them back in the wallet. Might have something to do with what happened to his set. Wishbone Ash had a hot air balloon that was going to float above the arena with a mirrorball hanging from it, the idea being to shine a supertrooper on it during their set. They just happened to start inflating it during the Denny Laine set, from where we were sitting all you could hear was the "WHOOOFFF" of the burners every time the gave them a blast, plus the Weegie crowd were more interested in the balloon, being a pretty simple lot really, Laine had already gone thru his Moody blues numbers "Go Now" etc and nobody was paying much attention to him, he struck up the opening chords to Mull of Kintyre and the crowd cheered, "Fuck off You Bastards, I'm not playing that fucking song" to say he was pissed is an understatement.

The crowd just started to boo him, the biggest crowd reaction of the weekend in my mind. We took extra pleasure from the fact that a one time friend of ours who had been cut off from our social circle for lying about his age so we would throw him a 21st party. He had spent the previous summer of 79 working as a security guard at the entrance to Highpark, McCartney's farm outside Campbeltown, he'd been at the festival himself and had completely blanked all the other locals as he had a backstage pass from Laine, he was traumatised by the crowd booing his new hero, tho for a guy who used to go about pretending he was mick ronson and even giving pensioners signed albums, made us boo even louder.

Wishbone Ash were dire, we left before the set finished, we got home at 4am and after a few hours kip I got a lift back up the road to meet up with the boat having got my job back, wasn't the last time I quit, I did it another twice - all music related incidents, tho by 83 I was skippering the boat.

Weekends like that don't happen once you reach your late forties, this year its hoping i have a good view for Springsteen at Hampden in july, I nearly never made it into 2009 as i ended up being flown to an intensive care unit in Glasgow on dec 31st with multiple organ failure due to double pneumonia, I didn't wake up till the 11th of jan, all beside the point but I made a promise to everyone that since I was lucky to be seeing my 47th birthday (as of today i'm still four weeks short, today being 20th june 2009) so for my 50th i am organising as big a music festival as i can, a one day event to celebrate the music history of our town and reforming my band after a gap of 27years, it can't be worse than Loch Lomond 1980. look us up on youtube under (hostage, space invader wizard)

I 've added a pic I took at loch lomond of our bunch on the Saturday afternoon, think it was taken before the Tourists set. The bearded freak in the middle with the green combat jacket is my 19 yr old brother and rhythm guitarist Davi, think I 'll suggest we get together next year to celebrate the 30th,
Morris Shaw

---
Recordings

Looks like hardly anyone could be bothered to smuggle in a tapedeck under the sporran, we have only been able to find a recording of the Jam so far, does anyone else know of more sets recorded ?

The Jam 6-21-80 Loch Lomond Rock Festival Audience . Low c quality 64 minutes

1. Thick As Thieves
2. Saturday's Kids
3. To Be Someone
4. Burning Sky
5. Pretty Green
6. Start!
7. Going Underground
8. Mr Clean
9. Private Hell
10. The Dreams Of Children
11. Smithers - Jones
12. Little Boy Soldiers
13. But I'm Different Now
14. When You're Young
15. The Eton Rifles
16. Down In The Tube Station At Midnight
17. Strangetown
18. The Modern World
19. 'A' Bomb In Wardour Street
20. All Mod Cons
21. David Watts

Wishbone Ash ? © David H
Any info to add ?-well don't dither-do it ! Contact us if you can help.
---
Free rock festivals of the 70s and 80s