The Archive
Last update Feb l2022.-view at 800x 600 minimum resolution
Ken Kesey - a goddam tribute .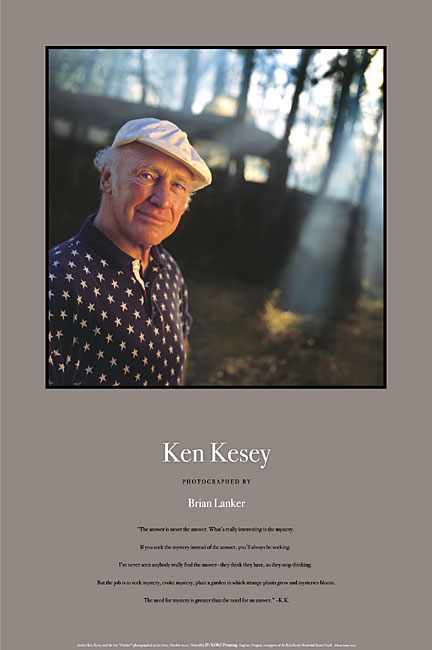 Poster courtesy K-Z com © visit the site where this and many more prankster products are available.
Well, Kens passed on and the world is a sadder and less enlightened place as a result, he inspired a small but significant portion of a generation and changed our lives through his actions and writings. I for one will always be grateful to him for this .
These pages are a small tribute to Kesey's later perambulations in Australia and the Uk. I will forever curse the fact that I didn't know that he was in South Australia for the writer's festival and of course I couldn't travel to the UK to see the fun with Further. So here you go folks , this is a small portion of a great life, enjoy ..........
---
You can investigate several matters concerning Ken Kesey on this page
and
The Merry Pranksters in Brighton and Cornwall.
Some kind folks in the Uk have been sending me photos and information about the Merry Pranksters latest extravagonzo in the Olde Country. Since Ken Kesey and his Merry band have meant so much to me over the years, I've decided to dedicate this little part of my website to their current activities . If you have photos or experiences of Further and its Merry Crew on their UK jaunt , then send them to me and I'll display them for you pronto.
Links to more photos below
THE BRIGHTON LEG.
Images of Further and the Pranksters at Brighton - AUGUST 1999.
Sent hither by Intrepid Traveller Richard Arridge, but actually taken by Dave Hamilton A.K.A as Dave Tha Slave- former roadie for legendary hippie band Here and Now. - Many thanx to Richard and Dave !
Go here to see more images from Brighton and the tour of the Uk

Kevin Shewan followed the bus around Cornwall and witnessed the Prankster performance in Brixton, when you've browsed this site , visit his excellent page

Ain't she sweet, all gussied up fit to bust !
---
Cornwall.
There should have also been a cache of photos featured here from the fabled Time Tortoise - he promised :
and as for ken and his groovy men
we'll meet them all at half past ten
on aug the 9th , auspicious day
i'll take him by the hand and say
"intrepid travellers all are we
and most of it we owe to thee
so thanks for all the inspiration"
(and we'll forgive Tom Wolfe for the exaggeration)
a long strange trip it still is for some
te tum te tum te tum te tum
I'll record it best I can
love to all
The norty torty man !!!-

but due to the cosmik chaos detailed below,the bus came by, but ye tortoise most definitely did NOT get on ......
aha aha aha aha and aha - well, what a load of bollocks that was !!!. The
fuggin EEEEEclipse , huh, what a disaster - went all the way down to
Cornwall (68.000,000 miles) and set up the Circus tent and all that and did
a couple of days of shows and put some bands on and then we got told that
the festival had gone bust and no-one was getting paid and then someone
nicked one of our foldback amps and an emergency exit light and then
everybody and their mother decided to play their huge jungle/techno/ravey
sound systems all fuggin nite and then half the crew decided to demand their
wages in full even though we were 1,000's of quids out of pocket and then to
cap it all - I went to bed at 1.00 clock am on the sunday and who should be
appearing in the cabaret tent not 100 metres away from our very own but the
merry pranksters who just turned up out of the blue and proceeded to get the whole audience up onto the stage (including half of my crew who took great delight in recounting the tale to me the following day ) and get stuck into 90 minutes of total prankster weirdness that was so incredible most of the people involved really did not know if it happened or not the next day.
AAAAAAAAAAAAGGGGGGGGGGGGHHHHHHHHHHH ! ! ! !.
I am not, therefore, a very happy tortoise .
Most understandably.
So near and yet so far....
---
Further and friends in Stratford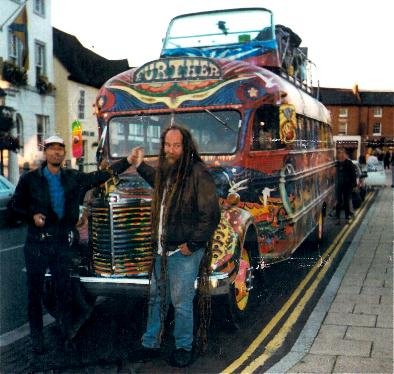 ---