Recollections .

As it is nearly 40 years ago now, my memory is fading, but I do recall Fleetwood Mac playing a long jam on 'Underway' and doing 'World in Harmony' and I confirm that Mick Fleetwood just kept playing the drums after the power was switched off. I think Fleetwood Mac opened with Danny Kirwan's 'Coming your way'; they played a long version of 'Black Magic Woman'; and there was an extensive 'Jerry sings Elvis' section - not my cup of tea, I'm afraid.

Matthews Southern Comfort played a good version of 'Woodstock', their hit.

Matthews Southern Comfort and Wishbone Ash were good. I have no recollection of Juicy Lucy playing .

At the time it was billed as Peter Green's last gig with Fleetwood Mac, but I see that you have found another one. And according to Martin Celmins, he flew out to the US to replace Jeremy Spencer for a few gigs after he dropped out during his final tour with them. There was a documentary about the band recently where they interviewed Jerry, Mick and John McVie apparently all in the same room, something I wasn't expecting to see ever again.

Best wishes

- Mike Godwin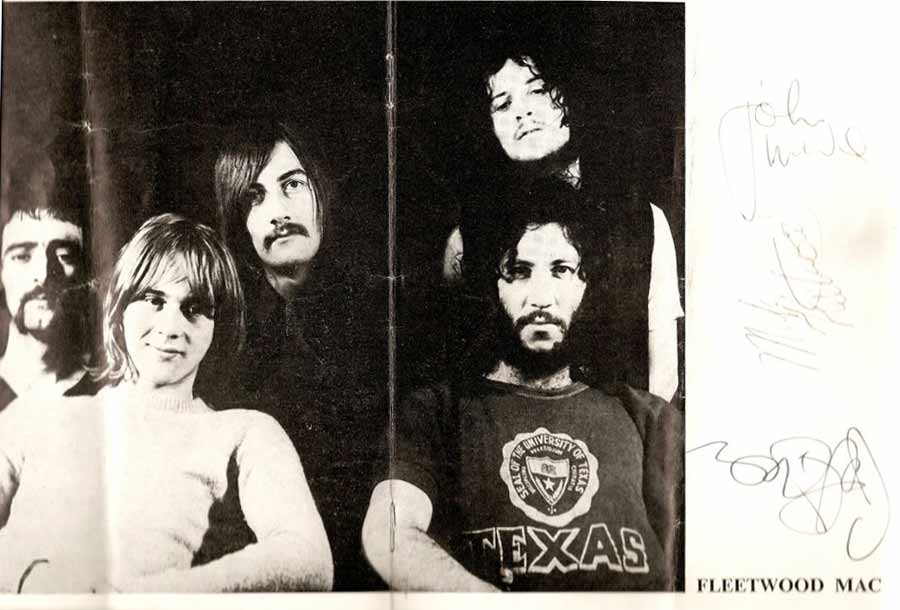 The signed program
I actually went to the Aquae Sulis Incident in 1970. I can't remember a hell of a lot about it, though Stan Webb running into the crowd with his extra long guitar lead playing a solo does spring to mind, and being impressed by an album less Wishbone Ash. I remember that they pulled the plug on Fleetwood Mac, so the band all stayed on stage and bashed any precussion instrument they could find. It seemed to go on forever. Such a shame , as it was Peter Greens last official gig with the band.

I still have the programme. I managed to get Mick Fleetwood and John McVie to sign it as they were walking around the ground. I also found Peter Green sat all alone in the stand looking a bit lonely. He signed the programme as well, but I'm not to sure if he was that happy to do so. He looked a lonely and dejected figure sitting there.

Keep the site going, it's great. Brought back a lot of memories.
Cheers
Chris Scholes in Tasmania

---

although they were a long way down the bill, probably the best set was played by wishbone ash - this was some time before they became famous. chicken shack don't appear on that poster, but were also there - stan webb did his traditional trick of going out into the audience and his incredibly long guitar lead allowed him to reach right over to the poplar side! happy days...

Powell

Copies of this photo and more from Twerton Park are available for purchase here
---
I was there and remember 'Chicken Shack' .
Mick and the boys were top of the bill as 'Pete Green's Fleetwood Mac.'
They were due on about 10pm, but everything was running late, so did not appear until nearer midnight. The licence ran out then and following compaints? from locals, the power was switched off. Undeterred, Mick invited those of us left to join them in an impromptu acoustic 'jam session' on stage!
So, my only claim to fame is "I played with 'Fleetood Mac'!"
Maurice Ashman
---
Twerton village is a modest suburb of the city of Bath. Twerton Park is a small football ground, close to Twerton High Street, with a housing estate, very close on the hillside to the south. The houses in Freeview Road (as the name implies) overlook the pitch. I'm sure the football club was obliged, on the day of the festival, to enforce an early curfew, to avoid upsetting its neighbours.
As I remember it, the day was hot and sunny. Throughout the afternoon, people were leaving the ground to buy refreshments in the High Street. By the evening, the ground was littered with wrappers, empty crisp bags and drink cans.
Maybe Fleetwood Mac took the stage late, it is certainly true that the audience expected them to play beyond the curfew. I think I remember the last number was announced to a clear expression of displeasure by the crowd. The guitars kept playing, until the power was cut off, but Fleetwood played on with the kind of extended drum solo that was typical for blues bands of the time. There was a real sense of rebellion by this time and members of the crowd picked up the empty cans lying around them and joined in with a mass percussion jam. People began to climb the scaffolding of the temporary stage to surround the drummer and play their improvised instruments.
The response of the organizers was then to switch off the floodlights, to signal the end of the day, however, this just made the crowd build small fires with the flammable rubbish, and the jam continued.
I have a memory of the stage (a temporary, and rickety construction), lit up by the flickering light of the bonfires, crowded with wildly moving figures.
I think I remember, when the lights came back on, the amplifiers came on again too. For a little while rebellious youth had won.
As we made our way home that night, climbing the steep hill to Whiteway, we looked down on Twerton. The floodlights were shining through layers of smoke over the football ground.
Forty years on, my memories of youth have the sweet smell of fine summer nights and the flames of small moments of rebellion.
Dave Kent, May 2010
---
Hi guys
I was so pleased to find your website about The Aquae Sulis Incident - it was one of my greatest memories of all the festivals I and my mates went to in that period. Although, reading what some others have said on the site, it makes me question some of my memories.
Anyway - this is how I remember the day - a story I have told many times since.
It was a hot day and we spent alot of time going back and forth to the pub which was just outside the ground - we encountered a gang of bikers there who were not always very friendly to us "long-haired hippies" - but this bunch were great and we had a great laugh. At one stage I wandered back to the ground wearing a top hat (or maybe a bowler) I'd borrowed off one of the bikers. After a while one of my mates came looking for me to tell me the biker was going to kill whoever had pinched his hat - so I crept back to the pub and hid it away somewhere, and when I was confronted by the biker I innocently said I hadn't seen it and offered to help him find it - and of course miraculously found it straight away.
Anyway, onto the music - I remember Matthew's Southern Comfort and Wishbone Ash being OK but I especially remember Chicken Shack and Stan Webb's performance - but I was really there for Fleetwood Mac - when it became obvious they were coming on late most of my mates decided they had to go catch the last train home (to Newport), I and one other (Steve) decided to stay till the end - and am I glad I did because Peter Green gave one of his best ever performances of Albatross.
I recall lying flat on my back looking up at the stars as Peter's beautiful guitar sounds lulled the crowd (which was not huge by now) into a hushed silence of reverential listening. I think, like Stan earlier, Peter too wandered through the crowd as he played. Beautiful.
I saw Peter with his Splinter Band a few years back and when he played Albatross - not quite as fluently as he used to - there was hardly a dry eye in the house.
As other's have said here - the lights went out about midnight - and not really understanding why, Steve and I just decided to try and get the last train to Bristol. We made it by the skin of our teeth, but when we got to Bristol we had missed the last connection to Newport so had to spend the night on Temple Meads station.
But the station staff chucked us out - and as we left we were confronted by a gang of skinheads - definitely not friends of Welsh, long-haired hippies - so we spent half the night being hunted in the streets around Temple Meads. We survived to tell the tale many times over the years.
Great days.
EVINRISCA
Terry Evans
---
Brilliant!
Just found the site and it brought back many good memories. In 1970 I was 13 years of age a Skinhead and living 5 minutes up the road from the Twerton Park festival site. I remember my dad who was 45 going on 90 at the time moaning about 'drug crazed hippies' invading Twerton and stealing milk off of peoples doorsteps. I wasn't into any of the bands apart from Fleetwood Mac and you didn't admit that as a Skinhead! I didn't get into the festival but watched most of it from the slopes of Innox park or stood on a wall on the edge of the park. There was an incident where a group of the "long haired layabouts' my dad had warned me about offered to fight us to see just how tough the Skinheads were......as a group of 13/14 year olds we were about as tough as 'school custard' but probably looked the part. Some great memories of a time when festivals were simple, cheap and fun, happy days.
Jeff White
---
I was there with my ex-wife and a friend's father worked for Bath City FC and the kid was helping at the back of the stage delivering drinks. He told me later that Fleetwood Mac had their mothers and family with them because this was going to be their last show playing together. They were splitting up. I don't know what that means exactly, but I remember that's what we were told. All these years I've thought that Marsupilami were there. There was a band with a woman playing the flute and now it looks like it may have been Wildmouth.
I remember Chicken Shack and Juicy Lucy playing Who Do You Love. I wish I'd kept a diary.
Bath born Darryl M. Vincent (Now St. Sukie de la Croix living in Chicago)
---
Just wanted to share that the Aquae Sulis Incident was my second festival, having also gone to the Isle of Wight the year before. To my teenage mind the experiences were truly amazing. I remember dancing wildly in the sunshine to Quintessence. I remember Wishbone Ash, and I remember the improvised acoustic jam Fleetwood Mac performed when the power was turned off on them. I remember too that many of us grabbed cans and bottles to bang together and join in with the band making some rhythmic noise. It felt very tribal and revolutionary!
Steve Andrews aka Bard of Ely
---