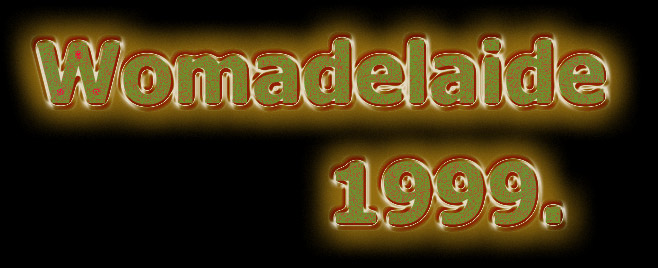 Baaba Maal photo gallery-2 .
The young lads above were also an integral part of the dance routines and they were quite frantic at times, on the Sunday night finale one of them went into a mock frenzy ( at least, I hope it was a mock frenzy ) and had to be dragged off stage by the talking drum player , who tucked him under his arm quite easily, whilst the other collapsed onstage in a fit of exhaustion .All most amusing !.

Theres not a weak link in Baba's band, they all play full on, all the time.This percussion break was just so amazingly fast that this is the only photo that isn't a frantic blur. !
| | |
| --- | --- |
| | All up, this was a great triumph for Baaba and his band, I'm sure we will see them over again in the near future as a good many of us have taken this group to our hearts and they are ensured of a good audience, anyplace, anytime ! |
back to the main Womadelaide 99 menu.