The rolling images show lolling sunny hills
And washed students in clean jeans
Reconstructing part of the great henge.
They look good for TV – big hearted, average –
Just how we want to be.
Then the picture jumpcuts to me.
I lean alone against a great stone
And the voiceover says: "In the 1980's
Stonehenge was taken over by Hippies."

I'm wearing a blanket though the viewer
Might not know the shadows are dawn.
As I gaze at the sky you'd suppose I'm inspired –
Or, drawn and tired and certainly tripping.
Off camera view a police spy in a helicopter
Films number plates –
And dodges flares fired up by some wag in the camp.
Across the road where lamps fade away
A 100,000 sparkling souls are I suppose
' The Hippies' and having a time that's ripping.
There were mere hundreds of us in '74
When the first innocent festival came to the place.
We had poetry, performance and music –
Our emblem was the smiley face.
By '84 it was an avalanche
Of space cadets, minstrels and mystics –
Or a branch of cosmic aliens that time forgot
And severed from the social tree.
It was a mystery to the government
That these events were free.
Contrary to their philosophy.
Ancient byelaw declared that if here
Were used an 11th year
It revert to common land. The freaks
Would have it forever – or never.
So in '85 came the great fight –
When they brutally suppressed the annual fest
In a major abuse of liberties
Riot police battered the buses and hippies.
Though what was done went for years through the courts
Where the freaks finally won –
The beanfield – the camp – was lost.
At unknown cost whose justice was seen to be done?
If '84 was a gothic last supper
Then '85 was a haunted house party.
When they scuppered the convoy of coaches
They were pretty damn smarty.
'85 was the worst poem in your life.
Picture a Bosch or a Breughel come alive.
You're captured on canvas in a living carnival
Cut from time's frame with a knife.
With ghosts, the host includes fire eaters, jugglers, Tibetan monks.
Then eco freaks with mohican haircuts
And armless orange donkey jackets.
Mingling among chunks of stone doing things you do at home
En masse.Hang gliders towed aloft across dusk by rickety vans.
That was Stonehenge – harmless.
All bar the bearbait or bullfight – and those wouldn't surprise.
Army choppers tore from the skies
And buzzed the field twice a day in a free display
To our cheers.
Later, we had no fears when trucks and armoured cars
That failed to reach the stars led up the road
In a moving motorised siege instead
For a few days and nights on exercise – or goad?


STONEHENGE : A DOCUMENTARY ON TV. A true story, by Guy Rowe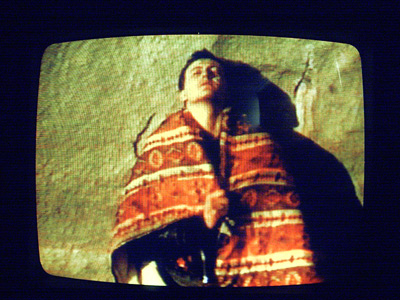 I went down to the henge in 74 from Watchfield, the
old R.A.F base near swindon, it was not until years later locally here that I met craig scott who works for derby city council gardens section and recognised him from back in those days.
The photo from the documentary - I would have been there about 3 weeks in 84 when that was taken, so I would have been... pretty...... well.
It's just a small tribute to ad about the 74 festival but this is to
remember Dick Holman from Wantage who got up on the small stage then to deliver his poem: "He was Herbie the cosmic parrot - he kept on keeping on....." which Dick did several times a day as he did at watchfield.
I haven't yet read all your site but I wonder if (the bit I refer to in my poem about hang gliders being towed aloft across dusk by rickety vans) the guy who was doing that in 83 was using an old J4 van -rotten heap - he'd tow you up for a joint, but he did well enough out of it that when he came back in 84 he had I think two new hang gliders and a morgan sports car to tow them up with! If you haven't got anything on this fellow I hope you find him in the future.
I remember meeting some of the convoy people there in 83 and one guy told me of someone who had a photographic record of all the festivals to that date...
I started to read your item about wally, maybe if you too would remember people calling out for wally at reading fest and buxton etc, I once had a heavily edited letter in the Times explaining the origins of wally as far as i knew them. I wasn't at the isle of wight festival when hendrix was on but some years later I met a guy in oxford, and he told me how when he was at the isle of wight he lost his labrador in the crowd and he stood up and yelled out : "Wally where are you?" The impossibility of anyone finding anything there let alone wally just sort of amused the crowd so much that loads of people repeated him and the cry went up that way. I wonder if you have had other reports of this incident.
If i think of any other anecdotes I'll try put em down. I know that craig has left a series of tapes of his interviews with someone i think from the bbc about the henge festivals, there were so few of us there in 74 I wonder who can be left...
.....
all the best
guy
Some nights the fog came down and some were lost 'til light.
A full moon bled crimson red through the mist.
Underground groups cut the dark space with visceral sounds
Tuned to the high electric of the place.
On solstice morn a bass guitarist played up the dawn
On bleeding fingers that started
At midnight.
Then incongruous and comic Druids
Like wretched white penguins
Wobbled into the circle in their attempt
At a state of grace.