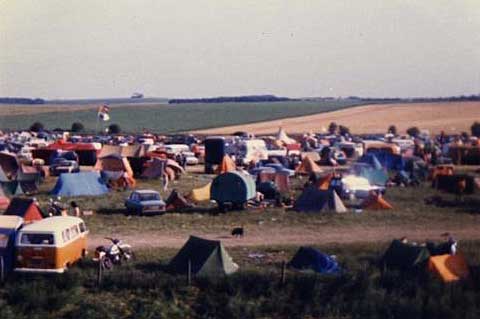 Hi!
Just come across your site via video of Stonehenge festival which I stumbled on on Youtube and took a trip down memory lane.
I went to 82 fest with a mate, (Tim Beater) when I was finishing foundation at Farnham Art college but unfortunately the whole episode is a blank!

Some things I remember about 84 which I guess may have got patched in from 82:

Went with a bunch of mates from Brighton in my Series One land rover (which, amazingly, I still have and use on an almost daily basis!). Actually I have just found a photo on your site of what must have been our camp coz we had a very distinctive camping trailer which my dad made. (1984 page of photos in Stonehenge chronologies above ) It's smack in the middle of the picture, a green wild west waggon style trailer tent with two round windows in the end. And my Land Rover I think is just behind it but I can't see pic in detail too well.
Simon