The Archive
Last update Jan 2015 .
---
---
Cumbria Rock Festival, Workington (13th July 1991)
BBC Friday Rock Show – Derwent Park Rugby Stadium
01. Splintering Heart
02. Cover My Eyes (Pain And Heaven)
03. Slainte Mhath
04. The Uninvited Guest
05. The Party
06. Warm Wet Circles
07. That Time Of The Night (The Short Straw)
08. No One Can
09. Script For A Jester's Tear
10. This Town
11. The Rakes Progress
12. Kayleigh
13. King Of Sunset Town
14. Holidays In Eden
15. Hooks In You
Many promoters of hard rock festivals held in the late 80s and early 90s felt that situating their events at speedways and stadiums would be a good idea. Of course there is a saving on costs as one does not have to erect fences, provide portable toilets, bars and other festival infrastructure. The downside is that stadiums are sports arenas , not designed to concert hall standards and they often feature abominable acoustics . In general they are also ugly structures but one can argue about whether one goes to a festival to experience music or scenery. All we can say is , the music is enhanced when all the elements of a good festival site come together :great sound, no rain, no early curfew and pleasant surroundings .
Somehow we doubt this was the case with these Cumbrian festivals held at the multi purpose Derwent Park ( which can be used for soccer , rugby and speedway events ) . However, is it better to have a flawed festival rather then no festival at all ? Probably, it was rare to get an event of this kind this far North . As long as the patrons enjoyed themselves, we expect it was a fun day .If some of you who were there can let us know what the conditions were like we will add your recollections here and thus all of us will be illuminated :-)

---
My recollections of Cumbria 1991:

Not a good start, there was no bar! Can you imagine ?
After spending a couple of hours in the pub beforehand, we were ready for a serious drinking session.
It was not to be.
Also, once you were in the venue, you were not allowed back out. If you left, you would not be allowed back in.
So not a good start, but the music cut through and eventually our disappointment abated.

Sound wise, it seemed ok, but by modern standards I'm sure it was dreadful.

Oddly Marillion headlined which did not fit at all well with the supporting bands (The Almighty, Wolfsbane, Atom seed etc) so the crowd was very mixed, those who went to see Marillion and those of us (me and crew) who left to get to the pub (to finally get a drink) when Marillion started.

One great memory is that Tommy Vance (RIP), host of the Friday rock show was in the pub propping up the bar. http://en.wikipedia.org/wiki/Tommy_Vance

A great little town with an awesome fried breakfast in a lovely little local cafe.
After sleeping on the car in the car park, the breakfast was the best.
Alan Wilkinson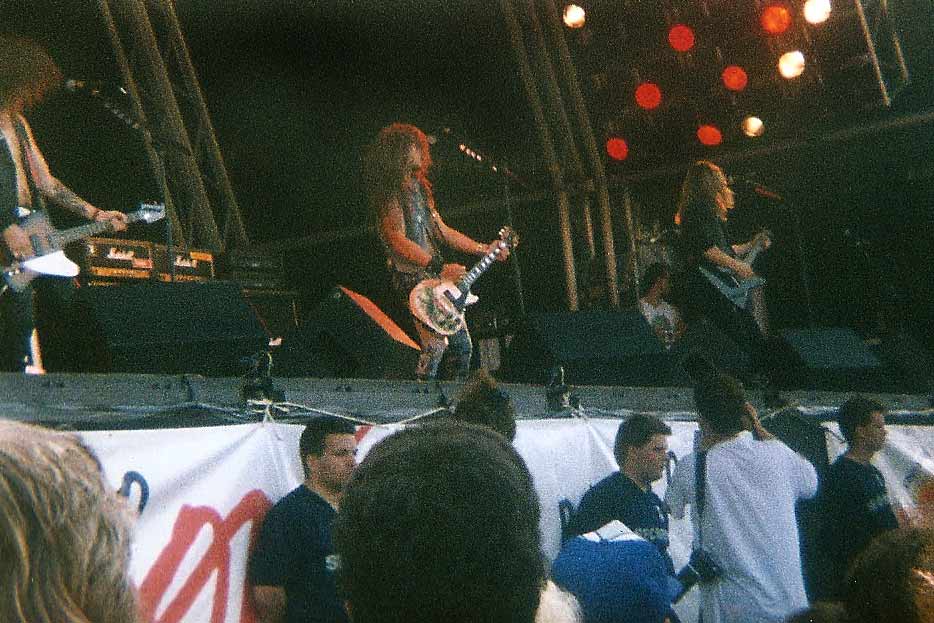 Wolfsbane © Dave Hall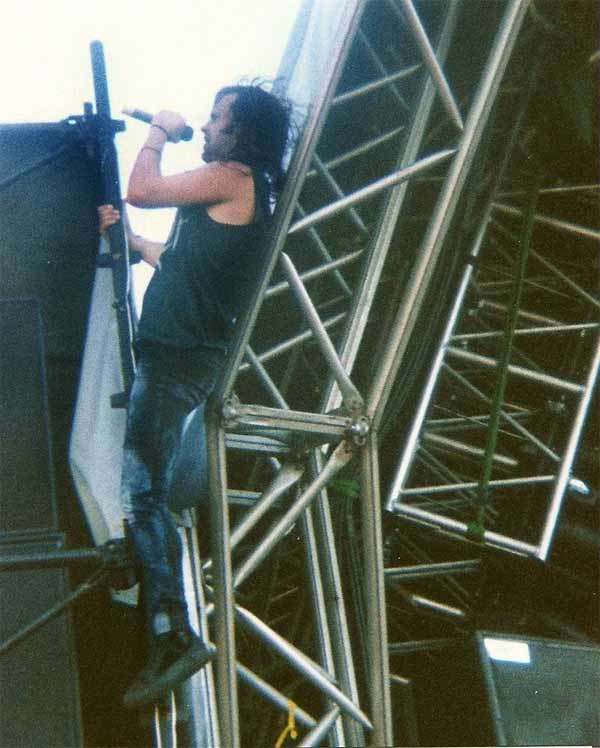 Wolfsbane's Blaze Bayley does a bit of climbing © Dave Hall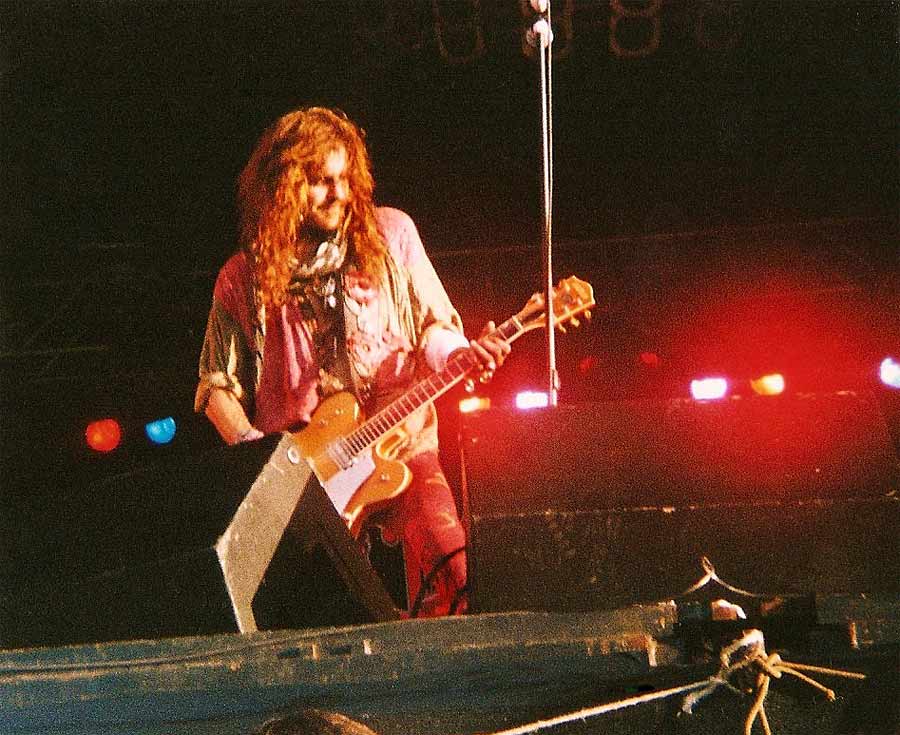 Dogs D' Amour© Dave Hall
Magnum had been around for a long time and were just about at the pinnacle of their career. They'd had a number of chart successes in 1988 and 1990, shifting a couple of hundred thousand albums and appearing on Top of The Pops , however they were dropped by their mainstream record label in 1991 following disappointing sales of their latest release . From then on it was the beginning of the usual downward spiral until the band split in 1995, reforming again in 2001 .
Recordings and set lists.
Much of the festival was recorded by the BBC for the Friday Rock show and the broadcasts of Magnum,Saxon and Dogs D' Amour's sets are reasonably easy to find out there in net land .
Set list and recording info courtesy Yahia Tawfik
Marillion
Marillion - 1991-07-13 - Workington, UK (FM Cumbria Rock Festival)

Marillion - 13-07-1991 Workington, UK
13-Jul-1991 "Cumbria Rock", Derwent Park Rugby Stadium, Workington, UK
Source : radio broadcast

1.Splintering Heart
2.Cover My Eyes
3.Slàinte Mhath
4.The Uninvited Guest
5.Warm Wet Circles/That time of the night
6.No One Can
7.Script For A Jester's Tear
8.This Town
9.Kayleigh
10.King of Sunset Town
11.Holidays In Eden
12.Hooks In You
---