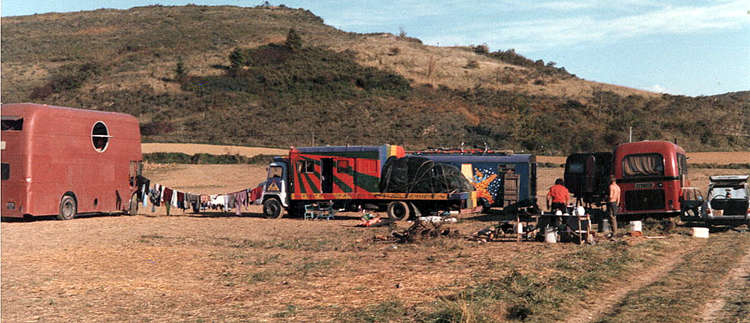 photo courtesy of Convoy Steve ©Chazz
left to right : Fast Eddie , The Beast and the Ting at repose somewhere or other .
The Ting is partly obscuring The Beast which is sporting its Blue Clown Motif . The elderly red Bedford far right still needs to be identified.
TUMT Meister Glenda sez :
As for the double decker, he was known as "Fast Eddie" on account of the ED in his number plate and for being just about fast enough to overtake the beast [on a good day, downhill, with the wind behind , just!] We aquired Fast Eddie at stonehenge one year from a magazine called Psst. They were using it as a mobile cinema and had blanked out all the windows. So when we came across the big round window - perfect. The addition of a few ships portals and - let there be light. In 1984 fast eddie lost his head in Switzerland - but thats another story!
Glenda